Some weeks the best you can hope for is to wake up every morning, draw a breath in your lungs and stumble downstairs to a cup of coffee…..this has been one of those weeks, but you know…….it could be a lot  worse!
But today is a happy day, and not only because we've reached the end of the week.   It's Guest Post Friday!!   That of course means that I get to share my blog with one of my friends, and today it's my great pleasure to introduce Manuela or as we know her Manu, from Manu's Menu.   
If you've never had the pleasure of drooling all over your keyboard while checking out one of Manu's amazing creations, then you don't know what your missing!  And not only will you find one delicious dish after another, you'll love her food styling and imagery!   But best of all, visiting Manu's Menu is like visiting an old friend.
So grab a cup of coffee, sit back, relax, and enjoy as I give you……..
 Manu's Menu
When Chef Dennis asked me to write a guest post for him… well, I did a happy dance around the kitchen!  Me??  Really?  I mean, I love his work (and if you are here and reading this, it's no mystery that you agree with me!) and I have been following his site for a while now.  I am thrilled and truly honoured to be presenting one of my recipes to him and his audience!
After the excitement subsided (just a bit), I started to think about what recipe to make.  Whenever I write a guest post, the only thing I have absolutely clear in my mind is that I want the recipe to be something that represents me and my blog.  So, I immediately knew it had to be an Italian dish.  I had so many ideas in mind and I actually made 3 other recipes before the one I will be presenting today!  In the end, I went back to my origins and decided to make a dish that is very dear to my heart, as it is one of my grandmother's recipes.  I hail from a Sicilian family and I was taught how to make this specific pasta by my nonna from Palermo.
Artichokes are my winter vegetable of choice.  They are hearty, healthy and delicious.  They can be a great and quick side or a more elegant and sophisticated main dish when stuffed and cooked in a tomato sauce to be served with pasta, like in this case.  Raisins and pine nuts in savoury dishes are very common in Sicilian cuisine, so do not be surprised by the combination!  This recipe is perfect both for a special occasion and a family meal: my kids love it, especially with extra Pecorino Romano cheese!  In this dish many different and somewhat contrasting flavours and textures come together to create a unique experience for the palate… which is quite hard to describe.  I guess you will just have to make it and try it for yourself! 😉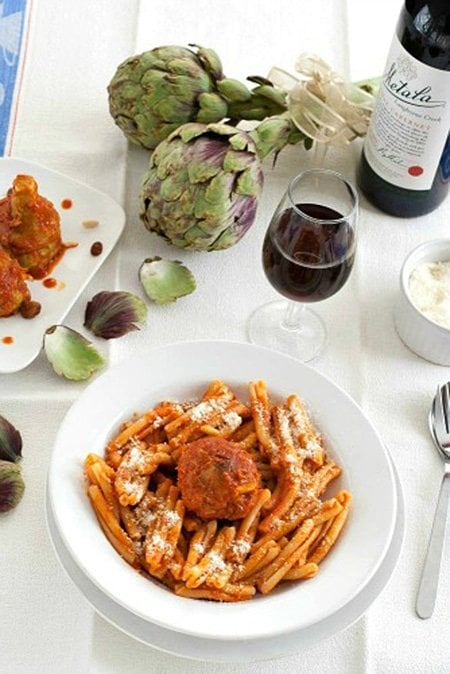 Ingredients
Pasta, Artichokes & Tomato Sauce
360

oz

gms – 12.7 . short pasta

I used Casarecce

4

artichokes

cleaned

1

egg

beaten

2

tbsp

flour

2

tbsp

vegetable oil

2

tbsp

extra virgin olive oil

tbsp

½ onion

chopped

500

ml

– 2 cups tomato purée

passata

180

ml

– ¾ cup water

Salt & Pepper to taste
Filling
4

tbsp

breadcrumbs

3

tbsp

Pecorino Romano cheese

finely grated

¼ onion

chopped

1

tbsp

raisins

1

tbsp

pine nuts

2

tbsp

extra virgin olive oil

Salt & Pepper to taste
Instructions
Filling
Put all the filling ingredients in a medium bowl and mix them well. Keep aside.
Artichokes & Tomato Sauce
Clean the artichokes by removing the outer leaves and cutting the points. I like to also use part of the stem (about 5 cm – 2 inches), so I just remove the hard outer part of it. Scoop out the purple leaves and hair from the centre and put the artichoke hearts in some water with lemon juice to prevent them from turning brown.

Fill the artichoke hearts with the stuffing. Make sure to press the stuffing well inside or it may come out into the sauce while cooking.

Dip the top of the artichokes (where the filling is) in the beaten egg and then coat it with flour. Shallow fry just the top of the artichokes in some vegetable oil to seal in the filling, then remove and keep aside.

Sauté the remaining chopped onion in 2 tbsp of extra virgin olive oil for a couple of minutes on a medium flame. Add the tomato purée and water and bring to a boil.

Add the stuffed artichoke hearts to the tomato sauce. Cover and cook on a medium flame for about 30 minutes or until the artichokes are soft and cooked through.

Cook the pasta in a large pot filled with salty boiling water and drain it when the pasta is "al dente".

Mix the drained pasta with the tomato sauce and decorate with a stuffed artichoke heart.

Serve hot with some finely grated Pecorino Romano on the top.
Recipe Notes
NOTE: the cooking time may vary depending on the variety of artichokes you use. Remember to always check the sauce and add some extra water (or reduce it) if needed.
Boy oh Boy it's 7am, and I could sit down to a plate or two of that gorgeous pasta and those stuffed artichokes right now!   As Mama Jeanette would say, "That's good eatin'" !  Now before you forget, head on over to Manu's Menu  and say hi to Manu.  Just remember to give yourself enough time to browse though her posts, and don't forget a pen and paper so you can take notes, because you're going to want to recreate many of the dishes you see in your own home!
Life is good my friends, when we can share recipes with each other, and forge friendships that span the continents, it doesn't get much better than this!
Have a wonderful weekend, be safe, be happy and be full!