Handed down for generations, you're going to love this authentic dish from Palermo Italy. Pasta with Sicilian Stuffed Artichokes.

This post includes affiliate links. As an Amazon Associate I earn from qualifying purchases.
Pasta with Sicilian stuffed artichokes, a guest post by Manu's Menu.
Whenever I write a guest post, the only thing I have absolutely clear in my mind is that I want the recipe to be something that represents me and my blog.
So, I immediately knew it had to be an Italian dish. I had so many ideas in mind and I actually made 3 other recipes before the one I will be presenting today! In the end, I went back to my origins and decided to make a dish that is very dear to my heart, as it is one of my grandmother's recipes. I hail from a Sicilian family and I was taught how to make this specific pasta by my nonna from Palermo.
Artichokes are my winter vegetable of choice. They are hearty, healthy and delicious. They can be a great and quick side or a more elegant and sophisticated main dish when stuffed and cooked in a tomato sauce to be served with pasta, like in this case.
Raisins and pine nuts in savory dishes are very common in Sicilian cuisine, so do not be surprised by the combination! This recipe is perfect both for a special occasion and a family meal: my kids love it, especially with extra Pecorino Romano cheese! In this dish, many different and somewhat contrasting flavors and textures come together to create a unique experience for the palate… which is quite hard to describe. I guess you will just have to make it and try it for yourself! 😉
If you love pasta you might also like my Pasta alla Caponata.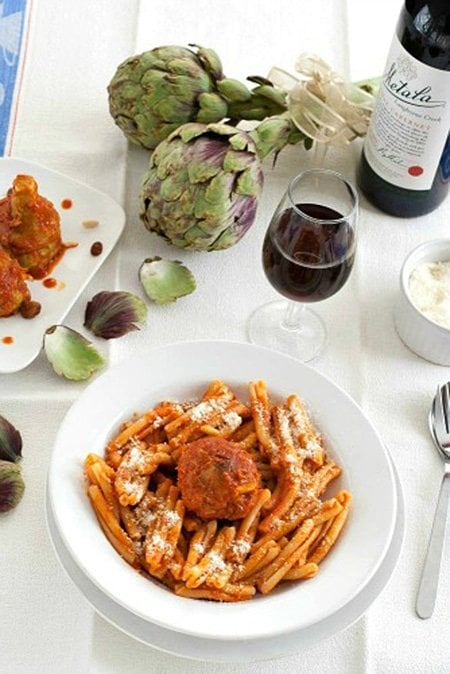 Print Recipe
Pasta with Sicilian Stuffed Artichokes Recipe
Handed down for generations, you're going to love this authentic dish from Palermo Italy. Pasta with Sicilian Stuffed Artichokes.

Ingredients
Pasta, Artichokes & Tomato Sauce
12

oz

short pasta

I used Casarecce

4

artichokes

cleaned

1

egg

beaten

2

tbsp

flour

2

tbsp

vegetable oil

2

tbsp

extra virgin olive oil

½

tbsp

onion

chopped

2

cups

tomato purée

passata

¾

cup

water

Salt & Pepper to taste
Filling
4

tbsp

breadcrumbs

3

tbsp

Pecorino Romano cheese

finely grated

¼

onion

chopped

1

tbsp

raisins

1

tbsp

pine nuts

2

tbsp

extra virgin olive oil

Salt & Pepper to taste
Instructions
Filling
Put all the filling ingredients in a medium bowl and mix them well. Keep aside.
Artichokes & Tomato Sauce
Clean the artichokes by removing the outer leaves and cutting the points. I like to also use part of the stem (about 5 cm – 2 inches), so I just remove the hard outer part of it. Scoop out the purple leaves and hair from the centre and put the artichoke hearts in some water with lemon juice to prevent them from turning brown.

Fill the artichoke hearts with the stuffing. Make sure to press the stuffing well inside or it may come out into the sauce while cooking.

Dip the top of the artichokes (where the filling is) in the beaten egg and then coat it with flour. Shallow fry just the top of the artichokes in some vegetable oil to seal in the filling, then remove and keep aside.

Sauté the remaining chopped onion in 2 tbsp of extra virgin olive oil for a couple of minutes on a medium flame. Add the tomato purée and water and bring to a boil.

Add the stuffed artichoke hearts to the tomato sauce. Cover and cook on a medium flame for about 30 minutes or until the artichokes are soft and cooked through.

Cook the pasta in a large pot filled with salty boiling water and drain it when the pasta is "al dente".

Mix the drained pasta with the tomato sauce and decorate with a stuffed artichoke heart.

Serve hot with some finely grated Pecorino Romano on the top.
Notes
NOTE: the cooking time may vary depending on the variety of artichokes you use. Remember to always check the sauce and add some extra water (or reduce it) if needed.
Nutrition
Calories:
722
kcal
|
Carbohydrates:
103
g
|
Protein:
22
g
|
Fat:
27
g
|
Saturated Fat:
9
g
|
Cholesterol:
45
mg
|
Sodium:
300
mg
|
Potassium:
1329
mg
|
Fiber:
13
g
|
Sugar:
11
g
|
Vitamin A:
760
IU
|
Vitamin C:
29
mg
|
Calcium:
162
mg
|
Iron:
6
mg