This post includes affiliate links. As an Amazon Associate I earn from qualifying purchases.
This is a sponsored Post written by me on behalf of Nutrisystem. All opinions and text are 100% my own.
A Recipe for Successful Weight Loss
When I started my four-week weight loss journey with Nutrisystem I didn't know what to expect. I hoped for great results, but was uncertain how successful I would be. Before their program I had never been on a diet with premade food, telling myself that it was likely a gimmick. Well, I couldn't have been more wrong because Nutrisystem works! Plain and simple.
After four weeks I lost a total of 23 pounds, which was 8 pounds more than the goal I set. I've still got some weight to lose, but my results are nothing short of amazing. My belly is disappearing and you can see the weight loss in my face. Oh, and I kind of actually like looking in the mirror again.
Now is the time to start seeing results and feeling better! Sign up today! Nutrisystem for Men and Lean 13 for Women!
Nutrisystem offers so much support and guidance to help you successfully lose weight. One of the tools I found most helpful it the Nutrisystem Eating Out Guide. Did you know that some restaurants serve as much as four times a recommended portion size?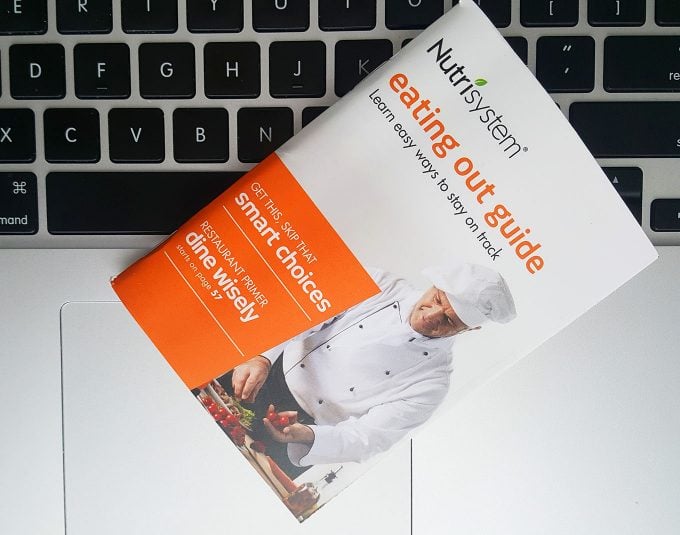 Often we are conditioned that it's polite to "clean our plate", but one restaurant meal can have more calories than we're supposed to have in an entire day. Thankfully, the Nutrisystem Eating Out Guide helps with that; it provides a guide to easily assess portion sizes using familiar everyday items.
Controlling portions is such an essential part of weight loss, which I know for us foodies is easier said than done. But with Nutrisystem the "done" isn't nearly as hard because the foods are delicious and already portioned. Plus the program helps you incorporate vegetables in so many to keep you satisfied and from getting hungry.
I love the salads I've been making, and preparing enough for two days makes it even easier for me to eat them and control my hunger.
I recently put Nutrisystem to the test with a 3-day trip to the Mall of America. I took along the Nutrisystem snacks and breakfast bars, but the trip required me to eat with other bloggers at restaurants. Thankfully, I had brought along my Nutrisystem Eating Out Guide. The program offers "Get This, Skip That" and "Restaurant Primer, Dine Wisely" to help you make smart choices through all the restaurant situations you may encounter, including the airport.
All in all, my four weeks on Nutrisystem showed me that I could lose weight while eating foods I love, both at home and on the road. Thanks to Nutrisystem for Men I've lost weight, I feel great, and I'm getting compliments on how good I'm looking.
It's your time to start feeling great again too! Signing up is easy – Nutrisystem for Men and Lean 13 for Women. What are you waiting for?
This is a sponsored Post written by me on behalf of Nutrisystem. All opinions and text are 100% my own.