This post includes affiliate links. As an Amazon Associate I earn from qualifying purchases.
This is a sponsored Post written by me on behalf of Nutrisystem. All opinions and text are 100% my own.
Cooking Up a Way to Lose Weight
Losing weight is never easy, and the most frustrating part of any diet is not seeing immediate results. We all hope that starving ourselves for a day or two will help us lose that extra 5 pounds that we need to shed by the weekend.
And that, my friends, is why we fail. Learning to eat to stay healthy and lose weight while we're doing it takes time and effort – there really is no magic bullet to make the journey shorter. BUT there IS a method that will make it easier and it's Nutrisystem for Men and the Lean 13 for Women. My first week on the program's Turbo Takeoff yielded pretty amazing and unexpected results – I lost 7 pounds in just 7 days!.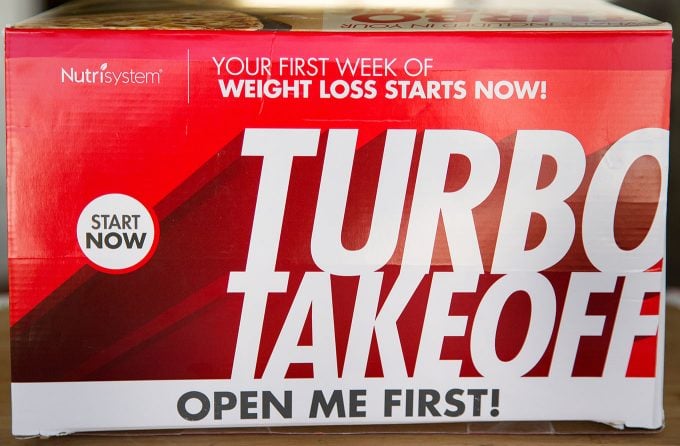 Not only did the Turbo Takeoff kick-start my diet, it exceeded my expectations. My weight goal is 15 pounds of the next 4 weeks, and here I am in week 1 already having lost half of my goal! Though results vary for each individual, I am proof that the system works – and in my case, it worked exceptionally well.
It feels good to be able to smile when I get on the scale.
A key component of healthy eating is smaller portions, which can be even harder when eating foods that aren't part of your normal diet. Nutrisystem helps you lose weight by controlling portion sizes AND still allowing you to eat all of your favorite foods, many of which you'd never expect on a diet – pasta, pizza, ice cream!
I will admit that although I was allowed an almost unlimited supply of fresh vegetables to add into my diet, I didn't take advantage of them as much as I should have. And for this reason, I did feel hungry from time to time. The lesson I learned was to follow the advice that Nutrisystem provides. Trust in the system and you will be rewarded on the scale.
The TurboShakes™ and NutriCrush™ Bars really helped during my first week by satisfying my hunger and helping to stay focused on the diet plan. They were really pretty tasty and I looked forward to having them as a reward for staying committed to the Nutrisystem plan. The key to success on this, or any diet plan, is to Eat Smart and Eat Often. Keeping your hunger at bay is what keeps you from cheating on the program and taking steps back instead of forward.
With one week down and three to go, I'm feeling better, looking better and hopeful for my continued success with the diet. To paraphrase Joe Namath – "I can't wait until tomorrow because I'm getting lighter every day."
SIGN UP TODAY AND LET'S DO THIS TOGETHER! And ladies, this program works for you too! Check out Meridith, she's taking the Lean 13 for Women Nutrisystem journey and down 5 lbs in her first week!
This is a sponsored conversation written by me on behalf of Nutrisystem. The opinions and text are all mine.