This post includes affiliate links. As an Amazon Associate I earn from qualifying purchases.
PAM Cooking Spray sponsored this blog post. The opinions and text are all mine.

I've spent most of my life in kitchens, working as a cook, waiter, manager and finally as a professional chef and culinary instructor. Shifts can be long and grueling in a professional kitchen and working quickly and efficiently is a must!
Everyone's got their tips, tricks and hacks that make life just a little easier at work, which allow us to be more productive and dazzle our guests! Of course most of these kitchen hacks are often learned through experimentation which can also have disastrous results. Every now and then a more experienced kitchen worker will pass on a little tidbit of knowledge to make your workload lighter, then again sometimes they won't. So I've decided to share a few of my favorite Kitchen Hacks using PAM Original Cooking Spray, because work shouldn't be any harder than it has to be.
We all know how well PAM works with baking pans. But did you know that spraying your knife with PAM Original Cooking Spray helps it cut, without causing a build up on the knife and also keeps food from sticking to your knife when you're chopping herbs and vegetables?
Use PAM Cooking Spray on your measuring cups and spoons, when measuring sticky, gooey or oily items. You can also save time by spraying your cheese grater, rubber spatulas and just about any kitchen tool you use. And PAM leaves 99% less residue than margarine or bargain-brand cooking sprays too.
As a Chef at an all girls high school, I was always chocolate dipping strawberries for my girls, and one day I realized that if I sprayed my parchment paper before placing the chocolate dipped strawberry on the paper, removing the strawberry would be a lot easier. It's not a bad idea for baking cookies either, just spray your parchment paper and they slide right off! Of course my wife prefers chocolate dipped pineapple and we all know how important it is to keep mama happy!
I love pasta sauces and homemade chili. And when I make them, I always cook large batches and freeze them for days when I just don't feel like cooking. I use plastic freezer containers and not only does red oily sauces and chili stain my containers (ughhhly) sometimes I end up breaking the plastic trying to get the food out! But if you use PAM Cooking Spray to lightly coat the inside of the plastic container, not only does the ingredient pop out easily, there are no ugly stains to deal with afterwards.
This also works well with any plastic storage item you use, like the ice cubes trays I used in one of my earlier posts for freezing pesto sauces. They popped right out and there were no green stains for me to try and clean out afterwards.
I'm a guy and that means I like to grill. We hunt, we cook, we drink. Sometimes not in that order. Although my skills are minimal outdoors,  I do enjoy grilling and being a chef I've learned the importance of food looking good when being served. That means it shouldn't get beat up and ugly taking it off the grill. Remember we eat with our eyes! I never grill without PAM Cooking Spray by my side, at home or at work. It keeps food like steaks or Salmon from sticking and helps you get those pretty grill marks on the meat and seafood.
You can also buy their Specially formulated for no-stick performance at higher temperatures, PAM® Grilling cooking spray. Just remember to never spray directly on the flames. Spray your grill racks before you fire up your grill, not while the fires lit!
If you cook on tin foil, make sure to spray the foil before cooking on it and if you enjoy using skewers,  spray the skewers so the meats come off easily. After all it is about having fun outdoors and enjoying those delicious grill dishes. The last thing you want are your guests fighting to get food unstuck!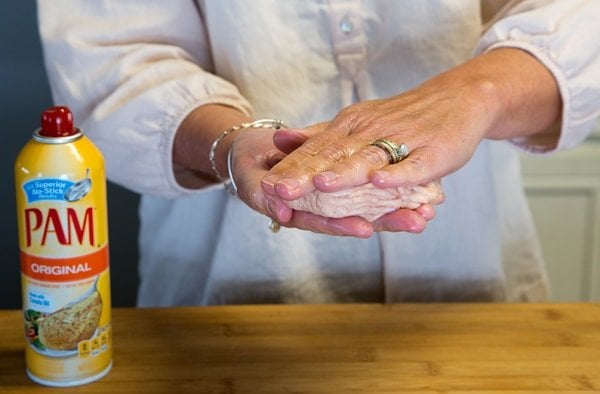 While I enjoy cooking up masterpieces inside and outside on my grill, if I'm cooking just for me I'll take a burger any day of the week. I stopped eating beef about 20 years ago (although I just re-introduced beef back into my diet) and found the joy of chicken burgers. Turkey was just too lean and tasted like cardboard, but chicken burgers can be magical…sigh. The one problem I have with ground chicken is how it feels and how it sticks to my hands. I decided to try spraying my hands with PAM and haven't had that problem since. It works well with any ground meat you're forming into patties, making the process faster and easier! If you like to wear plastic gloves when you work with meat or fish, you can spray the gloves as well.
There are many more tip, tricks and hacks that can make your life easier in the kitchen and thanks to PAM Original Cooking Spray I'm able to share some of my favorites with you. How do you use PAM in your kitchen to make your life easier?
For recipes and cooking tips, follow PAM Cooking Spray on Facebook and Pinterest, or visit pamcookingspray.com.