This post includes affiliate links. As an Amazon Associate I earn from qualifying purchases.
When the folks at The Mall of America asked me to come out and enjoy their ah-mazing mall in February, I thought one of us was crazy. As it turned out they knew what they were talking about.
This is a sponsored post for the Mall of America, but all opinions, text and images are honest and 100% my own.
When I was contacted by the Mall of America and asked to take part in their annual February "MinNOCoata" campaign, my first thought was Minnesota in February might not be the best idea for this Florida transplant. After all I was use to warm weather living in Sunny FLA! My first look at Minnesota from the plane window kind of verified the cold part right away.
But they must've caught me off-guard or in a moment of weakness because I said yes, and as it turns out I'm so glad I did! The Mall of America certainly isn't your typical mall with the usual stores we've all come to know and love. The Mall of America is actually a Travel Destination. And if you love to shop, you might think of it as Paradise….. Minnesota Style.
How do I get to the Mall of America?
After landing at the Minneapolis- St. Paul airport, I walked a short distance to the light rail and for the sum of $1.75 I rode it for about 10 minutes to the Mall and the Radisson Blu Hotel where I was staying during my visit. I was welcomed to this European style hotel with a warm fire and friendly faces.
Where can I stay at the Mall of America?
My room at the Radisson was very comfortable and had all amenities I've come to expect from a 4-star hotel. I was just a few steps away from the Club Room where breakfast was served every morning and wine was served every evening…. it's a rough life.
Are there amusement parks at the Mall of America?
When I began my exploration of the Mall I was in awe at the number of stores there were and at all of the delicious restaurants that were ready to feed me….sigh. But what hit me right away was a theme park smack dab in the middle of this Ah-mazing mall. Nickelodeon Universe is not just full of kiddie rides either, it's got enough spine-tingling high powered rides to satisfy the thrill seeker in the family. The Brain Surge was calling out to me every time I walked past, luckily my brain kept telling me to keep moving…lol. In my younger days, I would've have been all over this ride!
You'll find something forever member of the family to enjoy at Nick Universe and all day and two-day wristbands are available if you've got some teenagers you need to keep busy. And of course, you can pay per ride or attraction as well.
My favorite attraction at the Mall had to have been FlyOver America, I was moved to tears at the beauty and majesty of our great country. If you've been on Disney's Soarin, there is no comparison. FlyOver America blows it away and is must see for everyone visiting the area.
For the little ones in the family, you can have a very interactive day at The Crayola Experience. And as an adult that crayon smell when I walked in, took me back to my childhood and I found myself coloring alongside of the kids.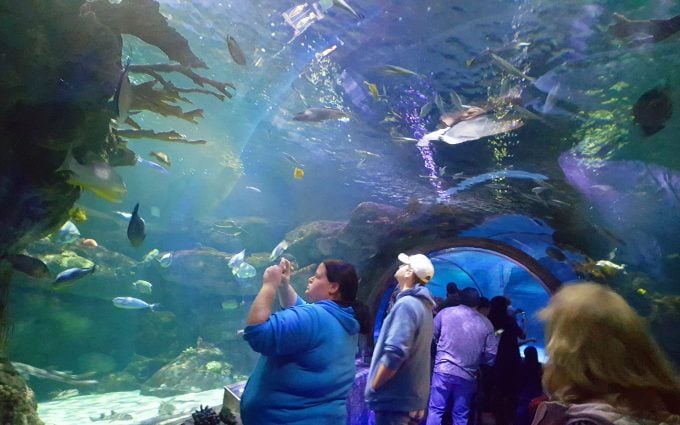 Did you know there is an Aquarium at the Mall of America?
Another amazing attraction at the Mall is the SEA LIFE Minnesota Aquarium.
There are some interactive areas at the beginning of the aquarium where younger kids can enjoy touching some of the sea creatures. I was just amazed at all the different types of fish and sea creatures on display and the size of the tanks they occupied. I had to keep reminding myself I was inside a shopping mall!
Another OMG moment came when I visited SMAAASH, a new virtual amusement park that occupies space on the fourth and fifth floors. That's right there are five floors at the Mall of America! Complete with a two floor Sky Karting Track, SMAAASH will keep you entertained like never before.
I was asked to test a virtual experience that had you walk across a beam 40 floors up to rescue a kitten. My reply was I will just die, there'll be a puddle then I'll die…sigh. You're all of 6 inches off the floor but with the Oculus you actually feel like your 40 floors up. They have a variety of other virtual rides like the Extreme Drone Race (pictured above) as well as a delicious bar and restaurant where you can relax and celebrate with your friends after the fun.
This is what you can expect to eat at the Mall of America.
In the Main Court of the Mall they have performances by local and major recording stars. While I was there, I got to see Boyz II Men perform in celebration of the Malls 25th Anniversary. The three remaining members may have gotten a little older, but their voices haven't changed a bit. I got to watch from just a few feet away in the media pit which was pretty awesome!
Of course, when visiting any area I have to check out the culinary scene and you might think a mall wouldn't really have any great dining options, but you'd be wrong! Options range from this upscale "John Wayne Burger" at Burger Burger.
To this OMG Apple Torte that I devoured at Tucci Benucch an ah'mazing Italian restaurant found on the first levels west wing of the mall.
There's something for every appetite at the Mall of America from the upscale menu at Crave American Kitchen and Sushi Bar to the Casual and Locally Flavored menu at the FireLake Grill House where I had these oh so delicious Dry Rubbed Wings.
If you're looking for the Legendary Minnesota Fish & Chips made with the local Walleye, look no further than the Twin City Grill. Served with their salt and vinegar fries its a meal you'll be talking about for years to come.
By now you should be getting the picture, The Mall of America isn't your typical shopping mall. With more to do and see than most amusement parks, door to door transportation from the airport on the comfortable and very safe light rail you really have no need for a coat during the winter in Minnesota. With a choice of hotels and more restaurants than you'll have a chance to try, you'll be wined and dined without having to leave the mall to get to your hotel room. Oh, and did I mention shopping? Make sure to bring an empty suitcase because the 500 mall shops are a shoppers paradise. You can see how easily this could be a great family vacation. The Mall of America truly is a Travel Destination.
You can see how easily this could be a great family vacation, the Mall of America truly is a Travel Destination.
Click on the link to learn more about the Mall of America.
If you'enjoyed my post about the Mall of America please let me know in the comments below, I love hearing from you!
You can also FOLLOW ME on Instagram @chefdenniseats and @chefdennistravels, Twitter and Facebook.
This is an affiliate link and If you are booking a trip to the Mall of America or anywhere else in the world I would appreciate it if you could use this link. The added income helps me keep traveling and writing about my travels.