There's a saying in Florida "If you don't like the weather just wait 5 minutes"
Well this week I waited and waited and waited, and finally after 3 days of rain the sun broke through to picture perfect weather….sigh
So much for five minutes.
But I really complain because compared to the winter we would have had in Philadelphia this year, its been a veritable paradise, so I won't let a shitload little rain bother me.
Life has been good and both of my shows have been going very well and I thought besides the recipe this week I'd share a look at the behind the scenes setup for Around the Kitchen Table.
Complete with my mise en place for this episode.
You'll notice that big boy microphone is my Blue Microphone Yeti that I absolutely love! You can also see my two camera set up where I utilize two Logitech C920 HD cameras. And of course the best portable cooktop I've ever owned a Burton Induction Cook top. I haven't relieved any compensation from any of these companies, but I do love these products and wanted to share them with you. You can find all of them very reasonably priced on Amazon.
Of course the star of today's show was the Chicken and Shrimp Pepperoni! Definitely one of Lisa's top 10 favorite dishes and so easy to make, you can have this Restaurant Style Meal on the table in a half an hour.
Of course at less than half the cost of going out to dinner! Bon Appetit!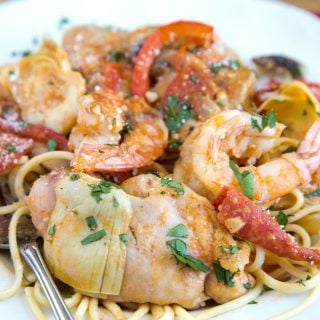 Print Recipe
Chicken and Shrimp Pepperoni
Ingredients
1

lb

boneless skinless chicken thighs

8 16-20

lb

count shrimp about ½

1

small red bell pepper seeded and sliced

8

oz

mushrooms sliced

4

oz

artichoke hearts in brine

sliced plus a little juice from the can

2

oz

pepperoni sliced

(quartered if using deli slicing pepperoni)

1

clove

garlic sliced

8

oz

chicken stock

2

oz

marinara sauce

splash of white wine

cup

¼ grated Romano cheese

1

tsp

chopped Italian parsley

1

pinch of crushed red pepper flakes

in

seasoned flour to dredge the chicken and for the beurre manie

salt and pepper

1

tbsp

butter

olive oil as needed

1

lb

linguine or spaghetti
Instructions
Heat a large Saute pan, then add Olive oil and garlic slices.

Dredge chicken thighs in seasoned flour and add to hot oil. Let chicken cook for 2 minutes until done on one side and has a little color, then turn over and add sliced peppers, and mushrooms.

Continue to saute for 4 or 5 minutes, mixing ingredients to insure that the peppers and mushrooms start to cook.

Add the shrimp and continue to cook until, shrimp are almost fully cooked.

Add the white wine to deglaze the pan and stop the cooking.

Now add the chicken stock, marinara, artichoke hearts(along with some of the juice), Romano cheese and red pepper flakes. mix well.

Remove the shrimp from the pan and add the pepperoni slices, and allow ingredients to reduce slightly 3 -5 minutes.

,Remove the pan from the heat and add the shrimp back into the pan

Cook your pasta per instructions on the box. Remember to make it al dente'.

Two minutes before your pasta is done, start to heat your Chicken and Shrimp Pepperoni, roll butter in seasoned flour, and add to pan to thicken sauce

Continue to heat on medium heat as you drain your pasta.

Serve the chicken and shrimp pepperoni on a bed of linguine.

( If your sauce appears to thick or oily, add a little more water to it, this will help assimilate the oil, as well as thinning it out.)

Notes

**You will see more oil in this dish then you probably want, but this comes from the pepperoni, once the pepperoni is in the pan, you want to limit the time it cooks, the more it cooks the more the dish will look oily. The pepperoni adds so much flavor, so you do need to let it spend some time in the pan combining with the other flavors.