This post includes affiliate links. As an Amazon Associate I earn from qualifying purchases.
As we come to the end of yet another week of my summer vacation, and the days have begun to get shorter, I have to come to the sad realization that eventually yet another summer will be behind me. As I grow older,  I stop to think about all the summers past, and how they were spent. In my younger days when I wasn't working they were spent in Atlantic City. Atlantic City in the 60's was such a different place, the boardwalk  the piers with all their rides and attractions. and the movie theaters……sigh what a good life it was. My favorite place had to be the Steel Pier,  you got to see a popular band, 2 movies, a stage show and of course the diving horse (you could never convince me the horse or the rider enjoyed that dive). 
It also amazes me that I have become my father, which in truth is not a bad thing, but I think about my younger days, and I listed to oldies……heavy sigh   But of course I digress, the summer has just begun and I still have so much do this summer, and it's still a good life! So lets get on with it!
Today it's guest post Friday and I know you're all here to see who is in the spotlight today, and you couldn't have picked a better day to stop by! Today my friends I want to introduce you to Cat from 
Neo-Homesteading.  You'll find her given name to be Catherine, but all of her friends and family know her simply as Cat. If you haven't been to Neo-Homesteading before your certainly in for a treat, and I know you're going to become one of Cat's newest followers. Cat will not only tempt you with her delicious creations, but she'll have you drooling on your keyboard with the gorgeous images she takes of her food!
So sit back, relax, put your feet up and get ready for a serious stomach grumbling post as I give you…..
My name is Cat, I am a 26 year old homeschooling-homemaker. I have two adorable little boys. Although they make my hair fall out, just like any mother I happen to think they are the greatest kids in the world. I wasn't born with a passion for cooking, (or mothering for that matter) however I have always had a desire to eat. When I was a teen I had more "problems" than I could count on one hand, Ihad no goals, no positive inspiration, no directions. I was going a million miles an hour on a dead end street and I was lost. A predictable story, it all started to change when my husband came along. We moved into a small apartment in Philadelphia. I was on my way to being an 18 year old pregnant, newlywed. I was young, scared and about to be a mother. Soon enough, I'd have a human being in front of me that would demand nourishment. It was a very powerful time for me. I really extended my passion for food from eating, to cooking. I tried harder, and harder each day, with self-defeat at my heels I always wondered if I was good enough. Will my kids feel what I was trying to share with them? I wanted so badly to be perfect. Then there was this epiphany. I realized that to make good food, love was the only additive necessary. Food made simple and fresh was the best thing I could give my family. This deep connection to my food was because of my memories of food, and it wasn't just the food itself. Food to me was a reminder of times when I was happy, time spent with family. Strawberries for instance, I realized became so much more than just a fruit to me. The humble little gems always remind me of strawberry picking as a kid. I couldn't help but to remember how rewarding it felt eating the homemade preserves in the middle of a winter blizzard. It was the summer of 2003, and I'd made my very first entirely from-scratch recipe, a strawberry pie. A hideous mess of a pie, but delicious and rewarding.
Every meal to me is a little reminder that to nourish your body you need food, to truly sustain yourself,you need love. Food was and is, the ultimate representation of love to me. Fast forward a few years and we've moved into the sticks. The setting is entirely different, but I'm still pretty self-defeating. At least I'm no longer a wayward mess of a girl. I'm a woman with a destination almost in sight. Although I may not have an itinerary, I at least have a path to follow. I know that food is my passion. If I can share my passion for food then I'm sharing my love and possibly helping to sustain someone else's desire to feed their families and friends. Neo-Homesteading is just me, sharing my fondness of natural homecooked meals. Its a testament that food can still be made at home, and a reminder that a meal is not just a meal. Its a bit of a surprise to me, but it has become deeply personal. There's little noses behind my computer screen,there's little hands stealing my food before I get the "perfect shot." There's happy, healthy, monsters sharing this with me. (I do the work, they "share" the food.)
I'm grateful to have this opportunity to do a guest post, it's an honor to be invited to do a guest post on any one's blog, let alone a great one! Blogs are extremely personal, for someone to share that piece of their life is a real gift. More than A Mount Full has been an inspiration for me, its wonderful to see a chef involved with the online food community in such a personable and humble way, and not only does Chef Dennis reach out to fellow bloggers but he has one of the most important jobs in the world, he is a teacher. Its spectacular to think he can inspire so many young minds, he can give them the map they need to avoid getting lost, he can help them realize their own potential. Thank you Chef Dennis, for sharing your little piece of the world in each and every post, and thank you for guest post Friday!
Super-Moist Strawberry Cake
This is a very moist, sweet and delicious strawberry cake. I used fresh strawberries for the icing, homemade strawberry & honey preserves for the filling and for the cake itself I used frozen strawberries that my family picked from a local pick your own farm last summer. Much like my very first pie it's not much of a looker. I assure yout hat even though I lack the patience to make stunning meticulously decorated desserts, this is a cake that you should enjoy barefoot with your eyes closed. 
Modified From A recipe from
Vegan Thyme
, entirely un-veganized. Sorry Kelly!
Cake:
Wet Ingredients:
¾ cup butter (softened)
1 ½ cups sugar (I used a little raw sugar)
2 eggs
2 ounces softened cream cheese (softened)
¼ cup milk
1 ½ cups strawberries, mashed (thawed if previously frozen)
1 tablespoon vanilla extract
Dry Ingredients:
2 ½ cups all purpose un-bleached flour
1 ½ tablespoons baking powder
1 teaspoon salt
Filling:
½ cup Strawberry Jam
Icing:
4 ounces cream cheese (softened)
4 tablespoons butter (softened)
1 tablespoon vanilla
¼ – ½ cup of strawberries (*see note)
3-4 cups powdered sugar
Preheat oven to 350 degrees.
Butter two 9" round cake pans. Dust with flour, patting out the excess. (If you have parchment liners you can use those as well, this is a very moist cake and it will help prevent sticking.)
In one bowl combine dry ingredients. Whisk together or sift to remove any lumps.
In a large bowl combine butter, cream cheese and sugar. Beat together until pale and fluffy. Add eggs one at a time. Combine strawberries,milk and vanilla. Slowly incorporate the dry ingredients, and the strawberry mixture into the creamed mixture. (Mix half of the dry , half wet, the other half of the dry and the remaining wet) Pour half of the batter into each pan.Bake for 25-30 minutes or until lightly golden brown, or an inserted toot pick comes clean. Allow to cool fully before frosting.
To Prepare the Frosting:
In a large bowl combine butter and cream cheese. Beat until combined and fluffy. Add vanilla and strawberries until combined. Once this mixture is fluffy and combined well incorporate 1 cup of powdered sugar at atime until you've reached your desired texture.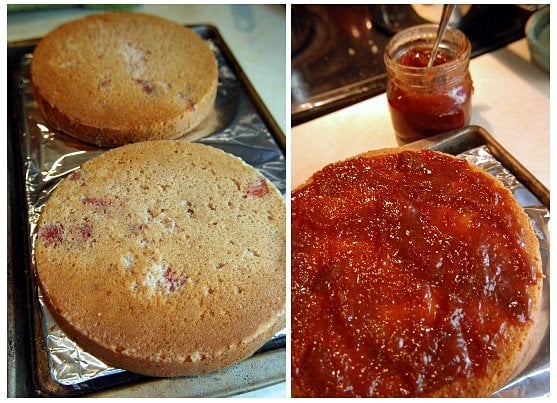 To Assemble:
Place one of the cooled cakes onto a plate or cake platter.(Refrigerating the cakes until they are fully cold makes working with them much easier) Smear the top evenly with the strawberry jam. Place the other cake on top. Ice the cake and decorate if desired. Enjoy!
*note: For a more traditional fluffy butter cream frosting use less strawberries, or even mash the strawberries and strain them. This reduces the moisture allowing it to be perfect and fluffy, ideal for cup cakes or a cake that needs to travel.
Ok, I know everyone is going to be heading for the kitchen for a serious strawberry fix, but before you do, make sure you stop on over to Neo-Homesteading and say hi to Cat, and tell her how much you enjoyed her post today, just remember to tell her chef Dennis sent you! After you've eaten something, start going through her past posts, just be prepared to stay awhile, she does know her way around a kitchen.
Before I let you go I would also like to remind you about the Asheville Wine and Food Festival, Its August 12th and 13th and you will have the time of your life eating and drinking your way though the culinary mecca of the South, and of course I'll be there too! The two day event starts Friday at The Battery Park Book Exchange and Champagne Bar for registration and a welcome cocktail! Stop by our website, The Southeastern Food Lovers Association for links to the event,  we will be updating the page as we go, providing more information. The price of the Festival is only $69.00 and will cover tickets to the Sweet Event and the Grand Tasting, as well as a special breakfast with us, and few other little goodies thrown in.
If you live in the anywhere near Asheville, you don't want to miss it!
Thanks so much for stopping today, and I hope everyone has great weather and enjoys a wonderful holiday weekend !!