Why pay for meals you can make at home, as I share my secrets for delicious chicken parmesan and Chicken Neapolitan! If you're a cheese lover these dishes are for you!
This post includes affiliate links. As an Amazon Associate I earn from qualifying purchases.
When I worked as a Restaurant Chef one of the easiest and most popular dishes we served was Chicken Parmesan and believe me I understand why. Not only is it always more priced more reasonably but it should always be a safe bet.
Even now when we go out to a new restaurant and I'm just not impressed with the menu, or if I really want to see how much effort they put into the food they serve I order Chicken Parm. I know what you're thinking, why would I order something as simple as Chicken Parm? Well, it's really pretty simple, if they can't get chicken parm right, they're not going to a more complicated, more expensive meal right.
1. Chicken Parm should be tender enough to cut with your fork, but not pounded so thin that it becomes tough.
2. Chicken Parm should have enough sauce on it, to get some with almost every bite, that also means sauce should go under it!
3. Chicken Parm should have enough cheese on it to cover 90% of the breast, comon' man that's why we order chicken parm for that ooey gooey melted mozzarella!
But what I've seen and what I've been served has been far from that, and it's a shame because if you don't care enough to get this simple delicious meal right, you're certainly not going to care enough to get a more complex dish right. (and if the chicken parm isn't good, you can bet they buy their desserts, not make them)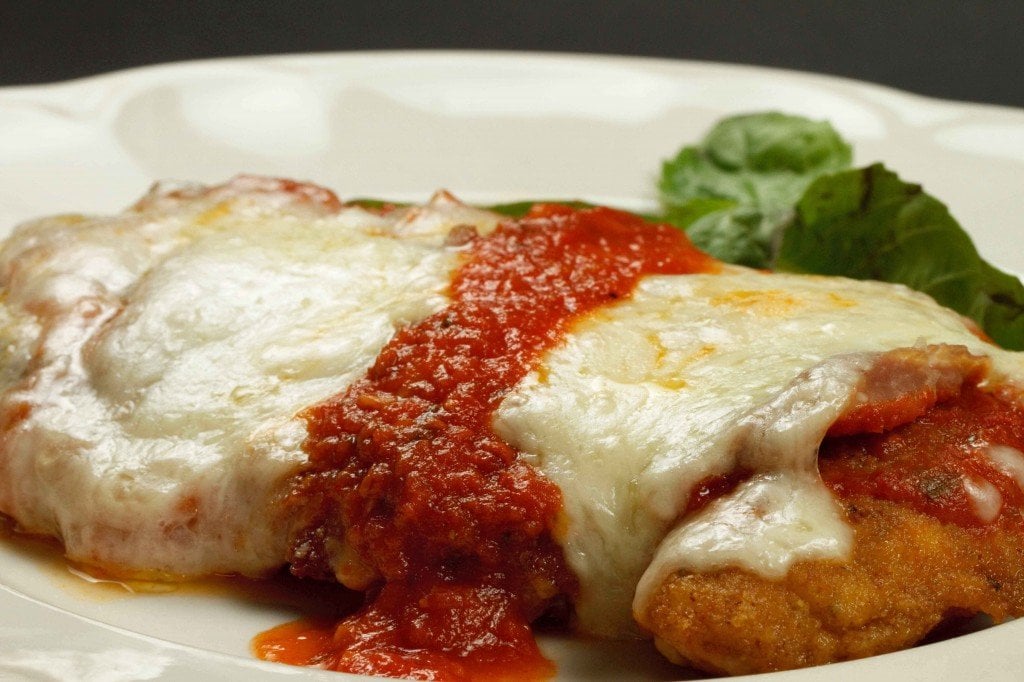 This is why I decided to do a post on Chicken Parmesan and one of my other favorites, Chicken Neapolitan. One of the keys to running a successful restaurant was always finding other things to do with the same products, because using one product, such as a breaded chicken breast for more than one entree, ensured you would use it more quickly. But the most important factor is they have to be good!
When you do open the pack of chicken the first thing you need to do is rinse it off, then lay it on paper towels to dry a bit, then trim off any excess fat, or if the breasts are too big, cut them down. The best way to do that is to cut through the meat, long ways through the entire breast, or butterflying the piece that is too thick. Then place one or two breasts in a large ziplock bag and using the flat side of the meat hammer pound out the breast driving the hammer out as you pound not just straight down. (you don't want to tear the breast by pounding too hard, you want it to spread out) . Repeat this process until they're all prepped.
Now just set up your breading station: 1) Flour seasoned with salt and pepper 2) egg beaten with milk or water added to double the mixture 3) seasoned breadcrumbs (I use store bought but feel free to make your own, by adding in basil, pepper, grated cheese, parsley and any other spices you may like, just don't overdo the oregano if you use it)
Then we simply coat each breast in flour, then egg wash, then breadcrumbs and repeat the process until they are all breaded, the hard part is done! Now all you have to do is saute them until golden brown, drain them on paper towels, and then place them on a cookie sheet in the freezer until they freeze solid and then place them in a zip-lock freezer bag until you need them. Now you have a quick and easy dinner ready in your freezer for those nights you just don't have time to cook!
If you like cheese than Chicken Neapolitan is for you! It uses four kinds of cheese and is simply delicious.
If that's too much cheese for you, and you want to just do Chicken Parmesan, I'll tell you the secret I learned many years ago from Mama Jeanette.
When you set up your chicken parm make sure you put sauce under the chicken but before you sauce over top of the breast, place a thin slice of prosciutto over the chicken, then sauce and then your mozzarella. No one will even know the prosciutto is there but they'll notice the extra flavor!
If you enjoyed this recipe, you may also like these: