When I worked as a Restaurant Chef  one of the easiest and most popular dishes we served Chicken Parm, and believe me I understand why.  Not only is it always more priced more reasonably but it should be a safe bet.   Even now when we go out to a new restaurant and I'm just not impressed with the menu, or if I really want to see how much effort they put into the food they serve I order Chicken Parm.  I know what you're thinking, why would I order something as simple as Chicken Parm?  Well, it's really pretty simple, if they can't get chicken parm right, they're not going to a more complicated, more expensive meal right.
1.  Chicken Parm should be tender enough to cut with your fork, but not pounded so thin that it becomes tough.
2.  Chicken Parm should have enough sauce on it, to get some with almost every bite, that also means sauce should go under it!
3.  Chicken Parm should have enough cheese on it to cover 90% of the breast, comon' man that's why we order chicken parm for that ooey gooey melted mozzarella!
But what I've seen and what I've been served has been far from that, and it's a shame, because if you don't care enough to get this simple delicious meal right, you're certainly not going to care enough to get a more complex dish right.   (and if the chicken parm isn't good, you can bet they buy their desserts, not make them)
It never ceases to amaze me when I see restaurants full with people eating such poor quality food, it's time like those I want to go back in the restaurant business, but then I do a shot and Lisa slaps me…….sigh   I remember one restaurant we went into, and I hoped the Chef was off, friends raved about this Italian restaurant, but what I got were two pieces of chicken (probably frozen store bought) with a little sauce and a little cheese.   The sauce tasted like someone had opened a can of crushed tomatoes and heated it, not one piece of basil did I see?  We actually went back again thinking it was a bad night, it wasn't…lol, and the place was packed again!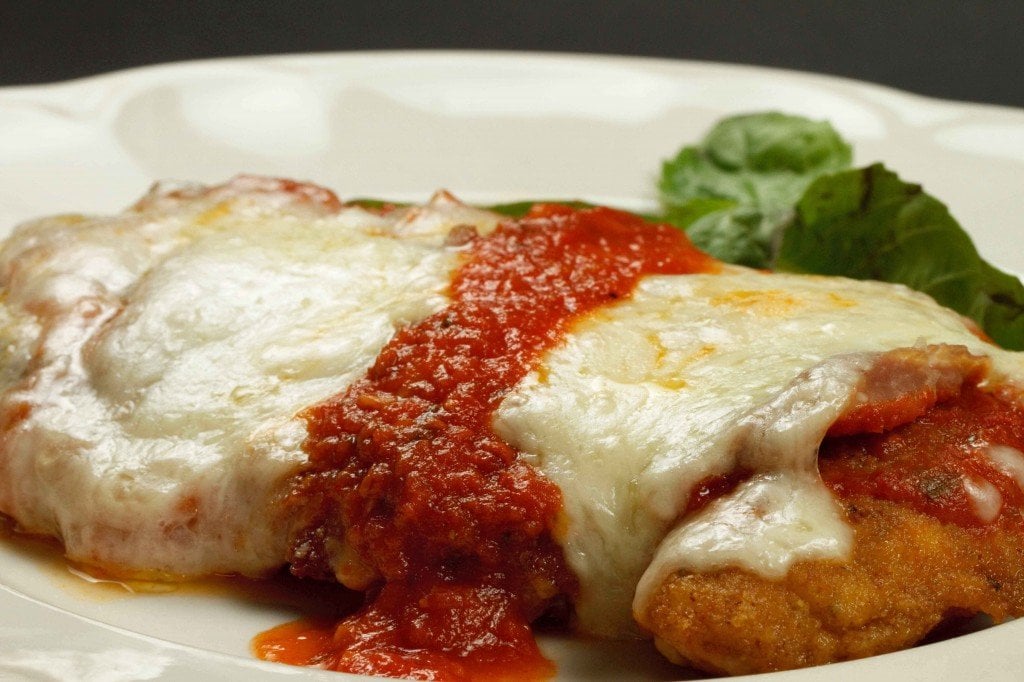 This is why I decided to do a post on Chicken Parmesan and one of my other favorites, Chicken Neapolitan.  One of the keys to running a successful restaurant was always finding other things to do with the same products, because using one product, such as a breaded chicken breast for more than one entree, ensured you would use it more quickly.  But the most important factor is they have to be good!
I have been buying Organic Chicken Breasts at Sam's club lately, they run about half the price of the area supermarkets and are in club packs.  This a good thing, because not only does it save me money but it makes me prep enough chicken so I have it ready in the freezer for the next 2 months.   I do recommend buying Organic, and free range when ever possible,  you just don't want to know the things they do to regular chicken, I know price is a consideration, and if your'e feeding a family you have to do what you can to save, just keep it in mind.
When you do open the pack of chicken the first thing you need to do is rinse it off, then lay it on paper towels to dry a bit, then trim off any excess fat, or if they breasts are too big, cut them down.  The best way to do that is to cut through the meat, long ways through the entire breast, or butterflying the piece that is too thick.   Then place one or two breasts in a large ziplock bag and using the flat side of the meat hammer pound out the breast driving the hammer out as you pound not just straight down. (you don't want to tear the breast by pounding too hard, you want it to spread out) .  Repeat this process until they're all prepped.
Now just set up your breading station:  1) Flour seasoned with salt and pepper  2) egg beaten with milk or water added to double the mixture  3) seasoned breadcrumbs (I use store bought but feel free to make your own, by adding in basil, pepper, grated cheese, parsley and any other spices you may like,  just don't overdo the oregano if you use it)
Then we simply coat each breast in flour, then egg wash, then bread crumbs and repeat the process until they are all breaded, the hard part is done!  Now all you have to do is  saute them until golden brown, drain them on paper towels, and then place them on a cookie sheet in the freezer until they freeze solid and then place them in a zip-lock freezer bag until you need them.   Now you have a quick and easy dinner ready in your freezer for those nights you just don't have time to cook!
If you like cheese than Chicken Neapolitan is for you!  It's uses four cheeses and is simply delicious.
Ingredients
4

boneless skinless chicken breasts

1

cup

seasoned bread crumbs

1/2

cup

flour seasoned with salt and pepper

2

eggs beaten mixed with 1/2 milk

1

cup

olive oil

1

cup

ricotta cheese

1

egg

lightly beaten

2

oz

grated romano cheese

2

oz

shredded mozzarella

8

slices

provolone cheese

salt and pepper to taste

3-4

cups

marinara sauce
Instructions
preheat oven to 350 degrees

In a bowl mix the ricotta, beaten egg, romano cheese, mozzarella, and salt and pepper to taste. Mix well

pound chicken breast out to make slightly thinner (about 1/2 inch)

coat in seasoned flour, then dip in eggwash and coat in seasoned bread crumbs

in a large saute pan heat olive oil until hot enough to fry the breasts

place breasts in hot oil and saute on each side until golden brown.

place on paper towels to drain

place a little marinara in a baking dish, then the sauteed chicken breasts, now add a little more sauce on top of the chicken.

spread a nice layer of the ricotta mixture on each chicken breast.

Top each breast with two pieces of provolone covering the entire breast.

Bake at 350 degrees for 20 minutes or until cheese is hot and bubbly.

Serve with a side of your favorite pasta and a little more marinara over the chicken neo.
If that's too much cheese for you, and you want to just do Chicken Parmesan, I'll tell you the secret I learned many years ago from Mama Jeanette. when you set up your chicken parm make sure you sauce  under it but before you sauce over top of the breast, place a thin slice of prosciutto over the chicken, then sauce and then your mozzarella.  No one will even know the prosciutto is there but they'll notice the extra flavor!   Follow this link for my Marinara Sauce Recipe.
Before I say goodbye I would like to mention that you can find me in a few new places this week!  I have been selected by the Mid Atlantic Dairy Association as one of their chefs and you can find me and some of my recipes at The DairySpot.   
I would also like to announce my affiliation with The Spattered Page, it's the perfect spot to store all of those great recipes you've been accumulating over the years.  No more piles of torn magazines pages, or tattered notes, just place them all in your account (no one else can see them) and pull them up when ever you need to plan a meal  or party, they can even help with grocery lists!  But the best part about it is it's free to try for the first month, you don't even have to leave a credit card, it's just that simple!
Thanks for stopping by today and I hope everyone's Monday is a good one!  See you all real soon!