Boneless chicken breast sauteed and topped with jumbo lump crabmeat, mushrooms, and white asparagus! Perfect for that special occasion, Chicken Oscar!
This post includes affiliate links. As an Amazon Associate I earn from qualifying purchases.
Chicken Oscar is an American classic. Why not serve it for your next date night dinner.
The truth is I really enjoy shopping and not just for food, its the time spent browsing that seems to soothe me. It's me time and I do enjoy it. On this shopping trip I found some white asparagus, Tuscan kale and the prize, Virginia crabmeat, which is almost the same as Maryland.
A quick note about crabmeat, if you do buy pasteurized and this time of year that's pretty much all your going to find, just be careful of where it comes from. Check the source, and quite frankly I won't buy and crabmeat that's from any other country, first of all, it's not the same crab and just doesn't taste as good, and you have no idea how badly polluted the waters they came from were. I know I've mentioned the same thing about shrimp, you need to be careful of the source of origin.
I knew right away what I wanted to make, in the old days we did Veal Oscar, and with veal out of fashion, I decided on Chicken Oscar.
The Tuscan Kale was fairly tasty, definitely a stronger flavor that we were used to, but not at all bitter. The white asparagus didn't fare so well, they really lacked any flavor and even with peeling them and cutting them down fairly short they were very tough and stringy….next time we stick with green asparagus! These were from Peru which could have been the problem, years ago we only got them from European countries and it was also very tender and had much better flavor. I guess that proves a point about the source of products!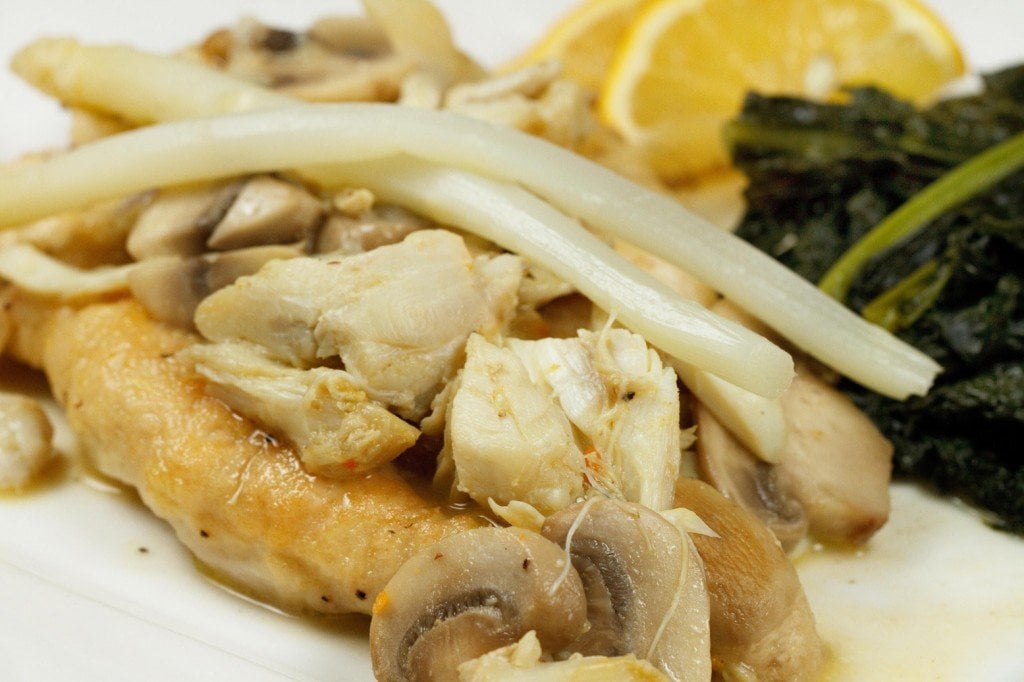 I will say that the crabmeat made up for any lack of flavor in the asparagus it was really delicious, with a lot of great crab flavor. In the old days I would have made a hollandaise to top off this dish, but since I am making an effort to eat just a little more healthy I decided to do without the hollandaise and use the calories all the butter and eggs would have added in my dessert instead…..but that's a post for another day!