This post includes affiliate links. As an Amazon Associate I earn from qualifying purchases.
When it comes to using Zucchini Blossoms in recipes there are many different ways to use them. I love Stuffed Zucchini Blossoms, especially having fun with different types of stuffing.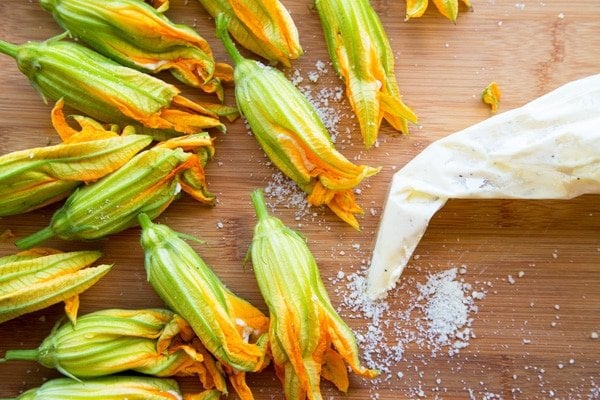 Now you really didn't think you were going the whole summer without seeing my precious, did you? We all know the therapy wasn't going to work and the 7 step program was a lot of fun, but let's get serious.
I love zucchini blossoms and that's one addiction I can live with. The blossoms arrived at our farmers market about a month ago and we have been enjoying them my wife's favorite way, stuffed with a blend of cheeses, battered and sauteed……sigh, it's a wonderful thing!
This week when I spotted my precious, I knew it was time for a change, and while I enjoyed all of my creations last year, I felt the need to try something different. Having received a bounty of the best Feta Cheese I have ever had from Euphrates (part of Chobani), I felt the need to use that delicious feta in my blossoms.
Standing in the middle of the Collingswood Farmer's Market it came to me, Jersey Fresh Tomatoes, basil and feta, a match made in heaven! I didn't want these beauties to be too heavy so I stayed with a classical batter, simply sparkling water (S.Pelligrino) and Flour.
If you enjoyed this recipe you're going to love these: