This post includes affiliate links. As an Amazon Associate I earn from qualifying purchases.
Galderma provided me with a free sample of Excipial Protect and Repair product. Although this is a sponsored post, all of my opinions are honest and 100% my Own.
I've been working in kitchens all my life and honestly, I wouldn't have it any other way. I get to work at something I love every day. It's been a blessing, but it's also taken its toll on my body. Especially my hands. Cuts, burns, calluses and dry, cracked skin from the constant exposure to water.
There's a lot going on in a kitchen and a chef has his hands right in the middle of everything, which means constant hand washing.
As Chefs we need to be able to use our senses in every aspect of our working day. And to acutely tune our senses to find out everything we need to know about the products we work with. Not only do our hands play a big part in the preparation and planning of the foods we cook, our hands can feel things that our eye's don't always see.
Tactile sensations play an important role in our work day. If your hands are rough, dry and cracked, it can be difficult to feel what you need to feel. Simply doing everyday tasks like chopping vegetables can be painful.
Over the years I've tried just about every hand cream and repair cream on the market. Including those miracle products in stores labeled "As seen on TV"……sigh. I've covered my hands in creams and worn gloves to bed, but nothing seemed to work until I found Excipial.
Excipial Daily Protection Hand Cream and Rapid Repair Hand Cream deliver visible results, allowing my dry hands to heal for the first time in years. I've been using the daily protection for almost a week now and my hands already look and feel better.
The first over-the-counter 2-step regimen for hardworking hands.
Whether you're a chef or a busy mom taking care of your familys needs, you'll love the relief you get using Excipial Daily Protection Hand Cream. It creates an insulating shield that hydrates and helps protect hardworking hands against dryness and external irritation, and intensely moisturizes that hard to repair dry, cracked skin.
I use Excipial Daily Protection Hand Cream throughout the day, and Excipial Rapid Repair Hand Cream at night.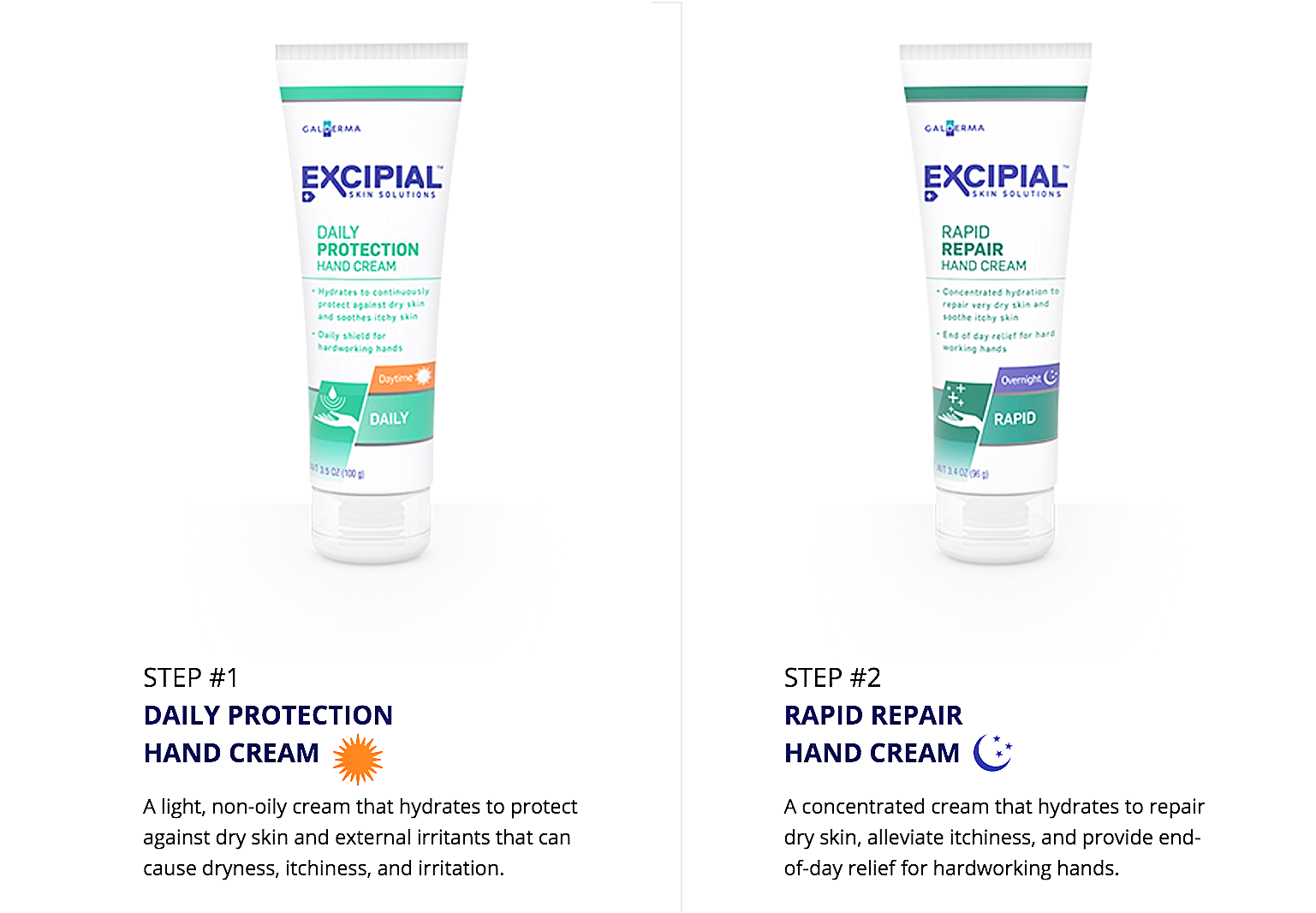 I know a lot of guys don't think much about their hands or their skin for that matter. But we need to take care of ourselves, especially our hands. I know my wife appreciates how much softer my hands feel, and keeping momma happy is key to a happy life.
So if you'd like #exceptionalskin, head on over to your local CVS and give Excipial a try, you'll be glad you did. I'll even tell you how to save some money on your purchase. Click on this link for a coupon.
Go to their website to learn about Excipial.