Homemade cream of mushroom soup with its rich, earthy flavor is one of my favorite comfort foods. This creamy soup, loaded with fresh mushrooms, is perfect for a cold night or just when you want to indulge in a bowl of creamy mushroom soup.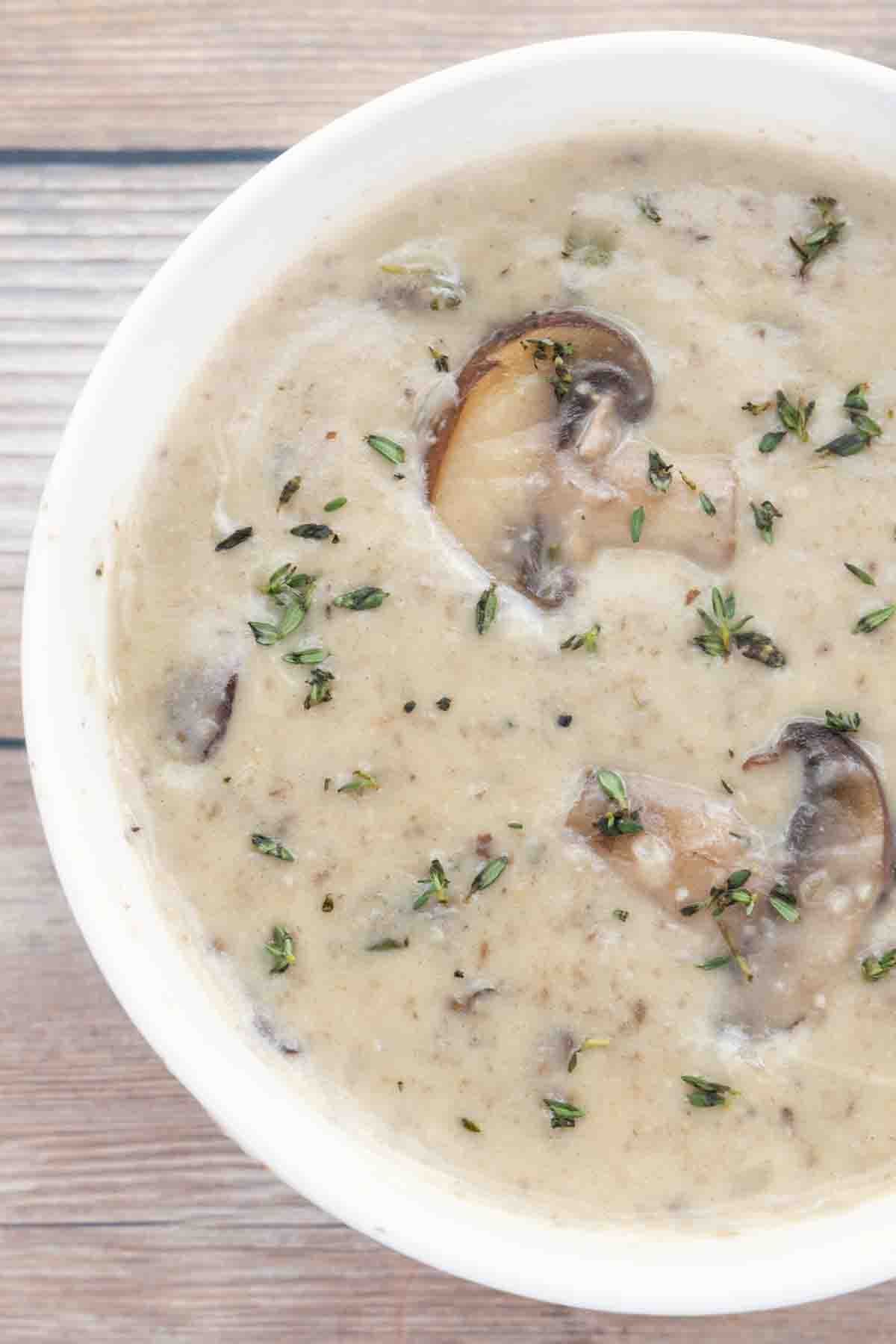 You don't have to be a mushroom lover to enjoy this soup. This is a soup your whole family will love! It's packed with flavor, and it couldn't be easier to make.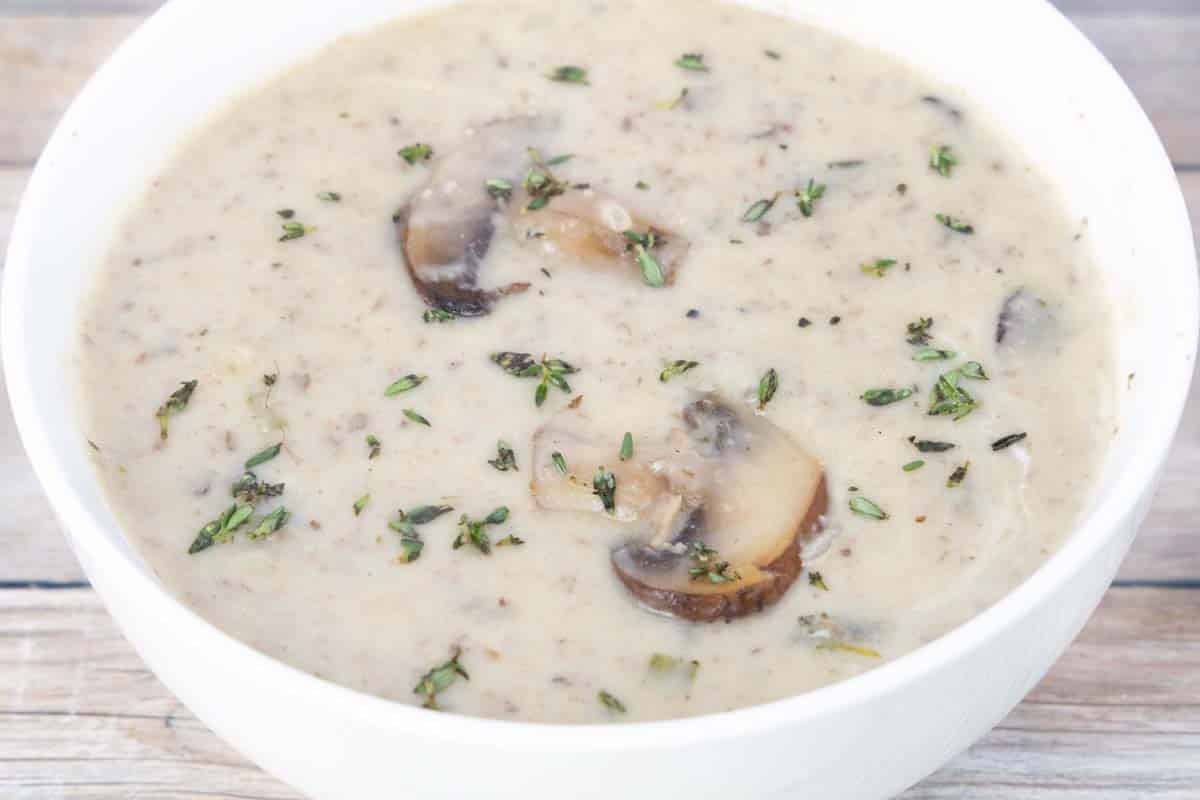 But there is a secret to making my cream of mushroom soup recipe. The mushrooms need to cook for 10-12 minutes in order to develop the flavor that makes this soup so incredibly flavorful. It's the difference between a mediocre soup and a mushroom soup with a rich depth of flavor.
If you love delicious creamy soups, you'll love my cream of potato soup and my easy broccoli cheddar soup.
Ingredients to make Cream of Mushroom Soup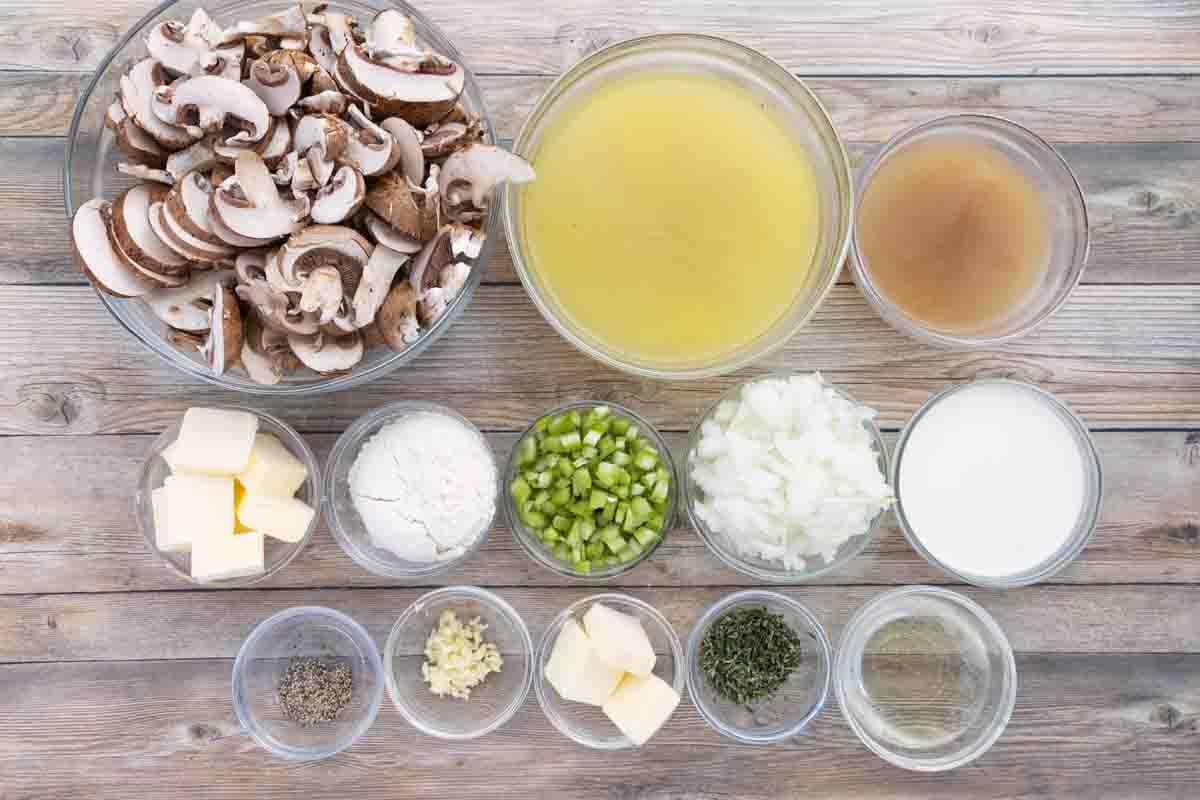 Let's start by gathering the ingredients we need to make Cream of Mushroom Soup. In Chef Speak, this is called the "Mise en Place," which translates to "Everything in its Place."
Not only does setting up your ingredients ahead of time speed up the cooking process, it also helps ensure you have everything you need to make the dish.
If you want to keep the soup vegetarian, use vegetable stock in place of the chicken and beef stocks. To make vegan cream of mushroom soup, use coconut milk, or your favorite non-dairy milk, along with non-dairy butter or olive oil to saute the vegetables.
What kind of mushrooms should I use?
I used baby bella mushrooms because they create a darker, richer color. But you can use button mushrooms, cremini mushrooms, shiitake mushrooms, wild mushrooms, or a combination you like to make your soup.
I like to use organic mushrooms when possible, but they're not always available at my grocery store
How to make Cream of Mushroom Soup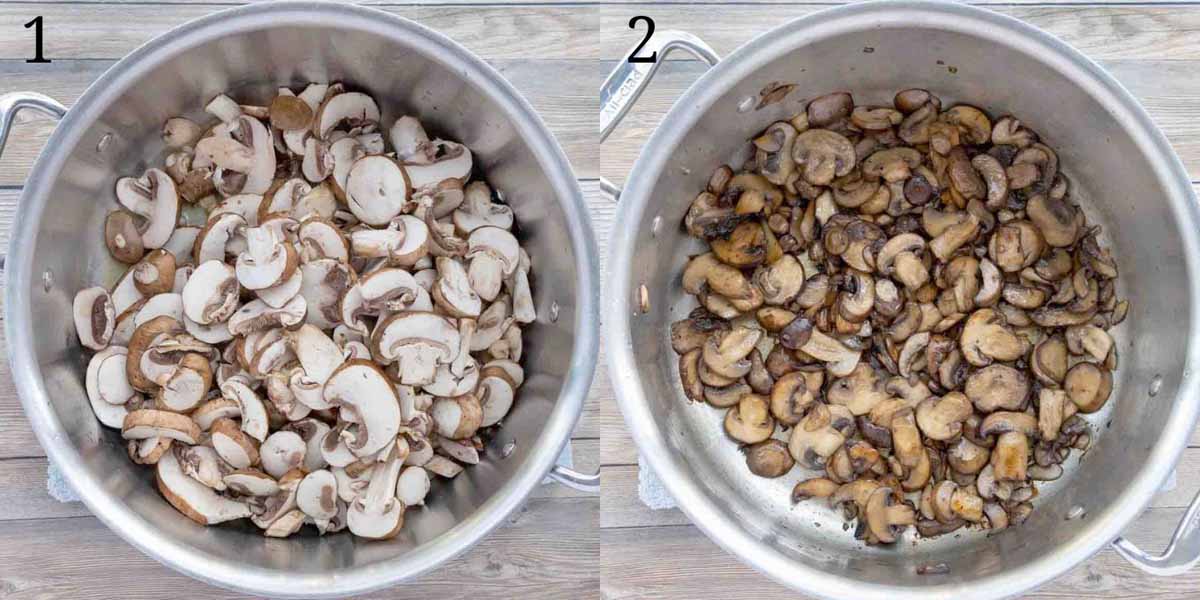 Melt half the butter in a large saucepan over medium-high heat, then add the sliced mushrooms.
Let the mushrooms cook for 5-6 minutes, then reduce the temperature to medium heat and continue cooking for another 5-6 minutes until the mushrooms have a rich, deep color.
*I like to use butter to cook the mushrooms, but you can use olive oil if you prefer.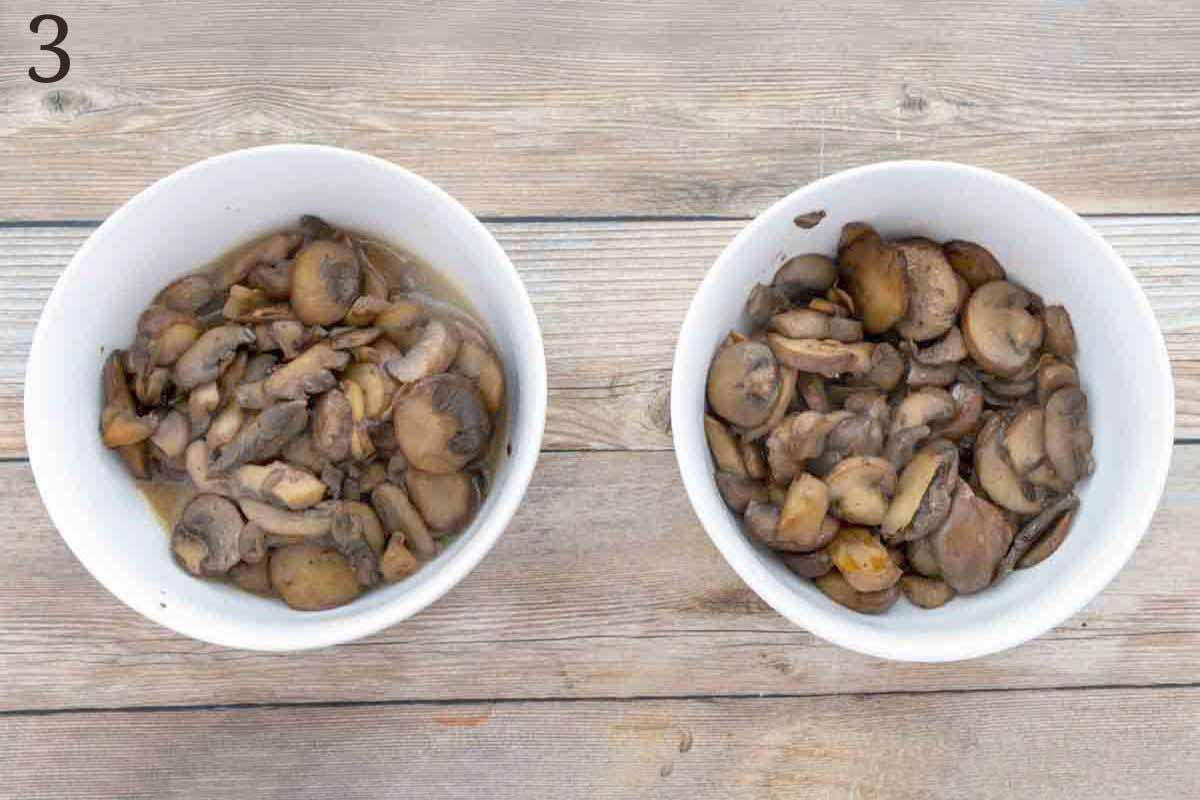 Divide the mushrooms into two bowls adding any liquid into one of the bowls.
Using a hand blender or food processor, puree the mushrooms with the liquid until they are almost a paste.
*If needed, add a little cream or chicken broth to the mushroom mixture to help with the process.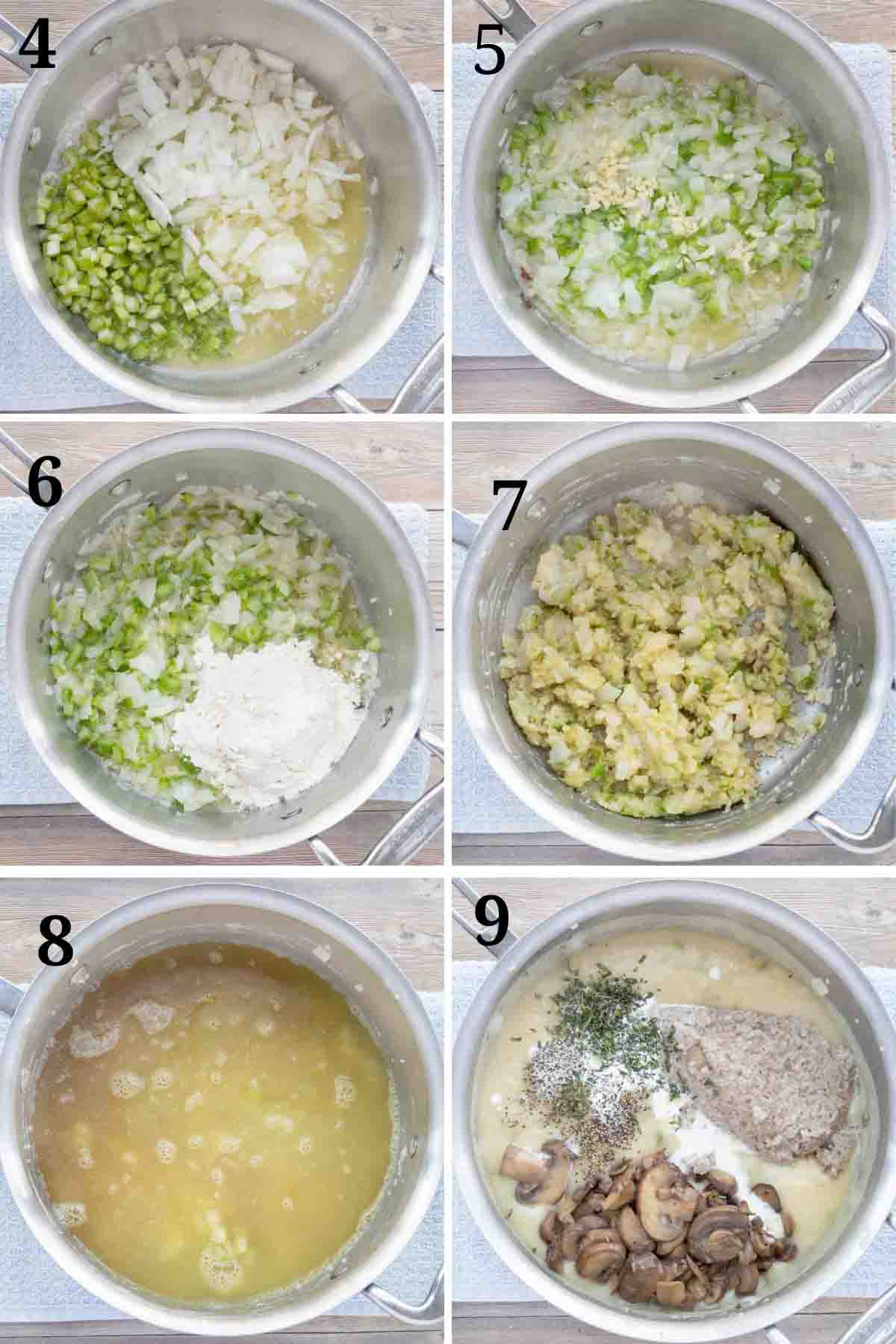 Melt the rest of the butter in the saucepan over medium-high heat and add the celery and onions to the pan.
Cook the veggies for 3-4 minutes until softened, then add the garlic and cook for another minute.
Add the all-purpose flour to the pot and mix well. This is the roux that will thicken the soup.
Reduce the temperature to low heat and let the roux cook for 3-4 minutes to get the raw flavor out of the flour.
Add the chicken stock, beef stock, and white wine to the roux mixture and use a whisk to blend the liquid into the roux. The mixture will thicken.
Add the remainder of the mushrooms, heavy cream, black pepper, and thyme to the mixture and mix well to fully combine.
*I used white wine in my soup, but you can use red wine for a deeper flavor. The only downside to using red wine is it will change the color of the soup, making it a little purple.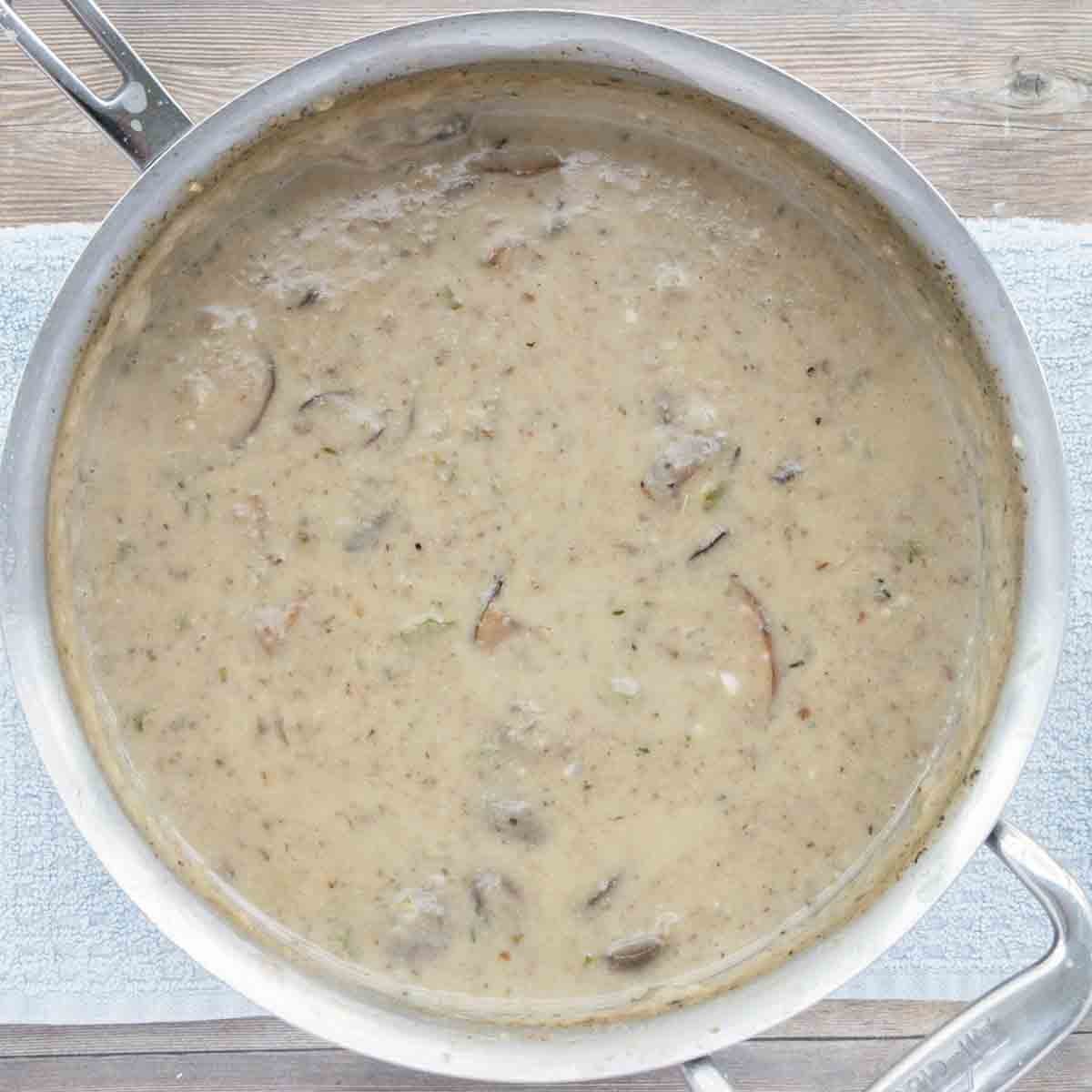 Continue to simmer the soup for 25-30 minutes to let the flavors build.
*If the soup is too thick, use additional broth or water to get the consistency of the cream of mushroom soup, how you like it.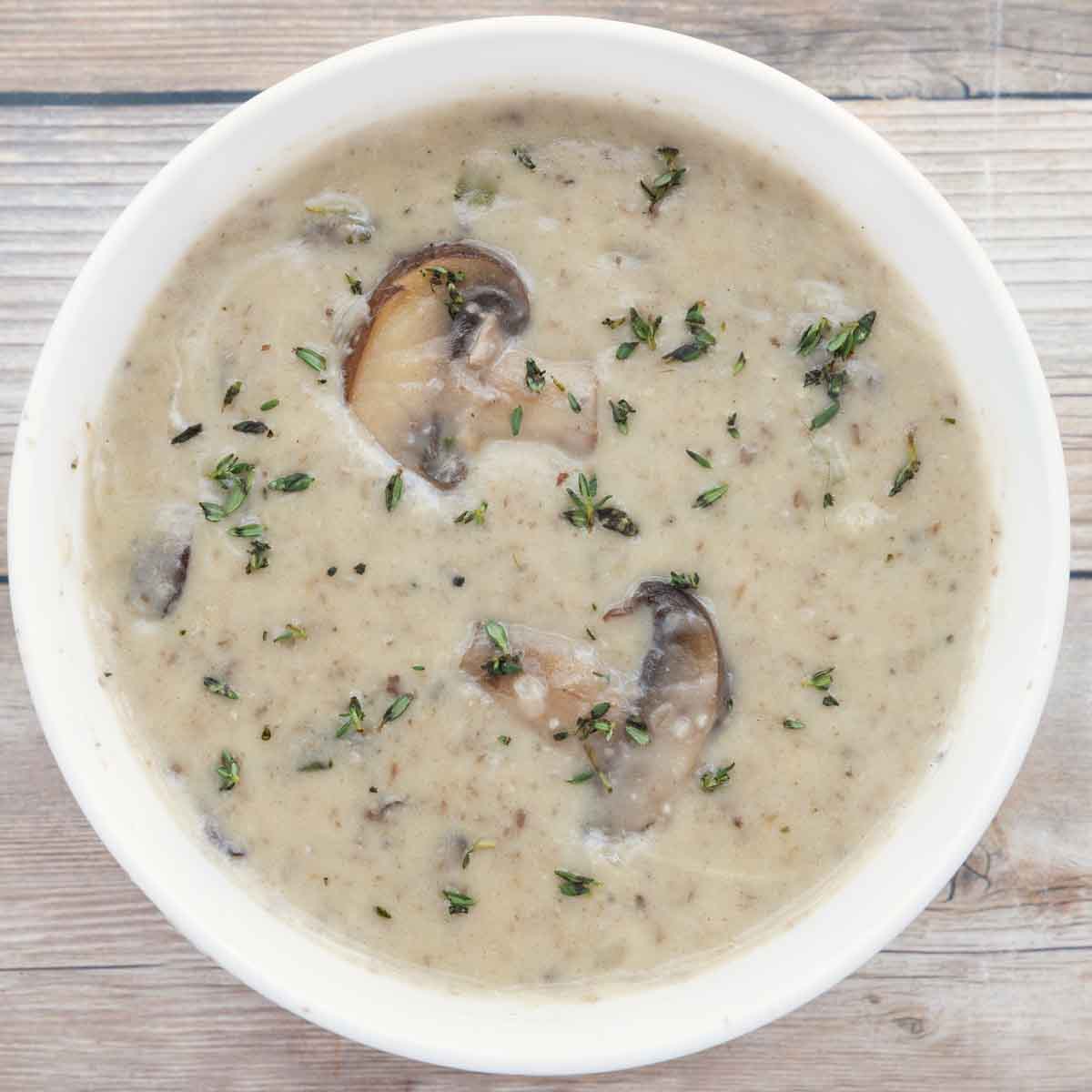 I can promise you that once you taste my homemade mushroom soup, you'll never go back to the canned variety. It's really that good.
Serve this delicious soup with crusty bread and a side salad for a perfect light dinner. Store leftover soup in an airtight container (once it has cooled to room temperature) for up to 1 week and in the freezer for up to 2 months.
Recipe FAQ's
How can I make cream of mushroom soup taste better
The secret to making the best mushroom soup is pureeing half of the mushrooms with a food processor or immersion blender. The pureed mushrooms add a more mushroom flavor to the soup than just using sliced mushrooms.
You can also garnish it for a pop of flavor and color with either fresh parsley or diced green onions. Homemade croutons are a fun, crunchy topper for this scrumptious soup, too.
How can I spice up cream of mushroom soup?
If you'd like your soup to have a little bit of heat, try adding crushed red pepper, cayenne, or a dash of hot sauce.
What goes well with cream of mushroom soup?
This creamy soup pairs well with virtually any protein, or you can serve an easy salad alongside of it. It's also a fantastic substitute in any of your favorite casseroles that call for a can of mushroom soup (though you may need to thicken it a bit, depending on the recipe).
Do I need to use wine in my soup?
No, you don't. Wine will add flavor to the soup, but it's not essential in creating this delicious soup.
More Soup Recipes You'll Love!