This post includes affiliate links. As an Amazon Associate I earn from qualifying purchases.
Although his post has been sponsored by Coravin Model One Wine System, all images and opinions are honest and 100% my own.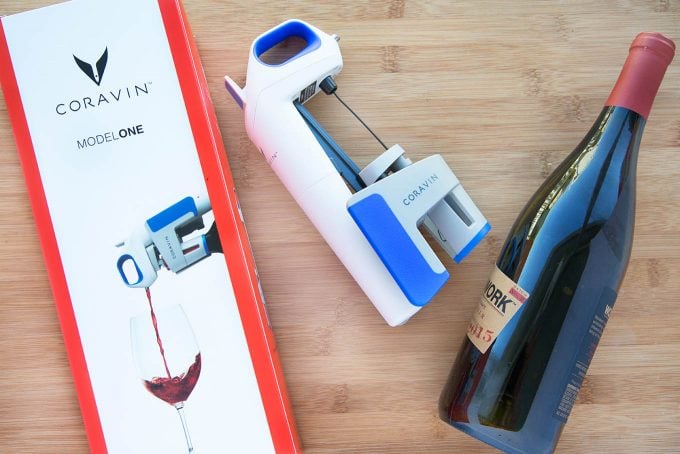 I know I'm not the only one who likes a glass of wine from time to time but doesn't want to commit on more than a single glass. Granted some nights I want two glasses and some nights I split a bottle with my wife but she likes white and I like red, so more times than not if we can't finish the bottle in two days it gets wasted, or ends up in one of my recipes.
Of course, if I know I'm not going to drink a whole bottle it makes choosing wine a little less fun. I go for the less expensive bottles if I think I'm only going to drink half a bottle. But with the revolutionary Coravin Model One Wine System, I can buy better quality wine without the fear of waste. How can I do that you ask? It's elementary my dear Watson……
Utilizing proven Coravin technology and featuring a friendly and functional design, the Coravin Model One Wine System lets you pour wine effortlessly without removing the cork, so you can enjoy the rest of the bottle another day. You don't even have to remove the foil wrapper and that my friends is an added bonus.
How Coravin Works
Step 1: ACCESS – Select a bottle of wine to enjoy (make sure it's cork-sealed). Place your Coravin System on top and push the needle through.
Step 2: POUR -Ensuring that the bottle is at a 45-degree angle, press the trigger to pressurize and release it to pour wine into your glass. Tilt the bottle back to stop the pour.
Step 3: ENJOY – Remove the needle by pulling the Coravin System straight up. The cork will reseal naturally and continue to protect the wine for many future pours to come.
Could it get any easier than that?
I love going to wine tastings and having them at home can be quite an undertaking. Inviting enough people, buying enough wine, and of course, you need something to go along with the wine. With the Coravin Model One Wine System, you can have wine tastings for one, two or as many as you like. It really is that easy.
And creating a little charcuterie to go along with your wine is as easy as shopping in the specialty cheese section and deli at your supermarket. Here I've created a tray using picante and dolce Gorgonzola, aged Romano cheese, olives, tangerines and a few of my favorite Italian meats. Throw in a baguette and you've got a party, complete with your very own wine tasting.
The Coravin Model One Wine System makes a great Holiday gift for that hard to buy for couples or family member and it's a gift that will keep on giving throughout the year.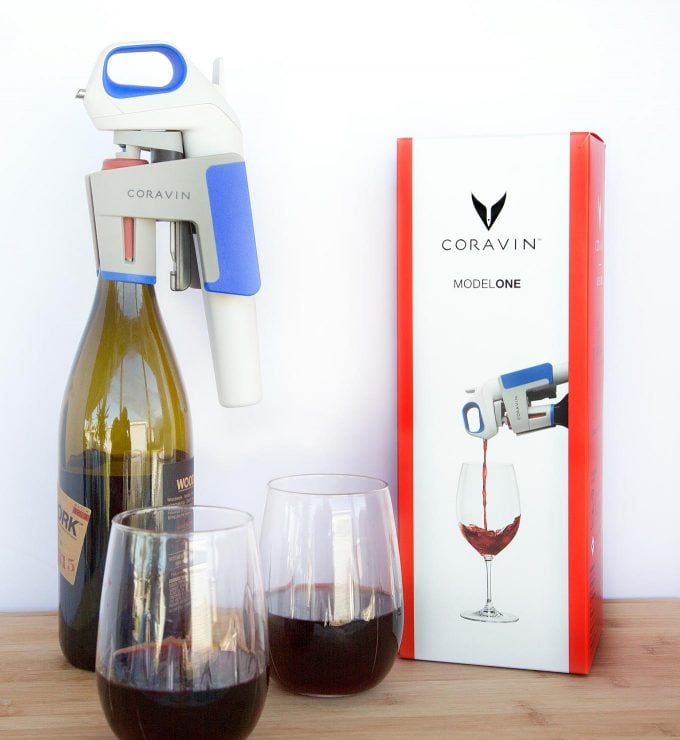 The Coravin Model One has a specially designed wine needle that is gentle on your corks allowing them to reseal themselves when you're done as well as pour your wine quickly and smoothly. The soft touch grips make the System easy to operate as you fit the clamp around the bottleneck, making an effortless and secure pour.
The Coravin Model One Wine System is available at Bed Bath & Beyond, Bloomingdales, Sur La Table, Neiman Marcus, Amazon, Total Wine, and other retailers. Coravin offers a 30-day risk free trial and a one year limited warranty with your purchase.