I think I must really be getting old because all I ever talk about is food and the weather……sigh  But it's not my fault…..really!   First of all I'm a chef and food blogger, what else am I going to be talking about, and if this weather ever gets any stranger, I think one of us needs to start building an arc!   The only thing that's been consistent about the weather this year has been its inconsistency, and that's just not right…lol   Seriously, New Years day almost hit 60, and it was 13 degrees Wednesday Morning.  Now the forecast for Friday is a high of 52 degrees.  Now I'm not really complaining about the warm weather, but OMG  it was cold!     San Diego is really sounding good right about now….sigh
But your not hear to listen to me ramble, well not today at least, because it's Guest Post Friday!!  And today my friends you are in for one sweet treat, and that of course would be Lauren from Keep it Sweet!   For those of you that haven't already met Lauren, let me tell you that girl can bake, and bake she does, one incredible creation after another, it was my pleasure to be able to meet her in person at the Foodbuzz Festival this year in San Francisco!   Lauren can be found in her small New York kitchen where as she puts it she keeps her life in  balance by baking, eating healthy and exercise….sigh, I knew there had to be a catch!   Lauren will not only wow you with her baking ability, but as she shares her life with you, you'll begin to realize that you've just made a new friend.   So be prepared when you visit Keep It Sweet , your going to get a healthy dose of  family , friends, sweet treats and life in New York City.
So sit back, relax, put your feet up and prepare to enjoy a sweet treat, as I give you Lauren and……..
I am so excited to have the opportunity to share a post with all of you! I've been reading Chef Dennis's blog for a long time for delicious recipes and helpful tips. It was through the "Ask Chef Dennis" posts that I learned how to become active and get more out of Foodbuzz.   So when I got the chance to meet Dennis at the Foodbuzz Festival this past fall, I was excited to see that he is just as warm and friendly in person as he is on the blog.  Of course I couldn't pass on the opportunity to do a guest post here!
I blog over at Keep It Sweet about, well, sweets!  My blog is full of recipes for cookies, brownies, cupcakes and really anything else your might crave.  My regular readers can attest to my sweet tooth and huge love of peanut butter and cookie dough.
For today's post I wanted to share with you what I deemed the "best blondies ever."  These Chewy Gooey Cinnamon Toffee Blondies have haunted me since the second they came out of my oven.  Within minutes of letting them cool turning off the oven, I cut myself a small piece to do some quality control taste testing.  Within minutes of that first taste, I had eaten my way around the edges of most of the pan.  I kid you not, these are that good.  Gooey and sweet with a hint of spicy from the cinnamon, this is a blondie that won't disappoint.  So I apologize in advance for ruining your New Year's resolution, but trust me on this one, they are worth it.
Ingredients
3

cups

light brown sugar firmly packed

1

cup

unsalted butter

2 sticks

2

cups

all-purpose flour

2

teaspoons

salt

3/4

teaspoon

baking powder

1/2

teaspoon

cinnamon

4

large eggs

1

tablespoon

vanilla extract

1 8-

ounce

bag toffee bits

~1 1/3 cup

1

cup

cinnamon chips
Instructions
Pre-heat oven to 350 degrees

Line a 13x9 pan with parchment paper and spray with cooking spray; set aside

In a medium saucepan, heat brown sugar and butter over medium heat and stir constantly until melted into a thick golden brown mixture; set aside

Whisk flour, salt, baking powder and cinnamon in a medium bowl; set aside

In a large bowl, whisk eggs and vanilla until combined

Whisk in brown sugar butter mixture

Slowly whisk in flour mixture just until combined

Stir in toffee bits and cinnamon chips

Pour batter into prepared pan and bake for 32-37 minutes or until top begins to crack and a knife or toothpick comes out clean

Allow to cool before slicing into a 6x4 matrix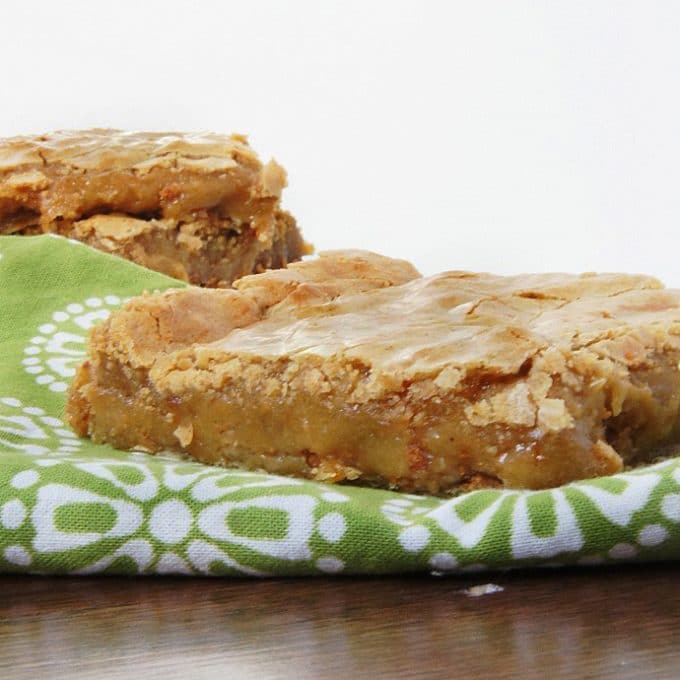 Don't say I didn't warn you!  These blondies are truly decadent, they're going on my list of things to make at school, I know my girls are going to love these beauties!  Now, I know your in a sugar frenzy right now, but before you go and satisfy that sweet tooth, please take a few minutes and head on over to Keep it Sweet and say hi to Lauren, just remember to tell her Chef Dennis sent you, and make sure you bookmark Lauren's blog ,  because you're going to be back time and time again, because nobody Keeps it Sweet like Lauren!
Have a wonderful weekend, and don't take those New Years Resolutions so seriously, at least the ones concerning food,  there's always next year!
Cheers!