This post includes affiliate links. As an Amazon Associate I earn from qualifying purchases.
It's 5 O'clock somewhere and my Blueberry Honeybell Sangria is just what the doctor ordered. After all I live in paradise!
Thanks to Noble Juices for sponsoring this post so I can share the deliciousness with you.
When I close my eyes and think of Florida a tropical feeling comes over me. I see white sandy beaches, blue skies, palm trees and sunshine. It's a beautiful life.
So what do you do when life hands you beaches and sunshine? You have a party, or at the very least celebrate the season with my Blueberry Honeybell Sangria.
Just set the pitcher by your chair, play a little Jimmy Buffet on the stereo, sit back and relax. Flip flops on or off it really doesn't matter, it's time to unwind Island style.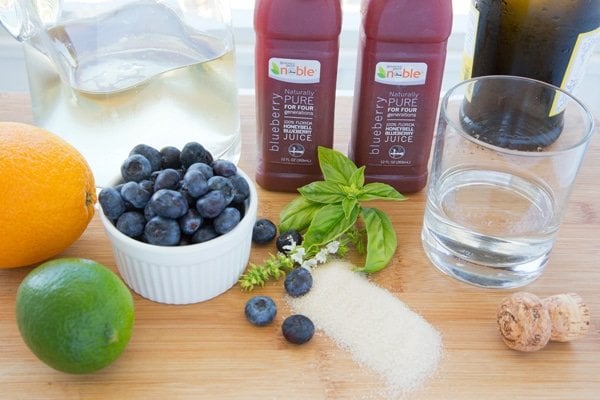 Now that we've set the mood lets get on to business and some liquid refreshment
My friends at Noble Juice asked me to come up with some deliciousness using their products. Since were getting ready for the summer season, a cocktail seemed to be the best choice.
Lets get our ingredients together (aka mise en place) starting with the Naturally Pure Noble Honeybell Blueberry Juice.
Honeybell Blueberry Juice
Tantalize your taste buds with the fresh flavor combinations of sweet blueberries and tangerines. Made with 100% Florida Honeybell Tangerine Juice and fresh, superfruit Florida blueberries. Excellent source of Antioxidant Vitamin C.
12 oz
No Added Sugar
Low Carbon Footprint
No Added Vitamins or Flavors
No Artificial Colors
Gluten Free
100% Sustainable Bottles
No Artificial Ingredients or Preservatives
Kosher, Please Recycle, Fresh from Florida, No BPA
Made in the USA, Gently Pasteurized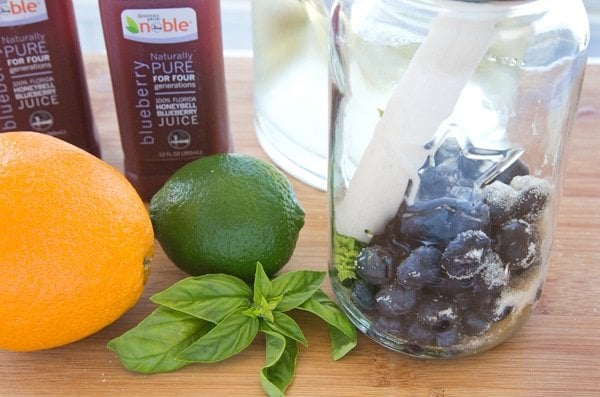 My blueberry honeybell sangria is really easy to make and the flavors can be adapted with what ever fruit you happen to have on hand. Originally I was going to make a Clementine Sangria, but it's blueberry season in Florida and I decided to take advantage of all the juicy sweet blueberries we have in our markets!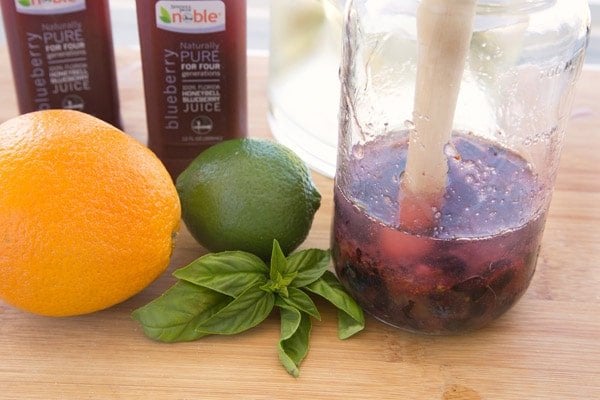 Adding in the vodka, sugar and basil flower to the blueberries, I simply muddled the fruit making a concoction somewhat similar to a shrub. The difference being I used vodka instead of a vinegar as the liquid when I muddled the fruit. But it's my drink so I can make it however I want…lol.
After muddling the berries, its just a matter of adding the Noble Juice and mixture to the prosecco. Add in some citrus and your favorite fruit and you've got a party!
If you've tried my Sangria recipe or any other recipe on askchefdennis.com please don't forget to rate the recipe and let me know how you enjoyed it in the comments below, I love hearing from you! You can also FOLLOW ME on Instagram @chefdenniseats and @chefdennistravels, Twitter and Facebook.
You might also like my Clementine Colada