Enjoy this authentic Philippine dessert, a rich and delicious Caramel Leche Flan, topped with Macapuno Cream. Sinfully delicious!
How to make Caramel Leche Flan, an authentic Philippine dessert recipe.
One of the fondest memories I have of my childhood was when my Mom invited over cousins and aunts to cook along with her. One of my cousins baked this LECHE FLAN dessert all the time when she came to visit. I was mesmerized by the dreamy caramel heaven. Even if I was only 9 then, I vowed I would learn how to make LECHE FLAN someday.
The Leche Flan was one of the earliest desserts I learned to make. I watched my Mom. I enjoyed how the sugar caramelized in a heavy saucepan. The white granulated sugar transformed to an amber-colored syrup, and little bubbles formed.
I recall how the custard was prepared with care & delicate strokes. Egg yolks were carefully separated from the whites, then gently whisked. Milk was gently mixed in and stirring was done slowly with reverence.
Then with a sieve, the whole custard mix was slowly poured into the prepared pan with the caramelized sugar. A blanket of aluminum foil covered the entire pan, and then it was baked "bain marie" style.
After baking the flan, it had to be refrigerated for a few hours, before we could turn it over. But it was worth the wait.
Today, I make the LECHE FLAN all the time. I make it for family dinners, for gifts, or bring it to parties. It is always a big hit. And it's so easy to make and so affordable.
This version is a special variety of LECHE FLAN. It is topped with Coconut cream and Macapuno. The sweet Macapuno is known as "coconut sport". In the Philippines, the more mature coconut meat is scraped and formed into long slivers and boiled in sweet syrup. These days, I buy the bottled Macapuno from Asian groceries. I mix the Macapuno to the heavy cream and coconut cream which I boil into a thick consistency and then add it as a topping to the LECHE FLAN I made.
If desired, the Leche Flan in itself, WITHOUT the Macapuno Cream topping,  is a superb dessert. You'll love the firmness of the custard and savor the caramel syrup that cascades down from the top. It's a piece of heaven on a spoon, guaranteed!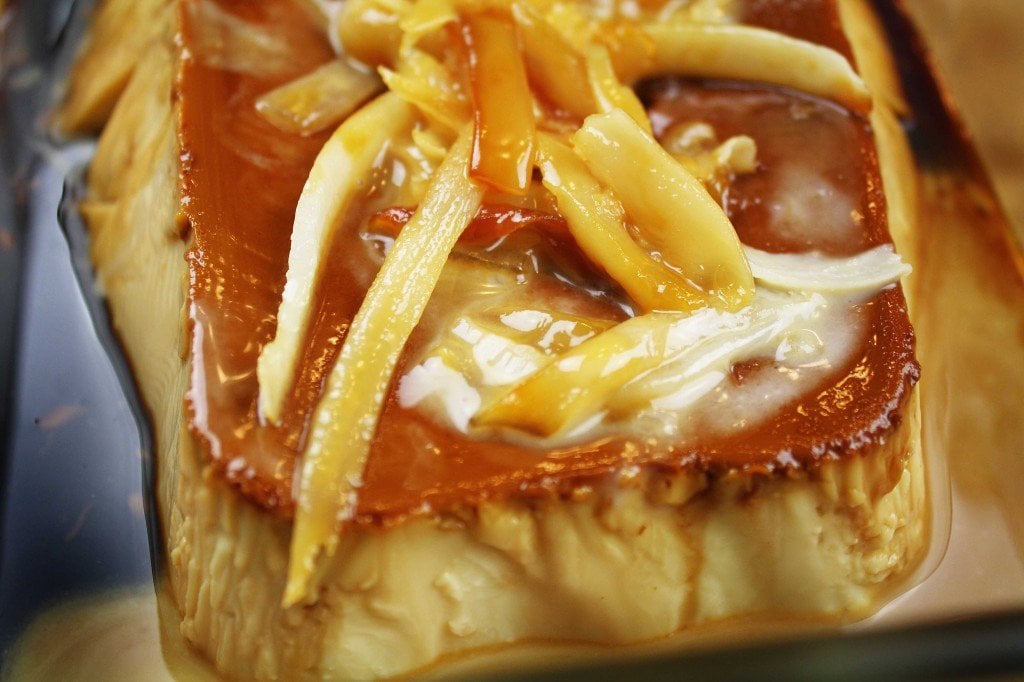 If you've tried this Flan recipe or any other recipe on askchefdennis.com please don't forget to rate the recipe and let me know where you found it in the comments below, I love hearing from you! You can also FOLLOW ME  on Instagram @chefdenniseats and @chefdennistravels,  Twitter and Facebook
Caramel Leche Flan Recipe - Authentic Philippine Dessert
Enjoy this authentic Philippine dessert, a rich and delicious Caramel Leche Flan, topped with Macapuno Cream. Sinfully delicious!
Nutrition Facts
Caramel Leche Flan Recipe - Authentic Philippine Dessert
Amount Per Serving
Calories 302
Calories from Fat 126
% Daily Value*
Total Fat 14g 22%
Cholesterol 213mg 71%
Sodium 47mg 2%
Potassium 80mg 2%
Total Carbohydrates 41g 14%
Protein 3g 6%
* Percent Daily Values are based on a 2000 calorie diet.
Ingredients
Custard
6

egg yolks

1

can evaporated milk

1

can condensed milk

1

teaspoon

vanilla
Topping
1/4

cup

caramel syrup

1/3

cup

heavy cream

1/3

cup

coconut cream

, canned

1

cup

Macapuno strings

(from Asian groceries, look in the Philippine aisle)
Instructions
Caramel
In a small, heavy sauce pan, over medium heat place the sugar. Swirl the sugar around by tilting the pan. In about 7 minutes, the white granulated sugar changes to an amber colored syrup. Once the syrup bubbles, remove from heat and quickly pour 3/4 cup syrup into a loaf pan to coat the bottom.

Set aside ¼ cup of this caramel syrup to go with the Macapuno topping

Meanwhile, in a separate bowl, mix together the egg yolks, evaporated milk and condensed milk. Use a wooden spoon. You do not want to whip or overbeat this mixture or bubbles form later in the custard.

Add the vanilla.

Using a sieve, pour the custard mix to the loaf pan lined with caramel. Cover the entire pan tightly with aluminum foil.

Place this loaf pan in a larger pan filled with water.

Bake at 325 F degrees, "bain marie" style in the oven for 50 minutes. When done, allow the loaf pan to cool on the counter. Then refrigerate at least 6 hours or overnight for the custard to set.
MACAPUNO CREAM TOPPING (Inspired by Macapuno Flan recipe from "Memories of Philippine Kitchens" by Amy Besa & Romy Dorotan).
In a heavy saucepan, heat together the heavy cream and coconut cream till it bubbles and gets thick. This only takes about 8 to 10 minutes. Be careful not to burn it.

Add the Macapuno strings* and mix well over the heat.

Add ¼ cup of the leftover caramel syrup.
To Assemble
Run a sharp knife around the sides of the loaf pan, and edges of the custard.

Over a nice rectangle platter, carefully turn over the custard.

While the caramel syrup is flowing down the sides from the top, pour the Macapuno Cream on top.

Slice thin to serve. Keep refrigerated to store any leftover Leche Flan.
Recipe Notes
*COOK'S COMMENTS: The bottled sweet Macapuno strings can be bought at most Asian groceries, in the Philippine aisle. Or it can also be found from online Asian groceries. If desired, the LECHE FLAN, without the Macapuno Cream Topping can stand alone as an exquisite dessert.