My Candied Bacon recipe is the ultimate salty snack. Crispy, sweet, and salty, with just a touch of heat, perfect for your next Sunday brunch or game day get-together.
My easy candied bacon recipe is made with four simple ingredients. Thick cut bacon is coated with a mixture of maple syrup, brown sugar, and black pepper, then baked into strips of crispy, sticky, caramelized deliciousness.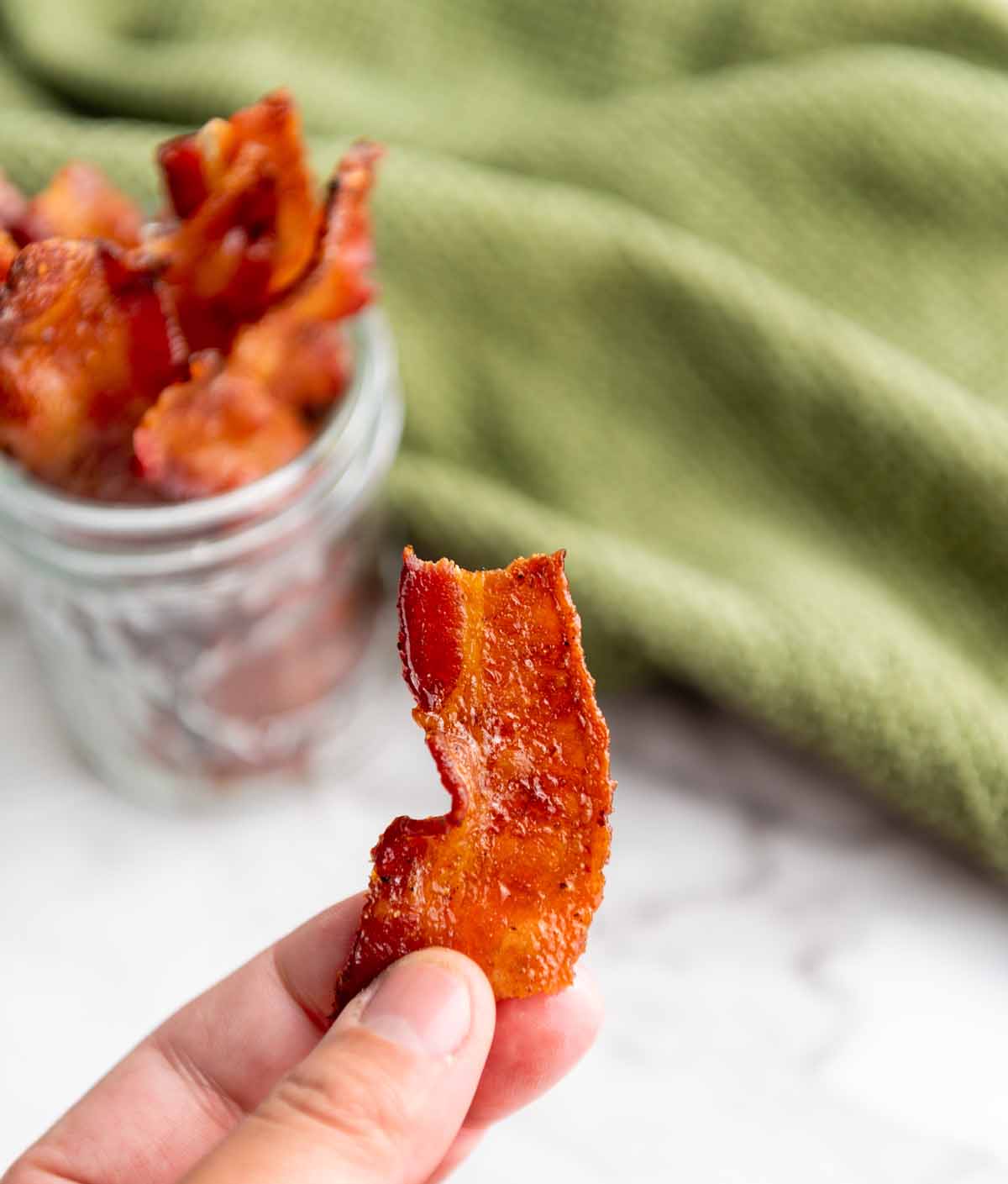 If you haven't tried this delicious treat, you don't know what you're missing. Often referred to as Pig Candy, Millionaire's Bacon, Man Candy, Brown Sugar Bacon, and Bacon Candy, but whatever you call it, one bite and you'll understand what the fuss is all about.
Ingredients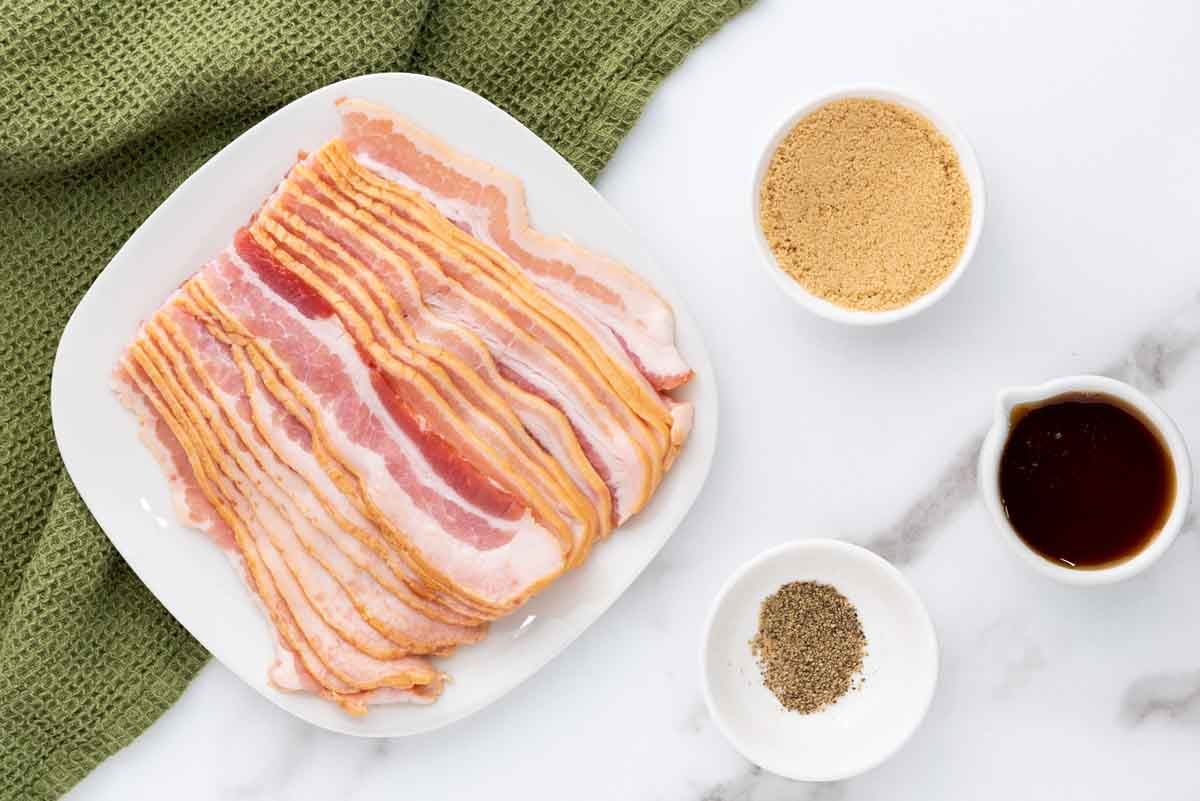 Let's start by gathering the ingredients we need to make Candied Bacon. In Chef Speak, this is called the "Mise en Place," which translates to "Everything in its Place."
Not only does setting up your ingredients ahead of time speed up the cooking process, it also helps ensure you have everything you need to make the dish.
Simple Pantry Ingredients
thick sliced bacon (not regular bacon)
maple syrup
brown sugar
black pepper
*For added heat a little cayenne pepper or hot sauce can be added to the mixture.
How to make Candied Bacon
Preheat the oven to 400 degrees Fahrenheit.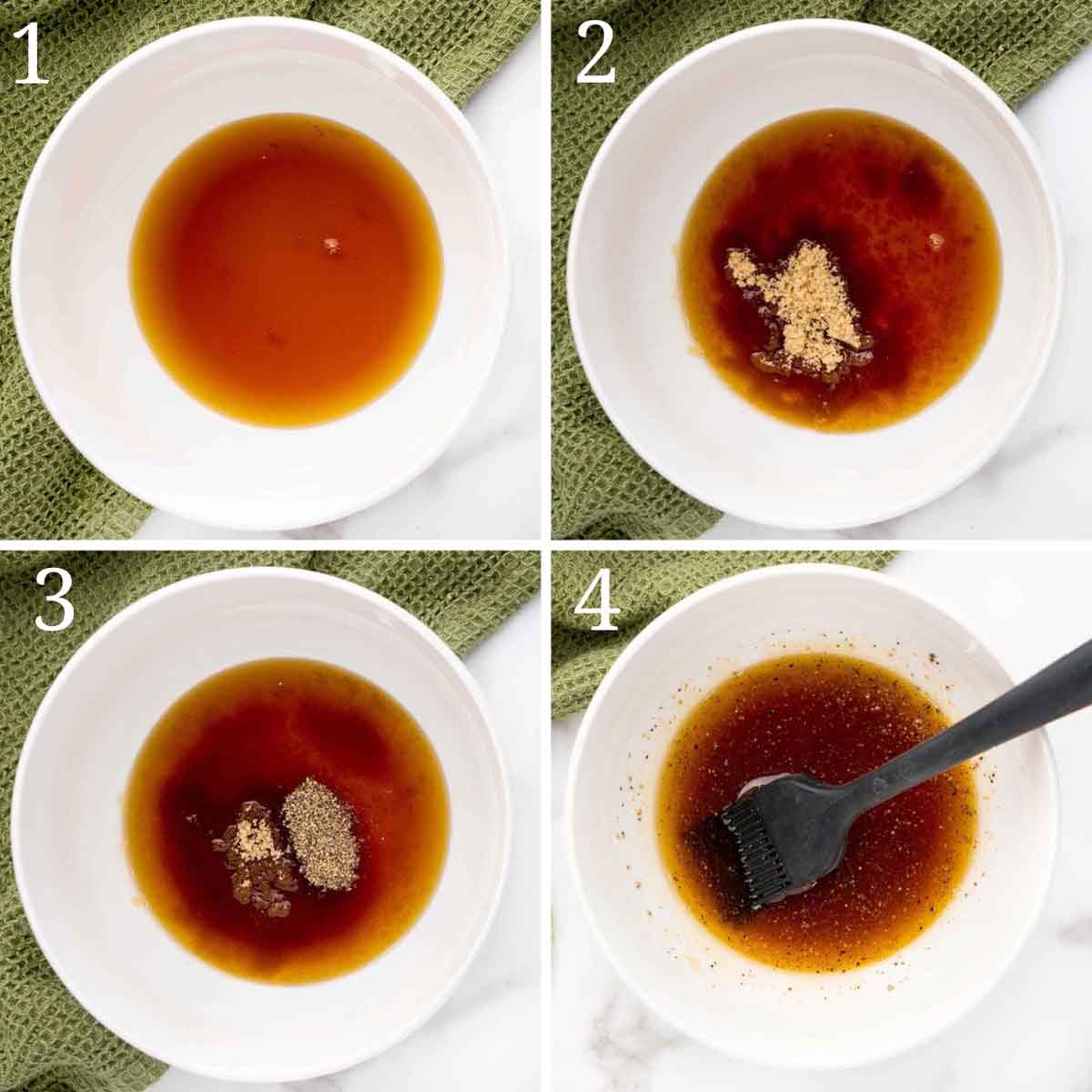 In a small bowl, mix the maple syrup, brown sugar and black pepper and mix until well combined.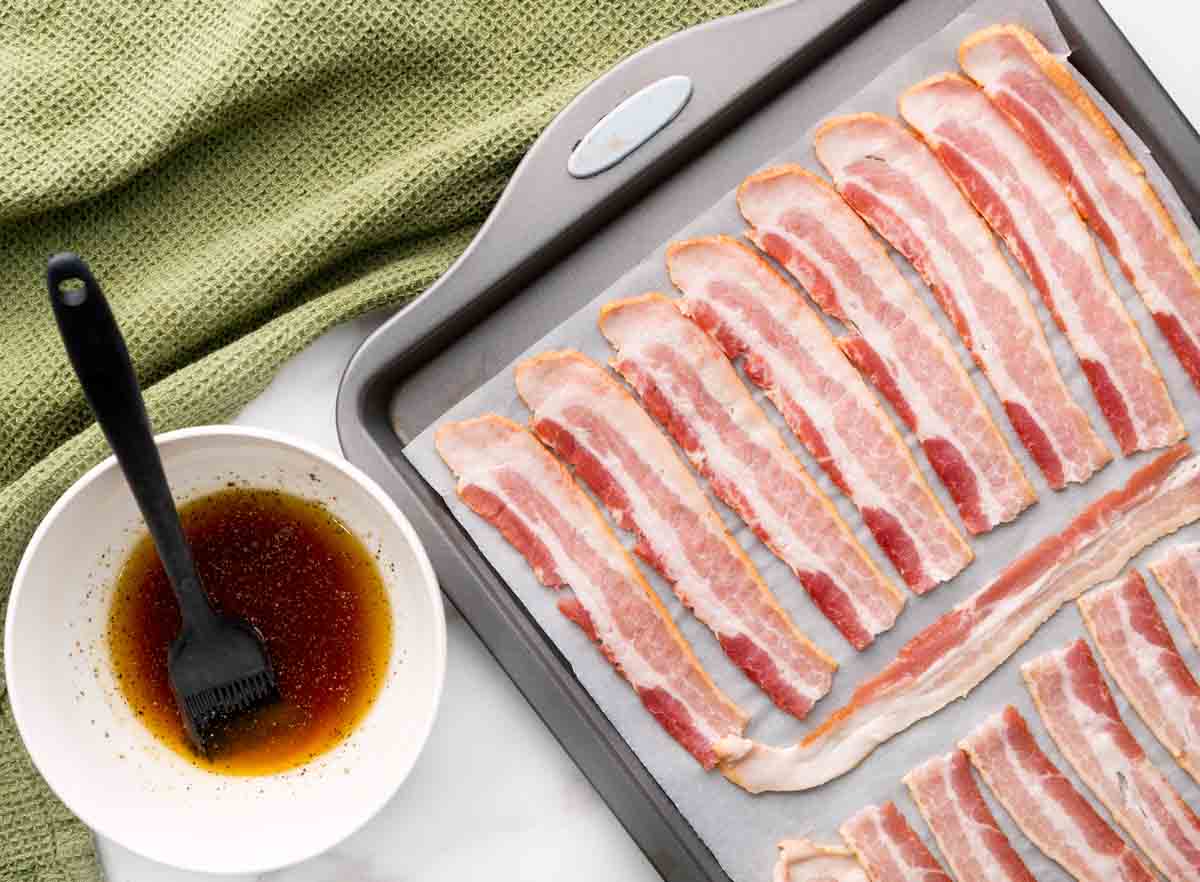 Line a rimmed baking sheet with parchment paper or aluminum foil and spray with a nonstick pan spray
Cut the bacon strips in half and place bacon in a single layer on the baking sheet. Do not overlap them.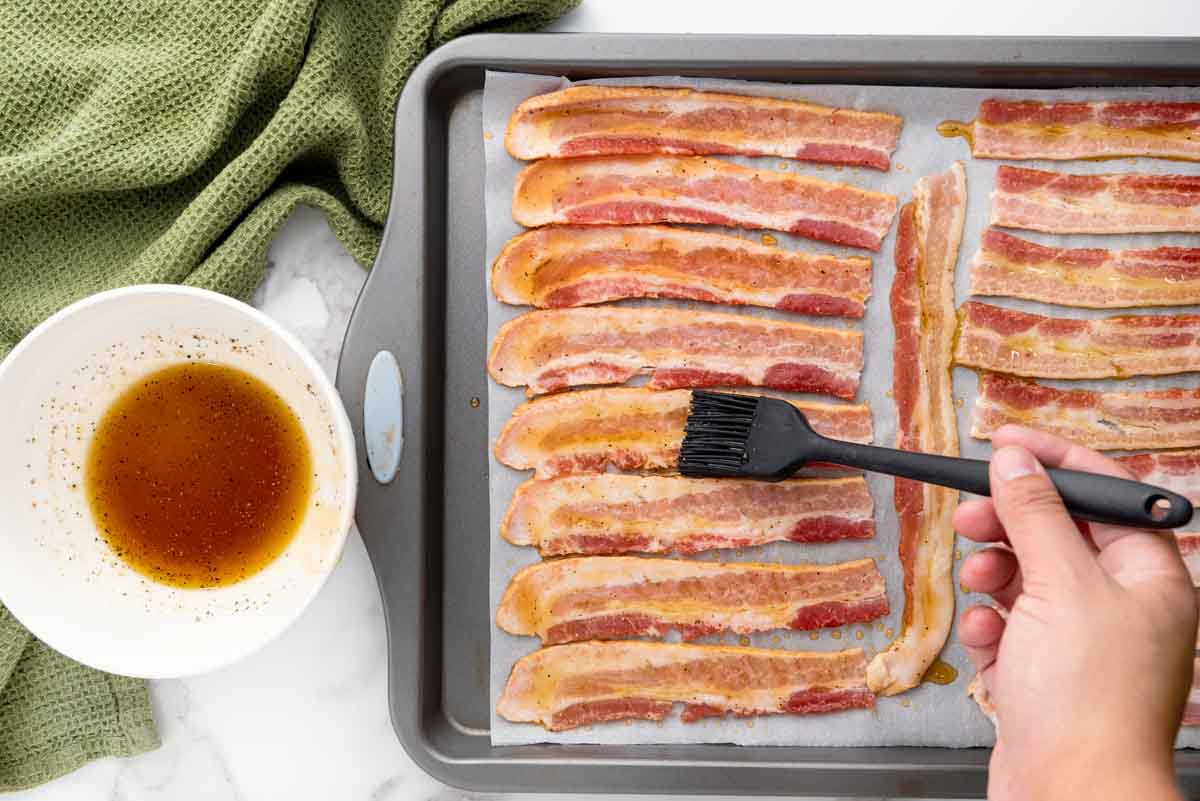 Brush the brown sugar mixture over the strips of bacon on both sides.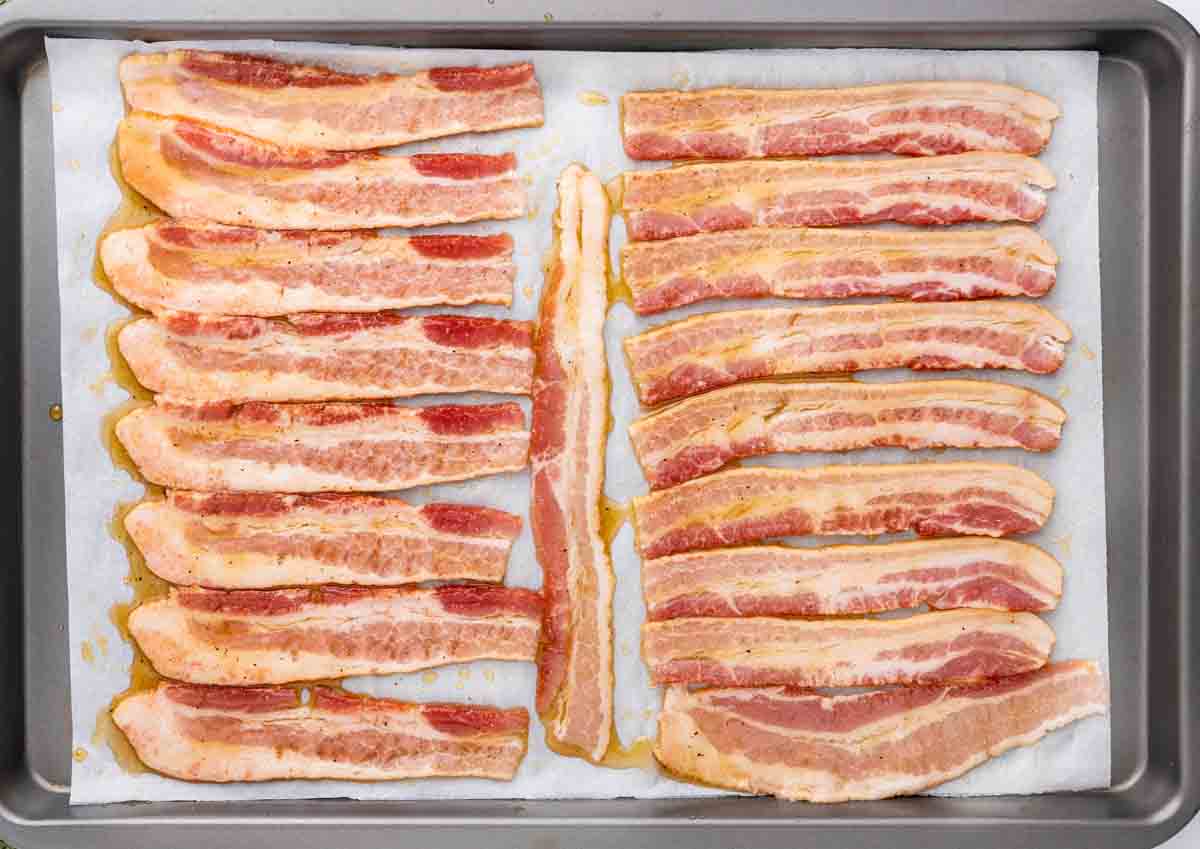 Place the sheet pan in the preheated oven on the center rack and bake for 18-20 minutes . Check the oven as the bacon cooks so it doesn't burn. The thickness of the bacon will determine how long it takes to cook.
It's the perfect salty snack, and is a great addition crumbled on salads, cookies and brownies. It and can also be used to garnish a bloody mary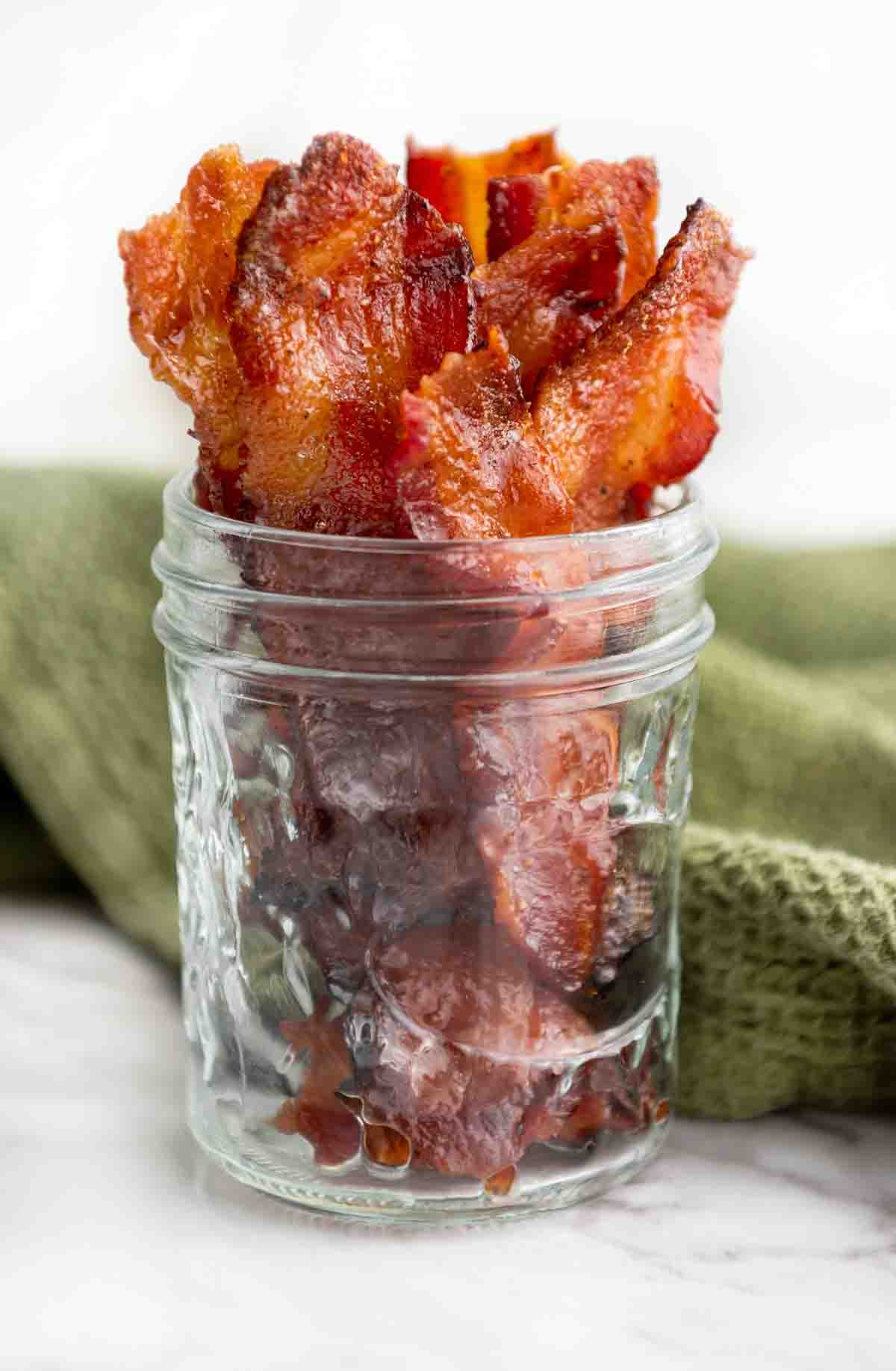 Store the candied bacon (if there is any left) in an airtight container.
Recipe FAQ's
Should candied bacon be served cold or hot?
Candied bacon is best served at room temperature, but it can also be served chilled. Chilling makes the bacon more firm and it lets the layer of sugar cling to the bacon.
How should Candied Bacon be stored?
Keep the bacon in an airtight container and store it under refrigeration for up to 10 days. It can also be frozen in a well sealed container for up to 3 months.
If you love Bacon try these recipes!