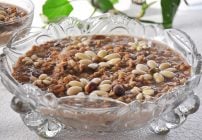 Total Time:
1
hour
35
minutes
It's a guest post with my friend from dish-away: Wheat Berry Porridge
I love this dish!! Other than its amazingly refreshing taste, I love the aromatic smell that fills the house as it cooks. A sweet mixture of fennel, anise, and cinnamon. Wheat Berry Porridge,is a healthy dish that could be served hot or cold. I like to eat it hot on cold winter days, and cold during the summer hot days.
The common name of this dish is "Burbara" in reference to Saint Barbra. It got this name because Christians across the Middle East prepare this porridge on Saint Barbra's day in December (December 4 for Protestant and Catholic Christians and December 17 for Greek Orthodox Christians). Although historically, wheat berry porridge was prepared by Christians in this area to celebrate all the Saint's holidays, with time these celebrations decreased and only few kept the custom of preparing the wheat berries porridge during those days. But for the Saint Barbra's day, it is different as many Christian see it as marking the start of Christmas celebrations and so the habit of preparing the porridge continued and with time it got its famous name of today "Burbara".
I usually prepare Burbara throughout the year, it is loaded with healthy stuff and I love having it for breakfast. It keeps well in the fridge for up to one week. I put less sugar than the usual, so you will notice that it may not be as sweet as you will expect a dessert to taste. If you like it sweeter add some extra sugar.
Print Recipe
Burbara -Middle Eastern Wheat Berries Porridge with dish-away
Ingredients
2

cups

wheat berries

2

liters

water

8 cups

1

liter

water

4 cups, this is in addition to the water above

1

cup

sugar

you may substitute partially with honey

1

cup

raisins

2

tablespoon

ground anise seeds

2

tablespoon

ground fennel seeds

1

teaspoon

ground cinnamon

1/8

teaspoon

nutmeg

2/3

cup

chopped walnuts

2/3

cup

chopped whole almonds with skin

you may substitute with blanched

1/2

cup

pine nuts
Instructions
Clean the wheat berries by removing any stones or derbies. Measure 2 cups cleaned berries then wash very well with water. Put in colander to drain.

Place the wheat berries and the 2 liters of water in a pot and boil for 1 hour, mixing every 15 minutes so that the berries don't stick to the bottom of the port. Turn off the fire and set aside to cool for 5-6 hours. You will notice that the berries will absorb much of the water.

Chop the walnuts and the almonds. I usually put them I a nylon bag, wrap the bag with a kitchen towel and use the garlic hammer to pound the bag for a few minutes. The pieces shouldn't be very small.

Add the remaining water, sugar, raisins, spices and nuts, Bring to boil then simmer for 20-30 minutes. If the porridge thickens a lot you may add some additional water.

Garnish with nuts or pomegranate seeds.