When I first heard about The Boathouse being opened at Disney Springs I knew it was going to be something special. It was being designed by the creative genius of Steven Schussler (Rainforest Cafe and T-Rex ) and managed by the amazing culinary team at Gibson's in Chicago.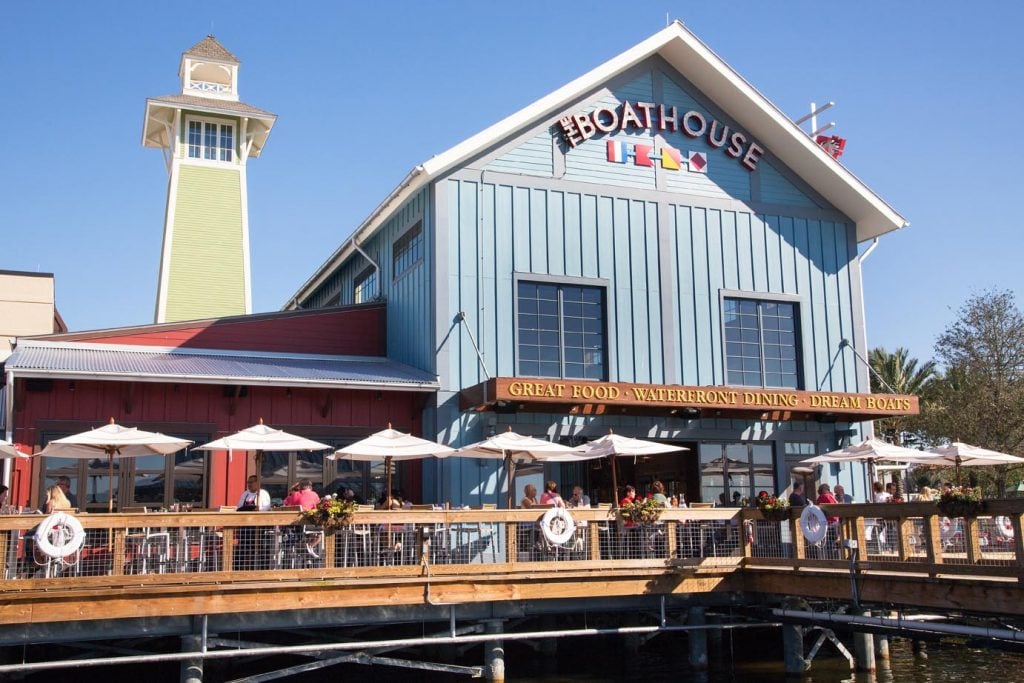 Of course it didn't hurt that they managed to hire one of the premiere chefs in the area Robert Getchell. And Chef Bob didn't waste any time assembling one of the best culinary teams in the state!
I had such a great time interviewing Chef Bob and learning more about his menu and how he and his team built each menu item. Almost everything at The Boathouse is made from scratch. Its not easier or less expensive to make everything you serve, but it's definitely the right way to go. Making everything from scratch allows you to control your ingredients, ensuring quality and purity. There's no need for preservatives and items you can't pronounce when you make every thing fresh!
I started off my interview chatting with General Manager Jacob Svajgl talking about the operation of The Boathouse and the deep commitment to customer service. I also got to sample a few of their signature cocktails, an Old Fashioned and Blueberry Lemonade. The Boathouse offers a great selection of wines and other delicious cocktails, as well as non alcoholic beverages.
I started my culinary adventure with a flight of oysters. Tasting oysters from different parts of the country and I particularly enjoyed the creaminess and salinity of the west coast oysters. Chef Bob has the extensive oyster bar in the state and has up to 14 varieties in house for you to choose from.
Next up was a chilled seafood platter, including a whole lobster, stone crabs and shrimp.
Lisa loves a good lobster roll and The Boathouse takes lobster rolls to a whole new level with their sandwich. Each lobster roll takes uses the meat from one whole lobster. Now I know that the last thing you should think about with all this glorious food is french fries, but will you look at them! Perfectly delicious hand cut french fries……..sigh
Our first meat selection was a new item on the menu, Competition Style Baby Back Ribs. If you've never had competition style ribs, you don't know what you're missing! Competition Ribs take what most of us know as the delicious ribs we all love and elevates them to an entirely new level of flavor. You see, when ribs are judged at competitions, the judges have to taste them all. That could be quite a daunting task, so a judge will only taste one rib. If you fail to impress with one bite, you won't get a second chance. I guarantee one bite won't be enough when you taste these ribs. They have a little kick to them and a whole lot of flavor! I will mention that the cole slaw was superb and the ear of corn the perfect compliment to the meal.
But the piece de resistance of the meal was a Tomahawk Chop……. I was speechless at this point. Served with an amazing house made steak sauce that you didn't need with this glorious hunk of prime beef, it was over the top delicious in flavor and presentation. Ladies and Gentleman Elvis has left the building………
Of course I had to take the opportunity to ham it up with this exquisite piece of Flintstonesque piece of meat. And it was OMG delicious and tender!
And just when you thought you could relax and savor each moment of deliciousness you just enjoyed, my server brought out the Baked Alaska.
Chef Bob loves the moment they bring out this dessert, I think my jaw dropped to the floor as did the other guests that were dining with us. Impressive, yeah kinda like the Mt. Rushmore of desserts! The process to make this beauty takes 4 days, each 4 slice baked Alaska also uses 1 ½ gallons of rocky road ice cream. While the menu says it serves 4, think more along the lines of 8. It was a masterpiece to end this sumptuous meal, and believe folks it wasn't by chance.
Everything that's done at The Boathouse has been well thought out and planned to give each guest the ultimate dining experience.
The Boathouse offers a wide variety of dining options from a speedboat by the entrance to this well appointed dining room.
They have two private dining rooms (which they open to the general public during peak times). The wine room and the trophy room are exquisite.
But if you're feeling a little more casual and want to enjoy the beauty of Disney Springs, you won't find a better location than the dockside bar.
You can even find some comfy couches to relax in and simply enjoy the tranquility of the lake. They have full service on the docks where ever you choose to sit. After all its all about the experience when you stop by the Boathouse.
You can learn more about the Boathouse by clicking on the link.
Follow them on Facebook, Instagram and Twitter for more of their deliciousness!