This post includes affiliate links. As an Amazon Associate I earn from qualifying purchases.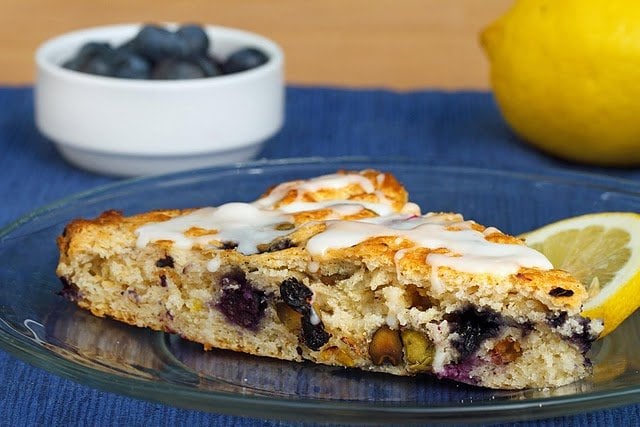 The weather has been so nice lately (90's and no humidity), that I have been taking advantage of it and doing a little more baking. I am constantly amazed by the creativity that abounds in our community, just when I think I have seen it all, someone post a new dessert, muffin or bread and the juices start flowing and the hunger sets in….sigh
Unfortunately baked goods are the last thing I need, but most days the first thing I want! Now I have been using fresh fruit, in most of them so that should count for something…..yeah, it's fruit. I also got a new gelato maker and have been having fun trying to get up to speed with my frozen concoctions., again seeing so many wonderful creations in our community!
Last week saw my first attempt at scones, which didn't turn out well, I had peaches that were begging to be used and Brian at A Thought For Food had made these incredible peach scones. Well, having never made scones before I had no idea how the dough should be….sigh…..it got ugly.
First it was too dry (I thought), then it got too wet, then I had to add more flour. On a positive note they looked great and that's the kindest thing I could say. Brian, I should have trusted your recipe and just made them, your scones were stellar! A few days ago I came across another scone recipe that caught my eye, it had this lovely glaze on it and looked just heavenly, I couldn't remember where I had seen them but I did remember they were adapted from a Recipe by Tyler Florence, so this morning I found his recipe and had a go at it.

This being only my second attempt at scones, I think they are still a work in process but they were oh so delicious! The crumb was delicate and light, moist and not at all sweet. The Lemon glaze added the last dimension of taste to this creation, I would advise on making a little extra to dip them in!
I hope you enjoy them as much as Lisa and I did!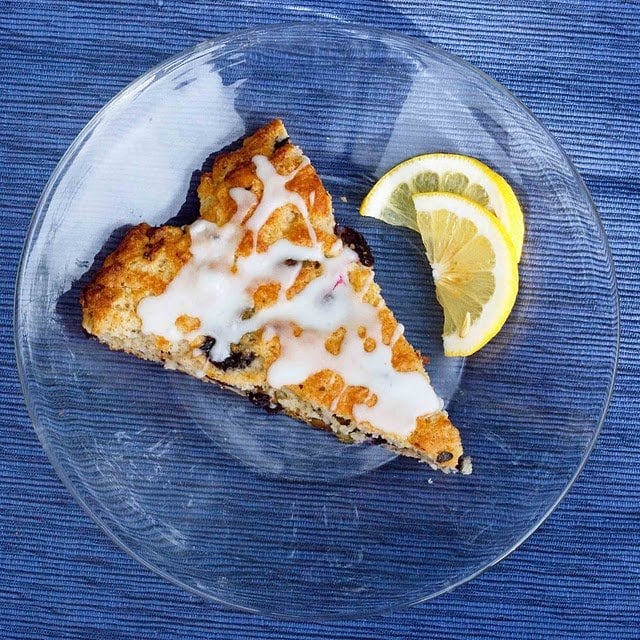 Blueberry Lemon Pistachio Scones
Adapted from Tyler Florence, Inspired by Brian Samuels

Makes 8 large scones
Ingredients:
2 cups All Purpose Flour
1 tbsp Baking Powder
5 tbsp Sugar
Zest of one Lemon
12 tablespoons unsalted butter, cold and cut into cubes
½

 

cup Heavy Cream
½
cup Greek Yogurt (plain or Lemon, or Vanilla)
½
cup Salted Pistachio
's (optional)
Glaze:
2 cups Confectioners Sugar
Juice of One Lemon
½ 
tsp Vanilla
1 tbsp Greek Yogurt (plain or vanilla) 
1 tbsp Unsalted Butter (melted)

  Preheat oven to 400 degrees F. Line a sheet pan with parchment paper.
Directions:
1. In the bowl of a food processor add in the flour, baking powder, salt, sugar, and lemonzest,
2. Add the cubes of butter and pulse until the butter has been cut into the mixture, it should like
     coarse grains of sand.
3. In a small bowl, mix together the yogurt, cream, and vanilla until combined. 
4. Add to theflour mixture and mix with a spoon until the mixture just starts to cometogether. Do not overmix. 
5. Add the blueberries  and pistachio's and gently fold together, Mix just enough to incorporate
     so the scones do not 
discolor
.
6. Form the mixture into a ball and place on the parchment paper.
7. Use your hands to form the dough into a large circle and flatten about one inchthink.
8. Brush the finished Circle with a little cream or milk to get a good finish.
9. Bake for 15-20 minutes, or until a deep golden brown in color. Transfer to a wire rack to

  While the scones are cooling make the glaze.
10. Stir together the lemon juice, vanilla and confectioners sugar in small bowl 
11. Add the melted butter and stir well until all the sugar is dissolved.
12. Add in the Greek Yogurt, and let rest for 5 minutes to build flavor.
13. Cut the Scone into eight sections
13. Drizzle the glaze over the tops of the scones and serve!
*these were truly delightful scones, the only thing I would do different next time is to make them
  individually before baking so the entire exterior of the scone is golden and crunchy!
Ask Chef Dennis


Blogging Etiquette-
Now I'm not trying to come off as Miss Manners, or an expert in etiquette, but after a few emails from friends this week and a few of my own experiences I thought it was time to pass on a little advice to the newbies.


1. If you are kind enough to leave a comment for your friend, leave a comment, not a self promoting statement.  Last week I had one too, it read, I made a really great dish last week, you should stop over and see it at myblogisbetter.com . That's not a comment, its Spam! If you get these, just delete them, and don't bother going back to that bloggers site.
2. Ok, now you've left a nice comment, but feel the need to end it with your blog address, again
not cool. I do leave those up, while I don't delete those comments, they do tend to grate on my nerves a bit. If you set you leave your info when you comment, your comment will link to your blog, you don't have to add it to your comment. Your name is always a welcome addition, just not as a link!
3. If you can't say something nice, don't say anything…..just move on. If your life is so miserable that you have to berate someone online, find somewhere else to do it. Remember if you don't like someone, just don't talk to them. You don't have to like everyone, it's not a prerequisite to blogging.
4. If you leave a comment and ask a question, but leave it anonymous, or don't have an email address associated with your blog, How are you going to get an answer?
My new blog will let me answer comments directly after them, but if you don't go back to check you may not see the answer, but if you ask me a question and have an email address in your profile, I will answer you. If you don't want to have your home email published, then start one at gmail, it's free and it's easy.
For the most part, I don't think anyone is acting maliciously, perhaps just a little over zealous. But trust me, that is not the way to grow your readership.


Social Media-
There's a new kid in town and he's making quite a commotion! For those of you that have missed it, Google+ has arrived, and it looks like it's going to be the next best thing……I've taken a let's wait and see attitude, but just in case it does take off, my advice would be to get in on the ground floor now! It's one of those shoulda, coulda, woulda, moments. You need an invitation to the party at Google+, so just send me an email and I will be glad to extend an invitation to you, so you can start getting your circles filled up!
Pinterest is my newest time consuming activity! It is actually quite a bit of fun and I am seeing hits on a regular basis from it, you will be reaching a lot of new bloggers on Pinterest, so check it out! You also need an invite to this party, so let me know and I will send one out to you!
Amplify is another great platform for getting your name out, and it's very, very easy! You just clip what you want to post, write a few words and your done! Another way for google to find you! I haven't seen much action from this yet, but I think its going to develop into a widely used tool. Check it out, I don't think you need an invitation for Amplify, but if you do just let me know.
Klout  I really have no idea where this is going, but it's really easy to sign up, it works off of twitter, or facebook.
I just don't know enough about it to decide if it's going to be around or not, but if you have a few minutes take a look, you never know!
Awesome Food – They're giving away $1000 micro grants for food projects at this new site, well that's what it says, but don't hold me to it. It says once a month micro grants will be given, so stop by and look around, someones got to get the money, why can't it be you!
Foodie Crush- I stumbled upon this site quite by accident, and I have to say I like it! It's an online magazine, and it's got some great content and I think you'll enjoy it.
Food Lovers Web- This is another social foodie group where you can post stories, or recipes, and you set up google ad sense ads on it and share in the revenue you bring in. It's a 50-50 split with the house, I don't know how much you can generate, but It's a pretty nice site and its owner Correen is very nice and very knowledgeable, stop by and say hi  when you have time!
I think that's quite enough to keep you busy for awhile! I know it's a lot to think about, and not everything will work for everyone or appeal to everyone, but if you don't see what's out there you might miss something that's the perfect fit for you. There is a place for all of us we just have to find it!
I hope your midweek is going well, stay cool and stay happy, and please do remember……


Share Your Knowledge – Together We Are Stronger