Work is just about back in full swing. I spent all week working around the kitchen, receiving stock and getting ready for our opening next week. I even made a few meals for the staff and faculty, only 100 for breakfast and lunch two days so it wasn't too bad. It's not so much the prep and cooking that bothers me,  100 was a slow day in the restaurant. It's all the clean up afterwards….sigh   After working two days like that, I feel like I could sleep for two days to make up for it! That's when I know I'm definitely getting too old to work like this much longer.
I know I shouldn't complain there are people that would love to be this sore and tired, because it would mean they were working. I am truly blessed to have a good job that I enjoy, and for the most part to have my health.
A few of my students stopped in to see me during the week which always cheers me up, they're anxious to get started cooking this year, and I do have some grand plans for my class. It will be my first year with seniors, in fact all four classes will be represented for the first time! It's going to be a great year!
Every year I have the same question around this time. Where did the summer go! This is our last weekend before school starts in this part of the country, and with the weekend coming it also means one other thing…..its Guest Post Friday!!
Today my friends its my pleasure to introduce to you a new friend that I made while attending this years Big Summer Potluck,  Mallory from Fork vs Spoon.  I love attending food blogger events, not only do you get to see old friends but you also get to make new friends too! I was happy to have the chance to speak with  Mallory and talk about all things food related at the Big Summer Potluck, and it also gave me an opportunity to discover Mallory's blog Fork vs Spoon and I'm so glad that I did! After drooling over one delicious creation after another, like her Pineapple Pie or her Chocolate Banana Zucchini Bread  I might have to agree that Mallory missed her calling and should consider becoming a chef! She certainly has the talent and creativity for it!
But that's not all, Mallory keeps you coming back for more with those beautiful images that you find in every post. She's quite the photographer and food stylist!
So sit back,  relax, put your feet up, and you better lay a piece of plastic over your keyboard so you don't drool all over it, as I give you……..
Fork vs Spoon
Howdy! A big thank you to Chef Dennis for inviting me onto his blog today. I am thrilled to be here! I met Chef Dennis at The Big Summer Potluck just this past July and I was utterly amazed and impressed at the wealth of information that Chef Dennis held, all of which he was willing to share with the lot of us. He is quite the Google guru! Again, thank you!
I am Mallory from Fork vs Spoon, my little corner of the internet, where I share recipes and stories ranging from cookies and marathons to peach pie and family vacations. I started my food blog back in 2011, when I found myself craving a bit of creativity in my life and realized I could meld my passion for food, my constant curiosity for photography, and a need ( that I wasn't exactly aware of) to share my story, all in one place. Thank You Internet! While there are days that I think I missed my calling and find myself dreaming of going to culinary school, I am very grateful for my food blog. It enables me to live out my passion in the comfort of my own kitchen!
So, here we go!
Since this is my first ever guest blog post (eek!) I was a little unsure of what to whip up. But after a little consideration and a tad bit of panicky internet recipe research and cookbook page flipping, I just went with what my stomach was craving. Breakfast.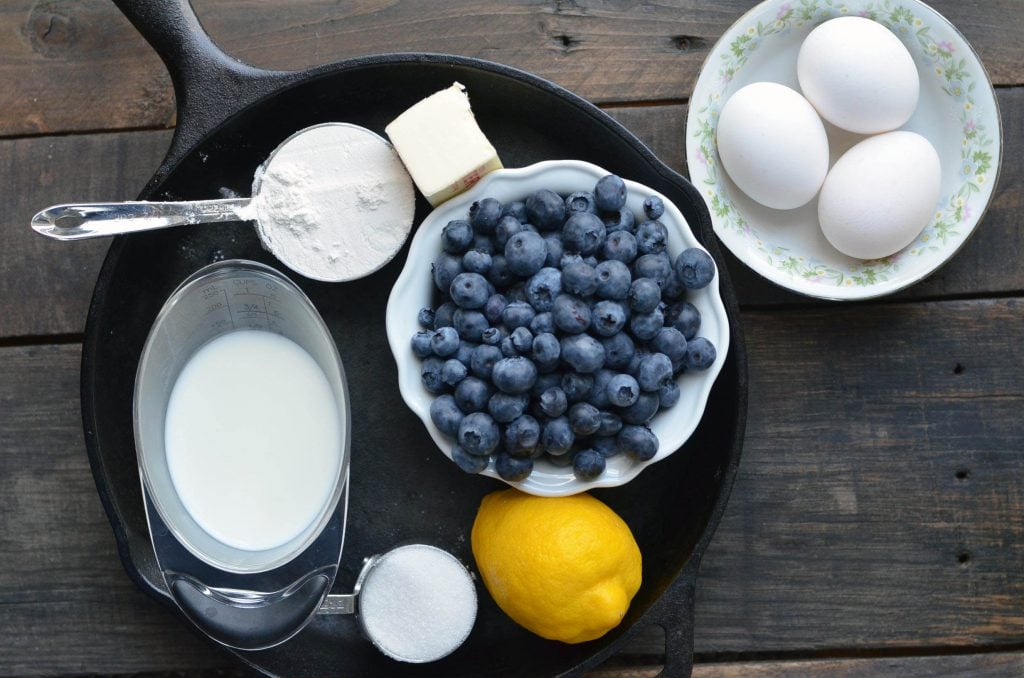 Breakfast during the week generally consist of me shoveling a bowl of cereal into my half-asleep face, and washing it down with a strong cup of coffee. And then running out the door, often forgetting my lunch on the counter…oy! On my drive into work ( in the oh-so-wee hour of the morning), I crave a leisurely weekend morning. Waking up early (but not by the buzz of an alarm clock) and shuffling down the stairs to start the coffee. While I sip that first cup of coffee, for there would be many to follow, I would contemplate breakfast. No cereal would be consumed on this day. Breakfast would consist of something simple, but decadent. Sweet and satisfying. A dish tilting more towards dessert than breakfast, but because it was a Saturday morning … breakfast it would be called.
I had this type of weekend morning recently, and it was glorious. My breakfast of choice was a lemon blueberry dutch baby. A german pancake. A giant popover. Whatever you call it, in the end it is just good old breakfast fare. Dutch babies are very versatile when it comes to flavor combinations and can be made savory or sweet in an instant. I, of course, went the sweet route. No big surprise. I have a sweet tooth from the moment I wake to the moment my head hits the pillow. The blueberries cook into the batter and create an almost jammy syrup, which inturn dyes the dish a deep blue.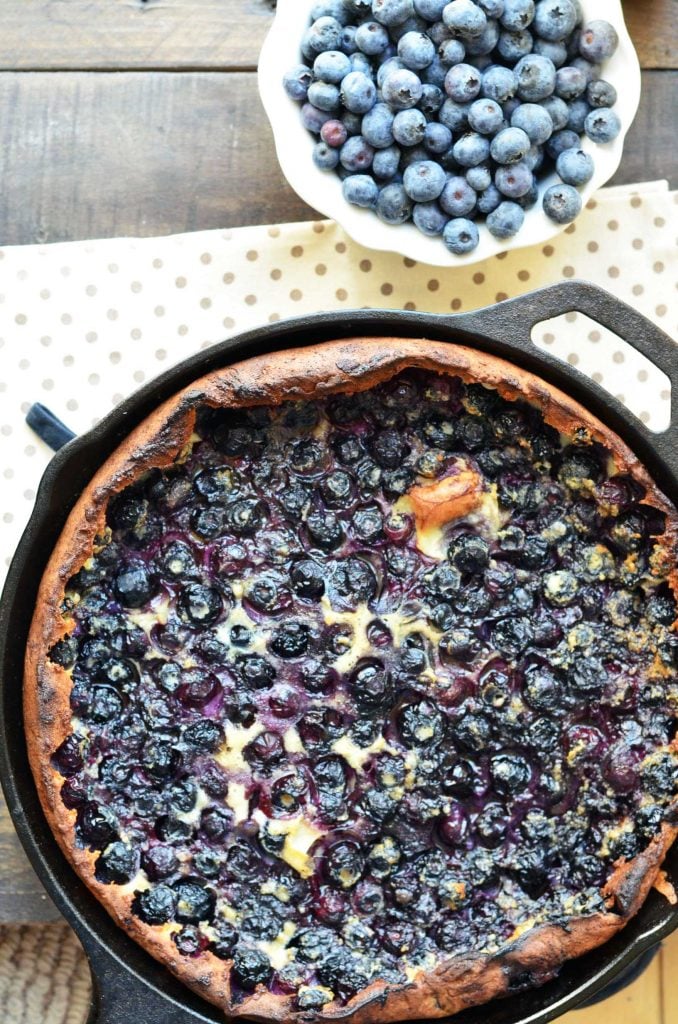 Sprinkle with powdered sugar or drizzle with maple syrup … ya know, if you, like me, have a mad sweet tooth.
I hope you enjoy!
Ingredients
2

cups

blueberries

280 gm

3

eggs

at room temperature

cup

⅔ milk

at room temperature ( I used 2%), 160 ml

cup

⅔ all-purpose flour

80 gm

cup

⅓ white granulated sugar

65 gm

pinch of salt

4

Tablespoons

unsalted butter

60 gm

zest of 1 lemon

grated
Instructions
Preheat oven to 425F.

With the back of a spoon, grind the zest into the sugar. Do this on a flat surface ( a clean cutting board or counter works best). Set aside.

Using an electric mixer, beat the eggs, in a medium bowl, until frothy.

Add milk, flour, lemon zest sugar, and salt. Beat until smooth. The batter will be very thin. With a rubber spatula, fold in blueberries.

Place cast iron skillet over medium heat and add butter to pan. Melt butter and swirl to coat skillet. You want the skillet to be hot when you add the batter.

When butter is melted and the skillet is hot, pour batter into skillet and place skillet in oven.

Bake for 20-25 minutes until golden brown and puffed.

Sprinkle with a bit of powdered sugar and serve immediately.

p.s. The longer it sits, the more it will deflate, which is totally normal and OK
Recipe Notes
*Special Equipment - 10" round cast iron skillet
I have to admit that I've never had nor made a dutch baby, but after seeing Mallory's delicious creation, I know it will be making an appearance in my kitchen very soon! Now before you forget, head on over to Fork vs Spoon and say hi to Mallory. Just don't forget to tell her Chef Dennis sent you. And while you're there take some time to look around, you'll be so glad you did! I know you'll find so many delicious treats that you'll want to make for your friends and family!
Have a wonderful labor day my friends, and for those of you in parts of the world that don't celebrate that holiday, enjoy these last days of summer (or winter!) and have a very safe and happy weekend!