This post includes affiliate links. As an Amazon Associate I earn from qualifying purchases.
It's time for another of my favorite posts, our Vintage Recipe Swap!! Earlier in the year I was asked to join a recipe swap by Christianna from Burwell General Store, she had found a vintage cookbook,  All Day Singin' And Dinner On The Ground, a junk store find, and each month we get a vintage recipe from the cookbook, to update and remake as we interpret the recipe.. This time around, our recipe was for a  "Jelly Cake", an old-fashioned layer cake.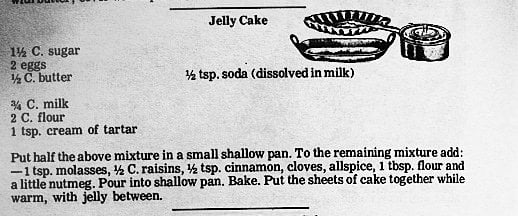 Although we get these recipes a few weeks ahead of time, I try not to think too much about the recipes until I actually need to make it, usually waiting until a day or 2 before its due to begin preparations for the challenge. I always work better under pressure! 
While at the farmer's market Saturday morning, they had local blueberries available, and I began to think about a blueberry cake, but it was supposed to be a jelly cake, so I needed some type of jelly to put in between the layers. Last years attempt at jelly making was less than stellar, but I needed a good filling to wedge between my luscious blueberry cakes. As I walked further into the market, one vendor had a display of very non local fruits, and the lemons began calling to me……..hmmmm,  then it came to me lemon curd, and that I can make!
I did remember seeing an article on lemon curd on the Fine Cooking web site (one of my favorite magazines), and the writer had mentioned how her hairdresser had made her lemon curd with great success by treating it as though it was a cake. Now I'm all for making life easier, so I thought I would give it a try. What makes this recipe so different is the technique, instead of making it on the stove and risking cooking the eggs in the process, you simply make it all in your mixer then transfer it to the stove to finish thickening the curd.
What I did come up with was the best lemon curd I had ever made, it was so creamy and velvety that I wanted to just eat the whole bowl full! Feel free to use your own curd recipe, but do try the mixing method you won't be sorry!
Blueberry Cake
Ingredients:
¾  Cup butter
2 teaspoonvanilla extract
3 egg yolks
2¼  cups all-purpose flour
2 teaspoonbaking powder
1/3  cup milk
1/3 cupGreek yogurt
3 egg whites
¼  cup white sugar
2 cups freshblueberries
1 tablespoonall-purpose flour(to coat Berries)
2 tablespoonRaw Sugar
Directions:
  1.
Preheatoven to 350 degrees F (175 degrees C). Grease and Prepare 2-  9 inch round  cake
           pan ( 8" may be substituted ad 5 minutesto cooking time)
  2.   Creambutter and add 3/4 cup of sugar until fluffy. Add salt and vanilla.
  3.   Separate eggs and reserve the whites.
  4.   Add egg yolks to the sugar mixture one at a time and beat until creamy. Mix greek yogurt with milk.
  5.   Combine flour and baking powder; add alternately with milk/yogurt mixture to egg yolk mixture.
  6.   Ina separate bowl, beat whites until soft peaks form. Add 1/4 cup of sugar, 1 tablespoon at
          a time, and beat until stiff peaks form.
  7.   Foldegg whites into batter..
  8.   Add Flour to berries to coat and add into batter.
  9.   Add Batter into prepared pans, and sprinkle with tops with raw sugar. Bake at 350 degrees
         for about 30 minutes or until done in the center.
   
Lemon Curd (adapted from fine cooking)
Ingredients:
8oz. unsalted butter – softened

3Tbs. lightly packed finely grated lemon zest
Directions:
  1. Cream butter and sugar in stand mixer untillight and fluffy
  2. Add in egg yolks

slowly

mixwell.
  3. Add in salt, lemon juice andzest and mix well*
  4. Place in heat proof bowl overa small pot of simmering water and using a
      wooden spoon continue to mix until thickened.
  5. Allow mixture to cool to roomtemperature, then refrigerate for at least 4
      hours before using.
     *curd will look curdled after mixing inthe lemon juice, don't worry it will become velvety smooth

My friends this cake turned out exceptionally well, the crumb of the blueberry cake was dense, but not dry, it had a little more substance to it then just a yellow cake, and the sweet tart flavor of the fresh blueberries added to the experience. But I have to say that the star of the show was the lemon curd, not only did it compliment the cake so well, but the contrast in flavors made this cake into a symphony of flavors that just danced across the palate….sigh
This cake would make a wonderful coffee cake as well, just using the blueberry cake recipe, I would just cut it my one third and make one layer. Just dust it with confectioners sugar and you have a perfect breakfast treat! Although I do encourage you to give that lemon curd a try, you certainly won't be disappointed!
Thanks for stopping by today and if you get a chance stop by Burwell General Store and see all of the other bloggers participating in the recipe swap. If you would like to join us next time, just send Christianna an email, we would love to have you!
Cheers
Dennis