In Part One of The Bloggers Guide to Using Google+ Hangouts I reviewed how to set up a Hangout on Air and all the steps involved to creating it correctly.   I also covered some of the apps involved inside of the hangout and how to use them, like my personal favorite – The Comment Tracker.    I also reviewed the chat and video chat portion of the hangout which has become a mainstay for many plussers as a way of communicating throughout the day.  Private video chats have revolutionized the way we do business, creating that personal bond between people that twitter and facebook just can't provide. In Part Two of The Bloggers Guide to Using Google+ Hangouts I will be covering Events, how to use them and the different uses for them.  I'll also cover how to start a Hangout on Air when you run into problems with the new and improved Start Hangout Page, there is a back door and its always good to know how to find it. So lets get started!
Scheduling Events
the first thing you need to do is click on the Event Tab in the left hand sidebar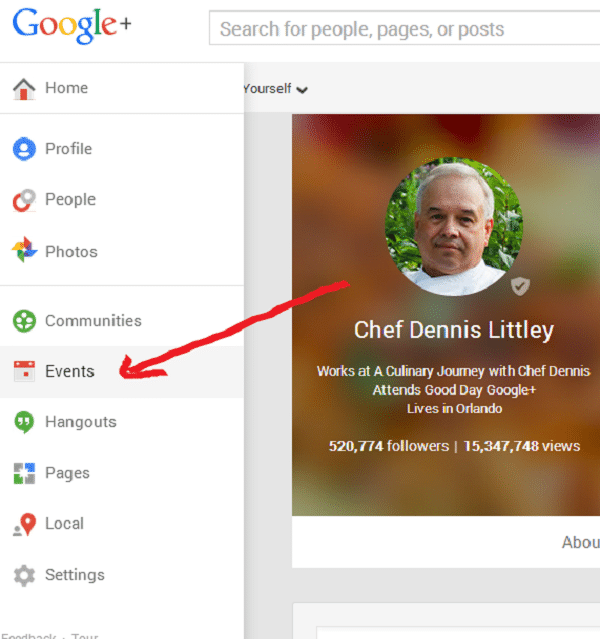 Next Click on Create an Event-
This will  open up the  Page where you will create your event.  It will come preloaded with a theme and a date and time, you'll want to change these.
Click on Change Theme to upload your own custom banner or choose from the stock banners available.
Choose from one of the different theme selections to see the choices or click on Upload to use your own.  The Banner size is 1200 x 300 dpi
When the page opens click on Select a photo from your computer
once you've uploaded your banner you can move on to the next step, adding your Event Title, Changing the Date and Time, Adding in your Event Description, and Inviting your guests.
Please note that when you initially create your event that its the only time you can make it public and invite communities.     If this is a private event or meeting don't add public or communities (unless the event is for a community)
Once you've added in all the information its time to click on the Green Invite Button
Once you've clicked the invite button, you can invite more guests to your event
You do have some other options for your event and by clicking on Event Options it will open up this tab.  Click on show more options to open this part of the event.
Each line is fairly self explanatory and can be used to add to your event or HOA, but none actually need to be filled out except for the date, time and details.  Below is an example of an event with all the lines filled out.
The Beauty of the Google+ Event is that it doesn't have to be for HOA's.   This tool can be used for meetings, baby showers, Meet-ups, car shows, or any type of gathering that you'd like to send invitations to.   I use them frequently for my Food Blogger Parties and invite my guests to upload images of their favorite dishes.
Its also a great reminder for meetings by adding the event to your Google Calendar.
Starting an HOA when all else Fails-
I did mention a back door to starting an HOA.  To begin a free standing HOA put this link in your web browser www.bit.ly/StartMyHOA
This will initiate an HOA that you will use exactly the same way as any other HOA.
If you want to set up an Event Page so people can watch and comment just follow my instructions above to create an Event for this style of starting an HOA.
You'll then need to find the YouTube link to add to the event page to make the HOA viewable at the Event Page.   You can find this link one of two ways.
The first is to simply click on the Links option in the lower right hand corner of the HOA
This will bring up this box and will provide you with a YouTube Link, the Video Embed is the code you would use to Embed the HOA into a post.
The other way to find your Youtube Link along with the Hangout URL as well as shortened versions of both is to use the Where Am I? App
Clicking on this App provides the URL's you need for the event page or to share on social media.  Only give out the Hangout URL to those you want inside your HOA!   Anyone that has this URL can enter your hangout, so be careful!

So now you know how to start HOA's  the new way and have (for the time being) an alternative way to start an HOA.
Just Remember- Anything that can happen will happen eventually, so be prepared for the unexpected.
Of course if you really want to become a Hangout Expert, you need to sign up for Ronnie Bincer's Hangout  Mastery Community.  Ronnie has taken the hard work out of HOA's by learning everything there is to know about them and keeping us up to date with all the changes.  Most of us wouldn't be successful at HOA's if it wasn't for Ronnie Bincer..  Click on the Hangout Mastery Link to learn more!