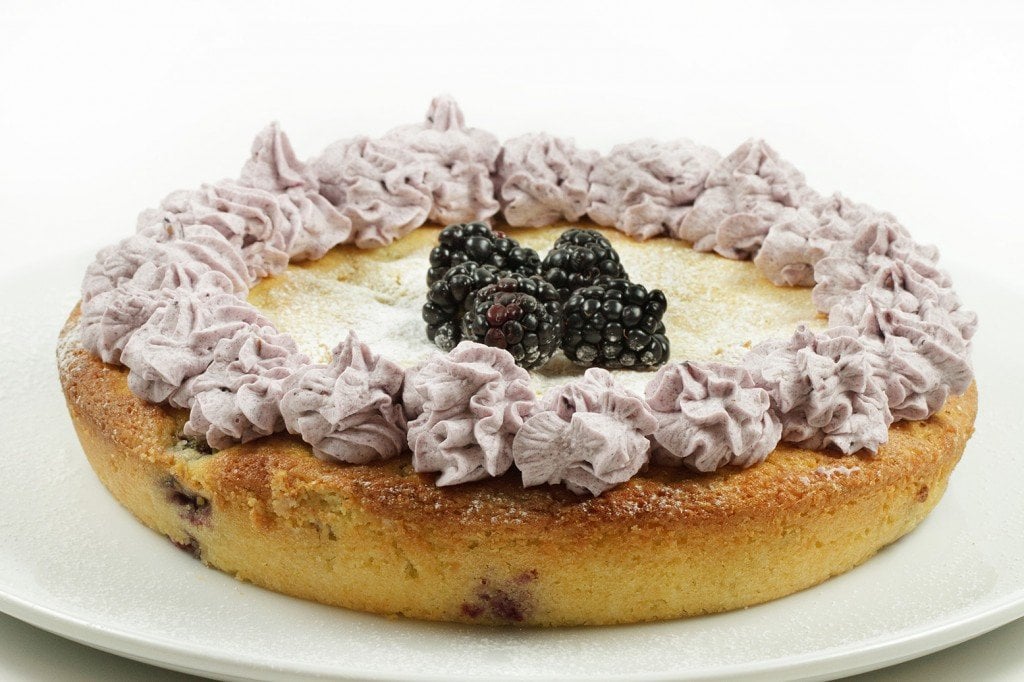 It's been so nice being off this week from school, the break always seems to come when we need it most, and I have certainly been taking advantage of the break by sleeping until 6 am!  Wow, what a difference it makes not having to get up at 4am, I know I've said it before but no matter how often you do it, you never get used to getting up that early, it's just unnatural!
With all this extra time on my hands I've been trying to catch up a bit on my cooking, so I don't always feel like I'm working behind schedule, and one thing I wanted to make was my butter cake.
I don't know if you remember but about six weeks ago I made a Meyer lemon  blueberry version of this incredible cake, and thanks to Pinterest it got a lot of extra attention!   I had a lot of new readers, many of which emailed to tell me just how good the cake was when they made it in their own homes.    Then all of a sudden I got three emails in a row complaining how the cake did not turn out, was gelatinous and a total failure…..tasty, but not a very good cake.   I even had one compare it to a lemon curd!
I take my work very seriously and try to make sure that my recipes are easy to follow and pretty much foolproof, I want everyone to make my creations and I want them to turn out as good or better than mine.   So when I got the first email, I thought maybe they didn't follow the instructions or even didn't bake it long enough, which was exactly what I did with my cake , it came out very moist almost to the point of being wet, but so very far from a curd!   We'll I told them as soon as I had time I would make it again and see if perhaps I left something out of the recipe.   I hate making exactly the same thing again, so this time I swapped out the lemons for limes and the blueberries for blackberries, but other than a sprinkling of corn meal on top of the cake (don't ask me why, I just felt compelled to add the cornmeal)  the recipe was exactly the same.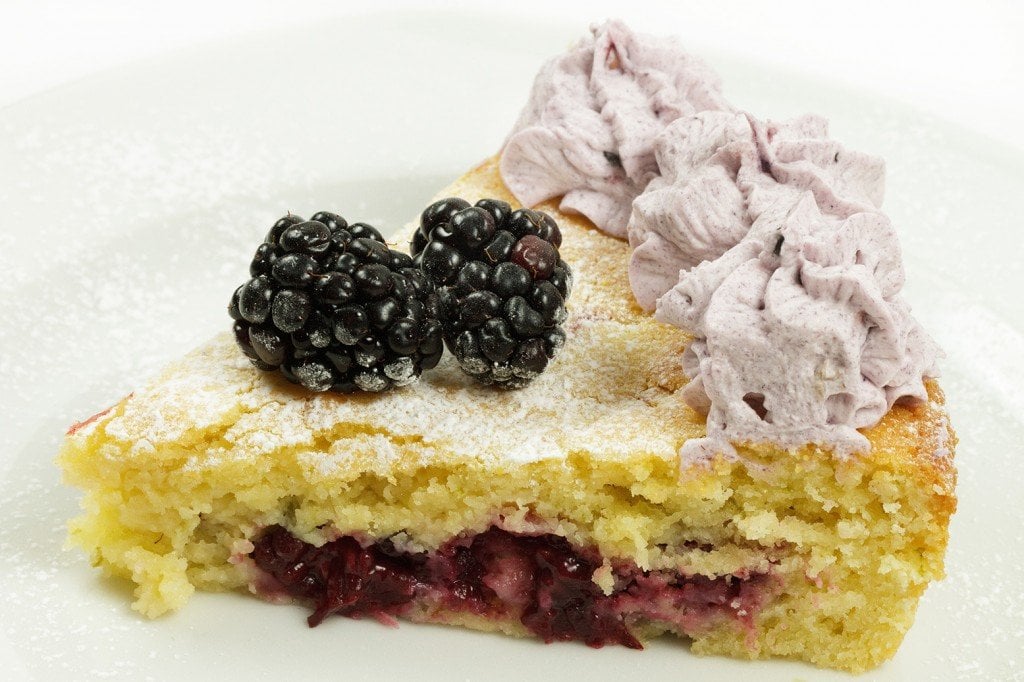 Ingredients
cup

½ unsalted butter

melted

2

cups

blackberries*

1/2

cup

Lime Juice

about 3 limes

1

cup

flour

1

tsp

baking powder

1

tsp

salt

2

whole eggs plus 2 egg yolk

1

tsp

vanilla extract

1

cup

granulated sugar

1

tbsp

grated lime zest

sprinkling of corn meal

optional

10

x sugar to dust
Blackberry Whipped Cream
1

cup

heavy cream

1

tsp

vanilla

1/4

cup

sugar

1/2

cup

blackberries
Instructions
preheat oven to 350 degrees

butter a 9" round cake pan.

In a small bowl mix together flour, salt and baking powder.

In a large bowl beat the whole eggs and egg yolks until blended.

Add the butter, sugar, lime juice, vanilla and lime zest.

Coat the blackberries in the flour* and set aside

Stir in the remainder of the flour and then the floured blackberries.

Spoon into prepared pan, smoothing the top.

Sprinkle the top of the cake with a light dusting of cornmeal

Bake until cake is browned, 35-40 minutes. Transfer to a wire rack to cool in pan for

minutes.

Invert cake onto plate to remove the pan and then invert again and return to rack to cool completely.
Blackberry Whipped Cream
In a bowl add the cream,sugar and vanilla and whip at medium speed until almost you have soft peaks.

add the blackberries and continue to whip until they are fully incorporated

Place whipped cream in a pastry bag with tip and decorate the top of the cake with a ring of whipped cream, or just served the cake with a dollop of the blackberry whipped cream.

Before serving dust inside the whipped cream with 10x sugar
Recipe Notes
*I increased the Blackberries to 2 cups because of their size compared to the blueberries, you could probably add another 1/2 cup to the mix to get more blackberries in every slice.
I did increase the cooking time by 5 minutes because the lemon cake was a just a little too wet, and with the extra baking time the cake turned out perfectly.   I used exactly the same cake ingredients, only increasing the blackberries to make up for the density change from the blueberries, and in truth you could have had another half cup of blackberries easily into the cake.   My only explanation for the curd like results was that the cake did not bake long enough, I don't know what else could have produced those type of results.
One thing for certain is that no two ovens are alike, and many are so poorly calibrated that there can be  up to 50 degrees in variation, and this can affect cooking times drastically!  Cooking times should be used as a guide and when in doubt insert a toothpick or skewer into the cake to see if it comes out clean, If it does not, continue baking.  if the top looks too brown, just cover it with foil, just make sure to allow the cake to bake fully, and opening the door too much to check it will also adversely affect the results.
Thanks for stopping by today!