When it's time for taco night at our house my Baja-Style Fish Tacos are one of the tacos you'll often find on my home menu. They're great for entertaining, game day, or just for treating yourself to deliciousness.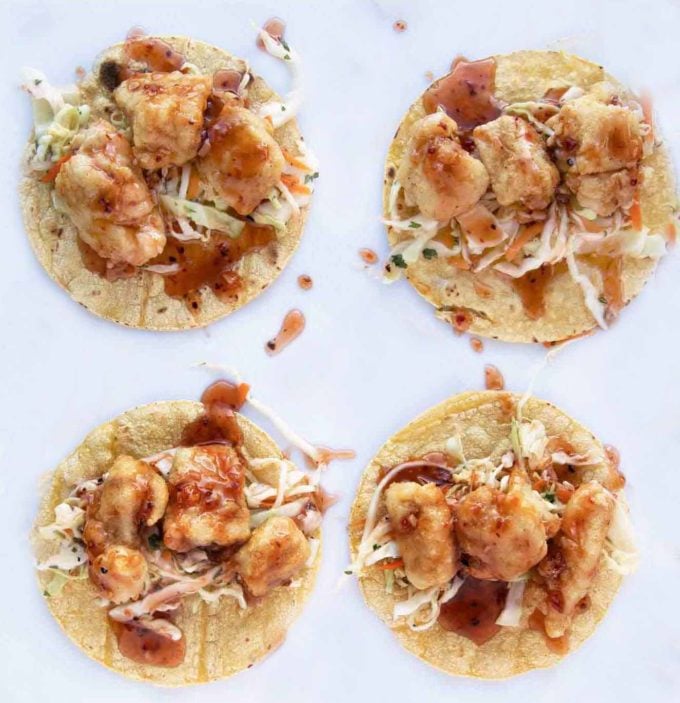 It wasn't so long ago that tacos meant the same old ground beef seasoned with cumin on a preformed crispy shell that you bought in boxes at the supermarket.
Now I'm not saying that I didn't eat those delicious reminders of home and my childhood. But tacos have evolved into a culinary masterpiece, driven by the fusion styles that have turned Taco Night into an event.
A delicious example is my Baja Fish Tacos. With a marriage of Asian and Mexican cuisines, these tacos deliver deliciousness in a way we never expected.
Ingredients to Make Baja-Style Fish Tacos
Creating fish tacos isn't difficult and can have as many or as few ingredients as you desire. It's all about personalizing dishes you create with foods you enjoy eating.
For my Baja Fish Tacos, I made an Asian Style Slaw and Sweet Chili Sauce to go along with my crispy mahi-mahi bites and corn tortillas.
How to make an Asian Slaw
Making an Asian inspired slaw is a nice addition to your fish tacos. It adds crunch and tanginess to the taco.
For my slaw, I used green cabbage, carrots and cilantro for the crunch but you can add other veggies to make your own variation.
You can have fun interchanging ingredients or using what you have on hand. You can also buy premade slaw mixes at the grocery store.
If you want to vary the dressing you use some of these ingredients:
sesame oil
rice wine vinegar
brown rice syrup
soy sauce
Or use your favorite Asian style salad dressing.
How do I make Sweet Chili Sauce?
Making your own sweet chili sauce is really easy. And the nice thing about making your own is you can control the heat and your sauce won't contain anything you can't pronounce!
The two ingredients that give sweet chili sauce its heat are Sambal Oelek and crushed red pepper flakes. If you're not a fan of heat you can cut down the amount of these ingredients or simply eliminate the crushed red pepper flakes.
Place all of the ingredients except for the cornstarch mixture in a small saucepan and bring it to a boil, stirring regularly.
Once the sugar is dissolved stir in the cornstarch mixture, stirring continually until thickened, about 1 minute.
Let the sauce cool completely and refrigerate until needed. The sauce can be kept for up to one week in a sealed container.
It might take a bit of experimentation but once you find the right amount of heat, you'll have your very own signature sweet chili sauce.
I'm not a fan of heat is there anything else I can add to my Sweet Chili Sauce?
Absolutely. Think of the recipe as a starting point and add or delete items to your tastes.
Some of the items you can add to your sweet chili sauce to calm the heat are:
Finely chop the fresh fruit so it blends into the sauce. Use any of the fruits or combinations, depending upon your preference.
Chef Dennis Tip:
**A quick cheat would be to add pineapple preserves to the sauce. Keep some on hand to add to the sauce if you make it too hot.
How do I cook the fish for Baja Style Fish Tacos?
With the sweet chili sauce and slaw finished, it's time to move on to the main ingredient, the crispy mahi-mahi.
Mix the flour, cornstarch, and blackening seasoning together in a bowl. Dredge the pieces of Mahi in the flour mixture and pan fry in a large skillet over high heat with about ½ inch of vegetable oil in the pan.
Remove the fried pieces of Mahi from the pan and drain the pieces of fish on a wire rack or paper towels. Heat your tortillas in a skillet or on the grill.
Serve the pan-fried Mahi with the slaw, sweet chili sauce, and warmed tortillas. You can even let your guests build their own tacos, making the night into a fun event!
Wouldn't you love to sit down to a few of these delicious Baja Fish Tacos? I loved the crunch of the slaw with the tender flaky Mahi. Add in a drizzle of sweet chili sauce and you've got a flavor combination that you and your guests are going to love!
If you love seafood tacos, my Fish Tacos are sure to please.
More Taco Recipes You'll Love!