Enjoy this original family recipe, for a New York style cheesecake. This classic cheesecake is easy to make and will impress your friends and family.
Total Time:
1
hour
30
minutes
This post includes affiliate links. As an Amazon Associate I earn from qualifying purchases.
How to make a creamy New York Style Cheesecake is easier than you think. If you follow this recipe that even a novice baker can create this delicious dessert that the Kitchen Noob has shared with us.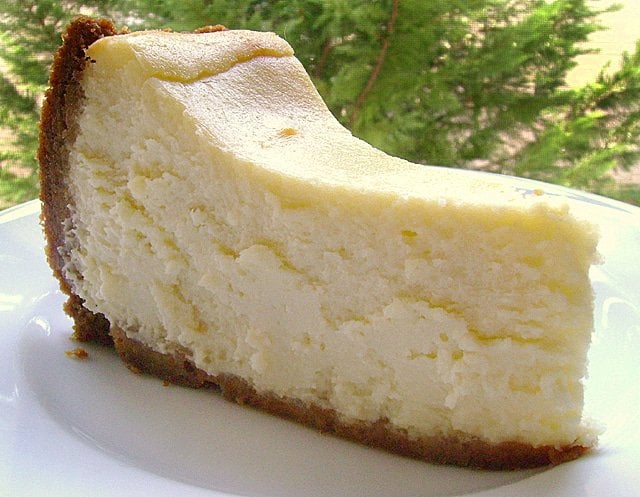 I wanted to make something special for this week's post, naturally, so I decided to go with one of my more lavish desserts, cheesecake. I say this tongue-in-cheek because quite frankly I'm shocked I can even pull this recipe off (I'm a Kitchen Noob, remember?). This recipe is also special to me because it belonged to my mother-in-law, who passed long before I even met my wife, Jen. So, I like to think that this recipe has been handed down from Jen's family to adopt as a new tradition in our little family. This cheesecake is a great Christmas dessert!
I start by making my crust of graham crackers, sugar and melted butter. Maybe someday I'll get courageous and add some crushed almonds or pecans. Getting the crust evenly distributed around the pan takes a little patience. I like to bring the sides of my crust all the way up to the top because it bakes down a little bit.
Throw the crust in the oven for 10 minutes at 350 on a baking sheet lined with parchment.
While the crust is baking, I start on the cheesecake filling. First, I beat the cream cheese together using a spatula to scrape the sides of the bowl once or twice.
I then add the sour cream and mix for a bit before scraping the sides of the bowl again. Then add the eggs, sugar, vanilla and flour. Mix this up for 20 minutes stopping to scrape the sides of the mixing bowl every few minutes to prevent clumping. Those Kitchen-Aid mixers have a few blind spots.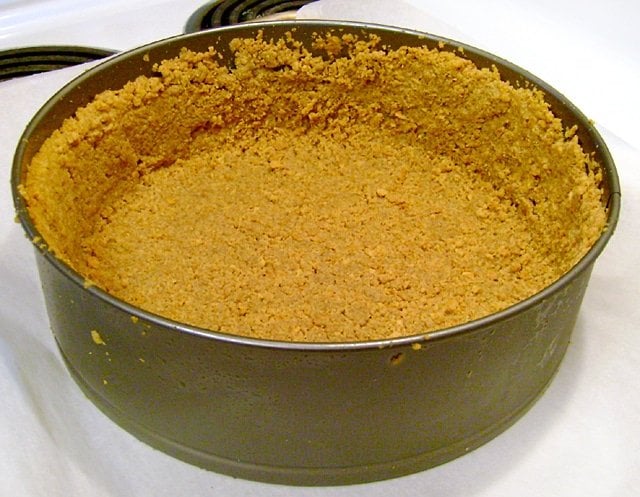 The crust comes out of the oven – leave it in the springform pan and let it cool while the cheesecake filling is mixing.
When everything is ready, pour the cheesecake mix into the cooled crust. Bake at 350 for one hour, then turn the oven off, leaving the cheesecake in the oven for an additional hour. Don't open the oven – it let's all the heat out.
After two hours in the oven pull the cheesecake out, leaving it in the springform pan, let it cool for a couple of hours. Cover with foil and place in the fridge to chill for several hours, overnight is best!
Remove the spring-form pan when ready to serve.
If you enjoyed this recipe you may also like these:
Print Recipe
New York Style Cheesecake
Enjoy this original family recipe, for a New York style cheesecake. This classic cheesecake is easy to make and will impress your friends and family.
Ingredients
Graham Cracker Crust for 10" Spring-form Pan
3

Cups

Graham Cracker Crumbs - one sleeve of graham crackers yields a little more than one cup of crumbs

2

Tbs

sugar

12

Tbs

butter

, melted
Cheesecake Filling
32

oz

Cream Cheese

(Philly)

1

Pint

Sour Cream

2

Cups

Sugar

2

tsp

Vanilla Extract

8

eggs

4

Tbs

Flour
Instructions
Heat oven to 350. Line large baking sheet with foil or parchment paper.
Graham Cracker crust
Combine graham cracker crumbs, sugar, and melted butter until moistened.

Pour crust mixture into 10 inch spring-form pan. Using a round glass or measuring cup start pressing the crust down in the center of the spring-form. Work your way outward, gently tapping the crust down with the glass. Press the crust mixture up the sides of the pan, gently. Make sure crust is distributed evenly – look for mounds or bare spots and use the glass to even it out.

Bake crust at 350 for 10 minutes. Keep the crust in the spring-form pan and let cool while preparing the cheesecake filling. Keep the oven on 350.
Cheesecake
Combine all ingredients at low speed, then turn mixer to medium speed and mix for 20 minutes.

But instead of just throwing everything into the mixing bowl, I stop the mixer and use a spatula to scrape the sides of the mixing bowl and paddle before adding the next ingredient to prevent clumps from forming.

I start by mixing up the cream cheese a little to break it up. Then, I add the sour cream and mix to incorporate. Add eggs one at a time. Add sugar and mix, add vanilla, and then finally add flour.

Mix for 15-20 minutes, stopping to scrape the bowl and paddle with a spatula every 5 minutes or so.

Pour cheesecake filling into cooled crust that is still in the spring-form pan and still on the parchment lined baking sheet. Bake cheesecake at 350 for 1 hour. After 1 hour, turn the oven off but do nto open the oven. Leave the cheesecake in the closed, off oven for 1 hour more.

Remove cheesecake from oven and let cool at room temp for a couple of hours. Cover with foil and refrigerate for at least 3-6 hours before serving. The longer you let it chill in the fridge the better (best way is put it in the fridge over-night and forget about it).

Remove spring-form pan when ready to serve. The cheesecake should be chilled through. If it's room temp or warm, or feels like it hasn't set, then it should go back into the refrigerator. This takes a lot of patience, but it's worth it!
Notes
*Cream cheese, sour cream, and eggs must all be room temperature. I leave these items on the counter (still packaged) over-night the day before I make the cheesecake. *I've made the cheesecake with and w/o the flour. Not using the flour makes the cheesecake more ricotta-like in texture, whereas using the flour makes it heavier and dense.
Nutrition
Calories:
715
kcal
|
Carbohydrates:
57
g
|
Protein:
10
g
|
Fat:
50
g
|
Saturated Fat:
27
g
|
Cholesterol:
243
mg
|
Sodium:
556
mg
|
Potassium:
240
mg
|
Sugar:
43
g
|
Vitamin A:
1775
IU
|
Vitamin C:
0.3
mg
|
Calcium:
154
mg
|
Iron:
1.9
mg