What a week to be me!  You think with this being my 7th year at the Mount, that I would be use to the start up, all of the functions and just getting our bodies back into working mode………sigh, but we're almost back into our normal routine!  One more major function next week, then it's business as usual, feeding my girls!   I'm also excited to start this years culinary program, I have 25 experienced girls coming back to my classes this year and I'm really going to get them cooking!
My biggest hurdle is equipment, we did raise enough money to buy some mixers this year, and a few other small pieces of equipment, but it certainly isn't easy!   I need Rachel Ray to come back to Philadelphia and help equip my class, or if by chance Kitchen Aid is reading this post, we could use 4 new mixers, 6qt please, and since I'm asking make them pretty colors, this is an all girls school you know!
But it's that special time of the week, and I know why everyone is here!  It's time for Guest Post Friday!!!!  This is truly my happy day, not only does it signal the end of the work week, but it's also the time of the week when I get to spotlight one of my new foodie friends.  We have such a strong, supportive community and it's such a joy to be able to introduce you to a new blogger and hopefully a new friend!
Today it's my pleasure to share my blog with Peter from The Kitchen Noob.   I first met Peter when he joined Foodbuzz, it started with a few emails and developed into a friendship.   Peter describes himself as a Kitchen Noob, but once you visit his blog you'll see he's far from a newbie in the kitchen!  Peter will wow you with his creations, and his natural ability to create delicious meals time after time.  I know once you've seen some of his creations, you'll be back for more, just a word of advice, don't come hungry or you'll be chewing on your keyboard!
So sit back, relax, put your feet up and prepare yourself for a culinary adventure as I give you Peter…….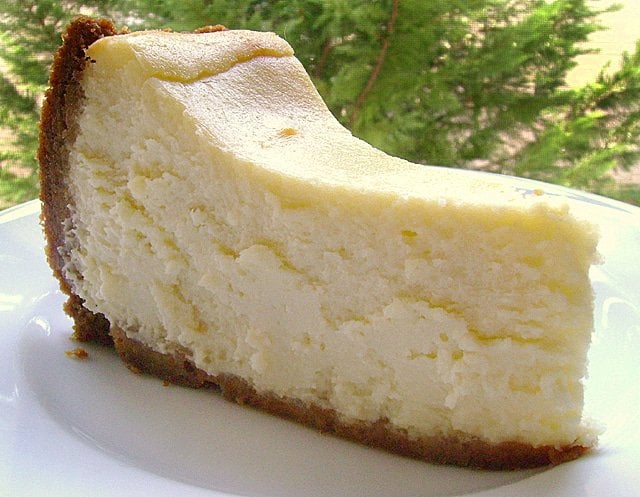 Hi all! I'm Peter, The Kitchen Noob, and it is an absolute privilege to be guest posting for Chef Dennis.    I was referred to the Ask Chef Dennis section of his blog a couple of years ago when I was trying to figure out how to best utilize Foodbuzz. Chef Dennis has been a tremendous resource in this regard, and not to mention posts some awesome recipes and photos!
I wanted to make something special for this week's post, naturally, so I decided to go with one of my more lavish desserts, cheesecake. I say this tongue-in-cheek because quite frankly I'm shocked I can even pull this recipe off (I'm a Kitchen Noob, remember?). This recipe is also special to me because it belonged to my mother-in-law, who passed long before I even met my wife, Jen. So, I like to think that this recipe has been handed down from Jen's family to adopt as a new tradition in our little family. This cheesecake is a great Christmas dessert!
I start by making my crust of graham crackers, sugar and melted butter. Maybe someday I'll get courageous and add some crushed almonds or pecans. Getting the crust evenly distributed around the pan takes a little patience. I like to bring the sides of my crust all the way up to the top because it bakes down a little bit.
Throw the crust in the oven for 10 minutes at 350 on a baking sheet lined with parchment.
While the crust is baking, I start on the cheesecake filling. First, I beat the cream cheese together using a spatula to scrape the sides of the bowl once or twice.
I then add the sour cream and mix for a bit before scraping the sides of the bowl again. Then add the eggs, sugar, vanilla and flour. Mix this up for 20 minutes stopping to scrape the sides of the mixing bowl every few minutes to prevent clumping. Those Kitchen-Aid mixers have a few blind spots.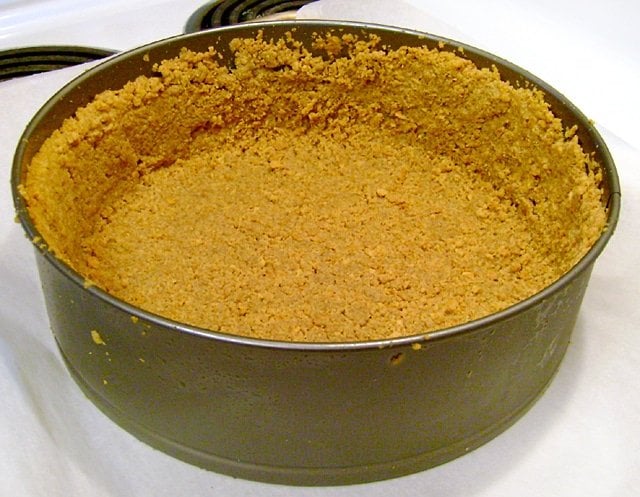 Crust comes out of the oven – leave it in the spring-form pan and let it cool while the cheesecake filling is mixing.
When everything is ready, pour the cheesecake mix into the cooled crust. Bake at 350 for one hour, then turn the oven off, leaving the cheesecake in the oven for an additional hour. Don't open the oven – it let's all the heat out.
After two hours in the oven pull the cheesecake out, leaving it in the spring-form pan, let it cool for a couple of hours. Cover with foil and place in the fridge to chill for several hours, overnight is best!
Remove the spring-form pan when ready to serve.
I hope all of you cheesecake fans out there give this one a shot. It's modest and rustic – a cheesecake for the cheesecake purest.
You wouldn't believe the trouble Jen and I went through to get a decent photograph of the cheesecake! It's always fun and challenging to make things extra special for occasions or for guests though. Thank you, Chef Dennis, for the Guest Post slot on your blog, and thank you all for reading!

Author:
Ann courtesy of Peter, The Kitchen Noob
Ingredients
Graham Cracker Crust for 10" Spring-form Pan
3 Cups Graham Cracker Crumbs - one sleeve of graham crackers yields a little more than one cup of crumbs
2 Tbs sugar
12 Tbs butter, melted
Cheesecake Filling
4 8oz Pkgs Cream Cheese (Philly)
1 Pint Sour Cream (16oz) I use Breakstone as per Ann's preference.
2 Cups Sugar
2 tsp Vanilla Extract
8 eggs
4 Tbs Flour*
Instructions
Heat oven to 350. Line large baking sheet with foil or parchment paper.
Graham Cracker crust
Combine graham cracker crumbs, sugar, and melted butter until moistened.
Pour crust mixture into 10 inch spring-form pan. Using a round glass or measuring cup start pressing the crust down in the center of the spring-form. Work your way outward, gently tapping the crust down with the glass. Press the crust mixture up the sides of the pan, gently. Make sure crust is distributed evenly – look for mounds or bare spots and use the glass to even it out.
Bake crust at 350 for 10 minutes. Keep the crust in the spring-form pan and let cool while preparing the cheesecake filling. Keep the oven on 350.
Cheesecake
Combine all ingredients at low speed, then turn mixer to medium speed and mix for 20 minutes.
But instead of just throwing everything into the mixing bowl, I stop the mixer and use a spatula to scrape the sides of the mixing bowl and paddle before adding the next ingredient to prevent clumps from forming.
I start by mixing up the cream cheese a little to break it up. Then, I add the sour cream and mix to incorporate. Add eggs one at a time. Add sugar and mix, add vanilla, and then finally add flour.
Mix for 15-20 minutes, stopping to scrape the bowl and paddle with a spatula every 5 minutes or so.
Pour cheesecake filling into cooled crust that is still in the spring-form pan and still on the parchment lined baking sheet. Bake cheesecake at 350 for 1 hour. After 1 hour, turn the oven off but do nto open the oven. Leave the cheesecake in the closed, off oven for 1 hour more.
Remove cheesecake from oven and let cool at room temp for a couple of hours. Cover with foil and refrigerate for at least 3-6 hours before serving. The longer you let it chill in the fridge the better (best way is put it in the fridge over-night and forget about it).
Remove spring-form pan when ready to serve. The cheesecake should be chilled through. If it's room temp or warm, or feels like it hasn't set, then it should go back into the refrigerator. This takes a lot of patience, but it's worth it!
Notes
*Cream cheese, sour cream, and eggs must all be room temperature. I leave these items on the counter (still packaged) over-night the day before I make the cheesecake. *I've made the cheesecake with and w/o the flour. Not using the flour makes the cheesecake more ricotta-like in texture, whereas using the flour makes it heavier and dense.
Don't say I didn't warn you, I know I'm seriously craving cheesecake right now….sigh   Peter is right, this is the perfect Holiday Cheesecake, definitely something to share with family and friends as you gather in celebration!  So before you forget, head on over to The Kitchen Noob and say hi to Peter, just don't forget to tell him Chef Dennis sent you!
I would also like to remind you about the giveaway I am holding for Amelia's Spicing Pecans.  It's really easy to enter to win, all you have to do is follow that link and like Amelia's Spicing Pecans!  That's it, it's just that simple, and you even get to pick the flavor of the pecans that you would like to try.  So please go on over and say hi to Mike,  and leave a few words of encouragement for him.   It's all about community, so let's show Mike some blogger hospitality!
That's about it for today my friends,  please take some time to get outside,  have some fun and enjoy your weekend!  The days are getting shorter and it won't be long until winter is upon us, so take advantage of the daylight and warm weather while it's still with us!
Till next time, Ciao!