During the summer I received a gift box of Cholula hot sauces in the mail, they were completely unsolicited and no promises were made….sigh,  and its a good thing there weren't because I finally got around to using them this week.  Now as everyone knows I do make some killer buffalo wings, they have even achieved legendary status at the Mount where I truly believe If I served them everyday they would eat them.  My girls love their hot sauce!
And there my friends lies the secret in making great buffalo wings, its the sauce.  I have to admit while I was a little excited to try a new flavor hot sauce, I was also a little reluctant to forgo my original perfected sauce.   But change is good, and just in case it wasn't good I wanted an opportunity to try it out on just Lisa and myself before I served it to my guests on Superbowl Sunday.
The first thing I noticed was that the sauce did not cling quite as well, and it just didn't seem to thicken the way I was use to.  The lime flavor was interesting, but not really what I was looking for in my hot wings, although I know a few of my friends would love them with that hint of lime flavor.  I will admit that the flavor was fresh and not at all artificial tasting.   So if your looking for a new buffalo wing sauce give it a try with the Cholula Lime Hot sauce, they also have a garlic hot sauce that will be my next test batch!  (just not at the superbowl party!)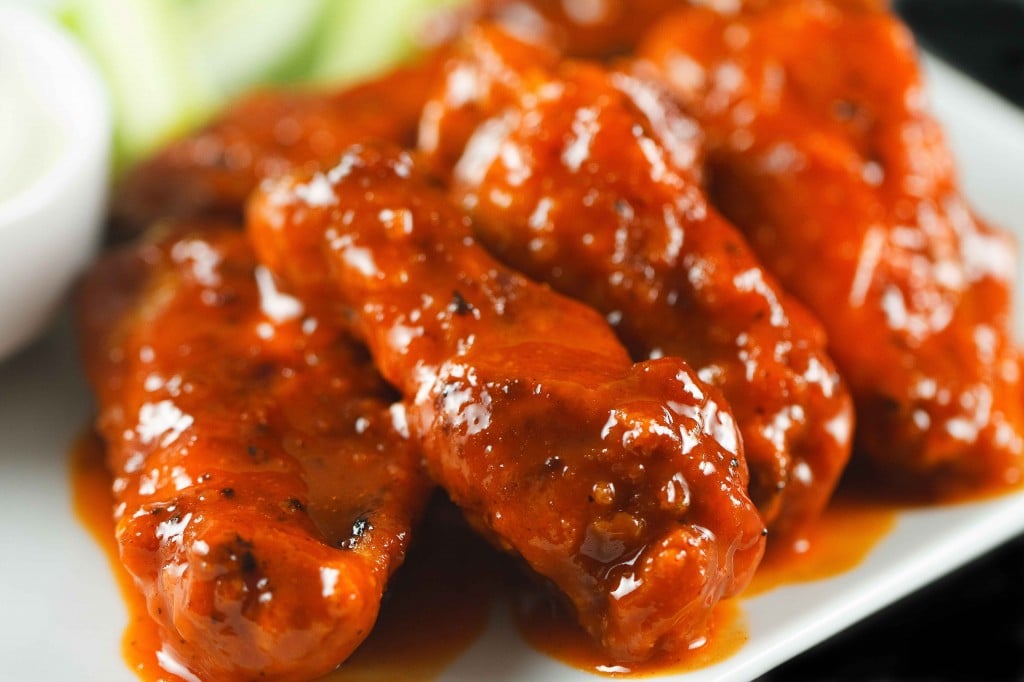 Now if your looking for the Best Buffalo Wings you'll ever have, then give this recipe a try and make sure to use Franks Buffalo Sauce to start with, I promise you won't be disappointed, of course if you like your wings on the Atomic Heat Scale, feel free to add additional hot sauce to the recipe!
Honey-Lime or my Famous Buffalo Wings
Ingredients
20-24 wings in a club size pack
2 cups flour
sea Salt and Pepper
1 cup cooking oil (canola or soy)
Buffalo Wing Sauce
12 oz Franks Buffalo Wing Sauce or Cholula Lime Hot Sauce
1½ Stick Butter
4 oz Honey
Bleu Cheese Dressing
8 oz Bleu Cheese
1 cup sour cream or Greek Yogurt
1 cup Mayonnaise
¼ cup milk or buttermilk
¼ teaspoon granulated onion
½ teaspoon salt
¼ teaspoon black pepper
Instructions
Pre-Heat oven to 250 degrees
Chicken Wings
rinse and pat dry your wings
Cut the wings at both joints, saving the wing tip for soup(freeze until needed)
season 2 cups of flour liberally with salt and pepper
dredge the wings in the flour to get a good coating on the wings.
heat 1 cup of oil in a deep frying pan
add wings in batches, do not crowd them or it they will take too long to cook
Cook wings 4-5 minutes on each side until they get good color and and a crunchy exterior
Remove wings from oil, draining excess oil from them and place on cookie sheet in oven to keep them warm while you finish cooking the remainder
Repeat process until all the wings have been cooked.
Buffalo Hot Sauce
In a sauce pan add butter and honey, and allow butter to completely melt, then add in the hot sauce. (Here is the tricky part, you want to get the sauce almost to point of boiling, but do not let it boil, or get too hot. If the sauce gets too hot it will begin to separate) By not over heating the sauce it will stay rich and thick and give the wings a wonderful coating.*
Blue Cheese Dressing
In a food processor, add the sour cream or Greek yogurt, the milk and half of your bleu cheese.
Pulse the mixture until all of the bleu cheese has been blended in.
Now add it to your mayonnaise, and the remaining bleu cheese crumbled up and season. (The seasonings are just a guide, season it to your taste.)
You should make this dressing at least one day ahead of time, to let the flavors build, but you can use it right away if you need to.
Finish
Toss the wings in a stainless steel bowl with your prepared sauce until well coated and serve immediately with blue cheese dressing and celery sticks!
Notes
*For the recipe if you are making more wings the ratio is 2 parts hot sauce, 1 part butter, and ½ part honey, this amount of hot sauce will do about 48 pieces of wings.
Just a couple hints about buying wings, always start with fresh wings, if not when you cook them the bones will be black…..we call that black bone in the business….lol,  it's not Rocket Science people!  Anyway from now on that's how you will be able to tell if the wings you're eating were fresh or frozen.   As for Bleu Cheese dressing, while there's a lot to be said for making your own, if time is limited there are a lot of great brands of blue cheese dressing available, just make sure you get one of the refrigerated varieties, they have much better flavor!
Just think about all the money you'll save by making your own, and once you see how easy it is to make great buffalo wings you'll be making them all the time, amazing your friends and family!
I don't know if you remember, but a few months ago I told you about a new venture I had been asked to be part of.  Well we ran into all sorts of logistical problems with this world wide venture, but finally were ready to roll it out, a little late but well worth the wait!  While I can't disclose it on my blog right now,  Monday Morning at 10:00 am EST, I will begin tweeting, and posting about the endeavor, so get ready for some pretty exciting news!   I can use all the re-tweets and re-posts you can give me once this goes public so any help will be appreciated….  So Stay tuned for the news!
Ciao!